At a dramatic press conference held on May 4 in front of the federal courthouse in Philadelphia, two new attorneys for journalist and longtime Pennsylvania Death Row inmate Mumia Abu-Jamal announced they were filing sworn statements in his pending habeas corpus appeal concerning the 1981 slaying of police officer Daniel Faulkner. The statements are by Abu-Jamal himself, his brother Billy Cook and also by a man who claims he is Faulkner's real killer.
At the sparsely attended session, Chicago lawyer Marlene Kamish and Los Angeles attorney Eliot Lee Grossman claimed that the new witness, an African-American man named Arnold R. Beverly, would exonerate Abu-Jamal by swearing that he and "another guy" had been hired by the mob at the request of corrupt Philadelphia police to execute Faulkner (who was said to be blowing the whistle on his colleagues). Abu-Jamal only arrived at the scene of the shooting after Faulkner was already dead, allegedly shot in the face by Beverly.
In a surprise move, the two attorneys also released an affidavit signed by Abu-Jamal in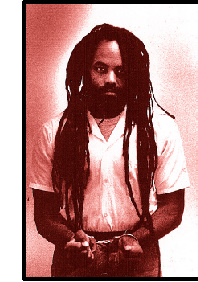 Abu-Jamal had 30 days to hire
new lawyers after dismissing
his prior coulnsel in March.

which he gave, for the first time, his own account of the incident, saying, "I did not shoot Police Officer Daniel Faulkner. I had nothing to do with the killing of Officer Faulkner. I am innocent." Abu-Jamal goes on to explain that he had been seated in his cab in a parking lot across from the scene of the shooting, and only got out of his car and crossed the street after hearing gunshots, seeing people running and then seeing his brother in the street "staggering and dizzy." Abu-Jamal says that as he was running across the street, he saw "a uniformed cop turn toward me--gun in hand--saw a flash and went down on my knees." He reports fading in and out of consciousness at that point, making his memory hazy from the time he was shot.

A third affidavit released by the attorneys at the sidewalk news conference was a statement by Cook, who had been driving a Volkswagen stopped by Faulkner prior to the shooting incident. Cook, who until now has avoided testifying in the case after initially being arrested and charged with a felony assault on Faulkner, says in the sworn statement that after Faulkner stopped his car and hit him, he returned to his car to look for registration papers. At that point, Cook says he heard shots. Looking up through the window, he saw his brother running across the street. He claims he saw Abu-Jamal being shot at that point.

Cook also claims that his friend and business partner Kenneth Freeman had been in the car with him, and that Freeman, whom he says ran from the scene, later told him about being in on the plot to kill Faulkner. Freeman later died under suspicious circumstances while in police custody.

The new conspiracy theory presented by Abu-Jamal and his new legal team faces several hurdles. First of all, it is up to Judge William H. Yohn Jr., an appointee of former President George Bush, to decide whether or not to accept the new evidence. Yohn is currently deciding whether to accede to Abu-Jamal's habeas corpus appeal of his murder conviction and death sentence, and whether to grant him a new evidentiary hearing.

Second, if Beverly's statement is accepted by Yohn, lawyers familiar with the case say Abu-Jamal will inevitably be asked to explain why he and his former attorneys did not make use of the affidavit back in June 1999, when it was first sworn. Dan Williams, Abu-Jamal's former attorney, has explained in his new book Executing Justice: An Inside Account of the Case of Mumia Abu-Jamal--whose publication, Abu-Jamal says, was the reason he fired both Williams and lead attorney Leonard Weinglass in March--that the issue of whether to use the Beverly statement was the reason Partisan Defense Committee attorneys Rachel Wolkenstein and Jon Piper quit the defense team in 1999 (see "Self Defense," April 16).

As an active participant in his own defense, Abu-Jamal was as much part of the decision not to use Beverly as were his two erstwhile attorneys, Weinglass and Williams. Grossman tried to hint that perhaps Abu-Jamal was unaware of the Beverly evidence, saying, in response to one reporter's question, that he and Kamish had "found" the document among the case files that Weinglass and Williams turned over to them.

Abu-Jamal and his new attorneys also opened the door to some other troubling new issues when they claimed that Weinglass had told both Abu-Jamal and his brother not to take the stand during the 1995 Post-Conviction Relief Act hearing. Since Weinglass told the court on the record that he was expecting Cook to testify at that hearing, the district attorney's office seems certain to call Weinglass to the stand to testify about his statements to both Abu-Jamal and Cook. The disclosure of purported conversations between Weinglass and Abu-Jamal has shattered any attorney-client privilege that might ordinarily have protected such communication, say lawyers familiar with the case.

The Beverly statement, as well as the two new accounts sworn by Abu-Jamal and his brother, also conflicts with the testimony of a number of key defense and prosecution witnesses about the sequence of events. Those earlier witnesses stated that they saw a man, or Abu-Jamal, running across the street before they heard gunfire. The new statements all have the gunfire occurring before Abu-Jamal ran across Locust Street.

Cathie Abookire, a spokeswoman for Philadelphia District Attorney Lynn Abraham, whose office is fighting Abu-Jamal's attempt to win a new trial, characterized the Beverly affidavit as "so clearly ridiculous that it should be obvious to any fair-minded person that it is a complete fabrication." The district attorney's office has apparently been leaking word to the mainstream media that Beverly also offered himself as a witness to a dramatic Rodney King-style police beating of a suspected black car thief last summer, suggesting that he has a history of publicity-seeking behavior.

Yohn has yet to rule on Abu-Jamal's habeas corpus appeal, which is his last chance to win a new trial. As the judge only gave Abu-Jamal 30 days to hire new attorneys following the dismissal of his prior counsel, it appears that a decision could come soon. If he does not simply reject Abu-Jamal's appeal, the judge has the option of ordering a new evidentiary hearing, ordering a new trial, or letting the verdict stand and just ordering a new penalty phase hearing in the case.