Isolation Drills
Guided By Voices
TVT
In college, I had a roommate who made personalized bumper stickers for his friends. Mine? "I want my GBV!" From the moment I first heard Guided By Voices--the strange, low-fi band headed by ex-fourth grade teacher and beer enthusiast Robert Pollard--I've wanted my GBV. Just one problem: I can't find it.
This isn't for a lack of records released appearing from a band called "Guided By Voices." As you can see by the little box just above this, there's a new record out from GBV. But the band of merry men that stuck with Pollard through the early years are long gone, replaced by others who have been replaced in turn. And Pollard? These days he sounds more like an over-confident, slightly bored Michael Stipe than the Bud-drinking, Brit-intoned genius from Dayton, Ohio of yore.
Early GBV was branded by Pollard's distinctive brew of nonsensical lyrics. Allusive to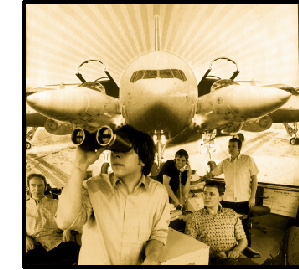 "Hey, have you seen where our tunes went?"

nothing, yet strangely evocative of something familiar, at their best Pollard's songs inspire a soft nostalgia or, more generally, a feeling of personal identification with an unspecified (or out-of-sight) object. Preoccupied with boy's things like UFOs, rock 'n' roll, atoms and airplanes, both Pollard and former sideman Tobin Sprout wrote 90-second songs that pulled your heart strings in the strangest directions.

The early tunes are filled alternately with apology and strength; most, unlike so much indie-schlock, are love songs of a sort. "I Am a Scientist" from Bee Thousand (1994) is a kind of explanation of shortcomings to a lover; the song delivers a sweet, twangy little pop melody (guitar and drums only) and lyrics teeming with the self-awareness and self-pity that marks so many indie-rockers ("I am a journalist / I write to you to show you / I am an incurable / and nothing else behaves like me"). On the flip side, "As We Go Up, We Go Down," a modernist masterpiece on Alien Lanes (1995), bursts with Hegelian lyrics, declaring: "And see the truth is just a lie / I speak in monotone 'leave my fucking life alone' / As we go up we go down." Always the singer is misunderstood; sometimes he wants help and sometimes he doesn't.

But all was not pop; on the early records, bouncy melodies were tucked between more sinister, distorted guitar-focused songs with lyrics muffled or yelled. Sometimes they were kind of good (Bee Thousand's "Her Psychology Today") and others not. But as the spaces between tracks were limited to about a half-second, those records felt like one big song with different movements. This changed with 1996's Under the Bushes, Under the Stars, though not yet for the worse. Better produced, many fans defected from this record, complaining that GBV had gone slick. Although the record is more polished--as if for a special occasion--it's full of images and stories worthy of the early days. In 1997 the band put out Mag Earwhig!, a record notable for its tentative return to a low-fi aesthetic.

Which brings us to the two most recent GBV releases, 1999's Do the Collapse and the new Isolation Drills, both released on the TVT label, a move away from the independent tastemakers at Matador Records. Both critics and fans complained that Do the Collapse was over-produced, but that album (said over-production by Ric Ocasek of The Cars) at least had a handful of pretty decent songs on it. "Teenage FBI" is a winner on the merits of its title alone, and "Surgical Focus" has the signature swells and tensions of Pollard's best. Most of the others are throwaways, but they aren't nearly as boring as the stuff of Isolation Drills.

GBV have left Ocasek behind for Rob Schnapf, who has done terrific work before with the likes of Elliott Smith and Richard Thompson. But what he's done with Pollard here is make a record that sounds like other bands--REM, the Who, Big Star--instead of something that sounds like GBV. It's not just the production, though. It's Pollard getting a little too comfy; his lyrics this time around sound like someone trying to write a song that sounds like Robert Pollard. "Glad Girls," the first single from Isolation Drills, is a good example. Pollard repeats "Glad Girls / Only want to get you high" about 60 times before the song finally gives up. "Twilight Campfighter," probably the most promising tune on the album, just peters out. Each tune sounds so much like the last one.

On the second track on Isolation Drills, Pollard sings, "How's my drinking? I don't care about being sober." Maybe that explains it; Pollard, finally a rock star, has taken the Bud from the stage to the studio, and written an album that reflects it. But don't hold out for anything better. He winds up simply, with uncharacteristic directness, "I won't change."
Hillary Frey is assistant literary editor of The Nation.