The report is as stunning as it is sobering. HIV infection rates among young gay men in the United States are rising. One in seven young gay men acknowledge carrying HIV, and for gay black men in their twenties, one in three is infected.
An alarming bulletin from the height of the nation's AIDS crisis in the mid-'80s? Nope. Twenty years after detection of the disease that decimated the nation's gay community--and 10 years after safer sex practices dramatically reduced its infection rates--AIDS is poised to cut a fresh swath from a new generation. Since 1990, the demographics of suffering have shifted massively into the heterosexual population, especially overseas. But for American gay men, particularly men of color, the specter of AIDS has staying power.
"You can't help but be shocked by the level of infection in the population," says Ernest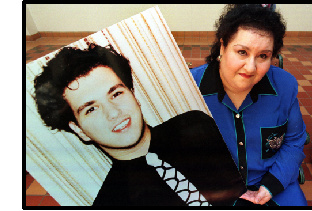 Immy Ferraara displays a photo of her son,
Philip Jr., who died of AIDS.
AKIRA SUWA/PHILADELPHIA ENQUIRER

Hopkins, director of federal affairs for the San Francisco AIDS Foundation. "This is well beyond what we guessed was happening. People don't know quite what to do."

Fueling the headlines--and the anxiety--are the results of a CDC survey drawn from nearly 3,000 interviews in six major cities between 1998 and 2000 outside gay-oriented organizations, stores, bars and dance clubs with men who have sex with men. The respondents, all between the ages of 23 and 29, reported their HIV status and, if positive, when they had learned of their infection. In all, 13 percent reported testing positive, 4.4 percent in the past year. Most unsettling: 32 percent of black men surveyed were positive, and almost 15 percent had tested positive within the past year alone.

Blaring from the front pages of many major dailies, the report ended five years of diminishing AIDS coverage that focused on the impact of so-called AIDS cocktails. The combination therapies, which blend various drugs proven to suppress the retrovirus at the root of the disease, have sustained the lives of many long-term sufferers. But this masked a breakdown in safer sex practices in general society, including the gay community. Tim McFeeley, political director of the National Gay and Lesbian Task Force, chides a collective sense of "complacency about the disease within our community," especially, he says, "among young people who do not remember the early stages of the epidemic."

AIDS has been inextricably linked with gay men since the June 1981 announcement of a new plague besetting a handful of homosexuals in Los Angeles. As hundreds fell ill and died in the early Reagan years, politicians and the non-gay media mostly ignored the health crisis that hit hardest and rippled outward from gay enclaves in Boston, New York and San Francisco. Roused by the mounting body count, gay men launched vigorous safer sex campaigns focused on condom use and monogamy. Coupled with fiery demonstrations aimed at lowering prices for anti-AIDS drugs and public funding for AIDS research and treatment, the safe sex campaign soon helped drive new infection rates among gay men as low as 1.6 percent per year by the early '90s.

Yet public health experts and AIDS activists lament the apparent failure of programs geared toward young men and men of color. Since gays of color are less eager to self-identify as gay, Hopkins says messages may be more effective if aimed at "men who have sex with men" or simply "sexually active men." Second, "There are virtually no black and Latino gay neighborhoods" where gays of color feel comfortable enough to talk candidly about their sexual behavior. As a solution, Hopkins promotes programs such as Black Brothers Esteem in the Tenderloin section of San Francisco, aimed at developing better sexual decision-making skills among African-American men.

As for targeting youth, Helene Gayle, who oversees prevention programs for the CDC, preaches "the need to reach each generation of gay and bisexual men early--and sustain those efforts as they age." But Gayle's injunction runs counter to the new secretary of health and human services, Tommy Thompson. On June 5 Thompson advocated boosting the funding for "abstinence only" sex education. Funding for the programs bar schools that take it from responding to teens' queries about their actual sexual activity.

The National Campaign To Prevent Teen Pregnancy recently reviewed more than 250 sex-ed programs and found no evidence that sex-ed increases teen sexual experimentation. The study also found no hint that abstinence-only programs work. Still, Thompson appears ready to bow to pressure from religious conservatives to curb straightforward sex education, which they allege spurs sexual exploration and promiscuity, and to expand abstinence-only programs.

If the chill in the political climate makes frank sex education a pipe dream, gay-sensitive sex education, much less programs aimed at minority audiences, remains a mirage. Consequently, many AIDS educators rely on private sources, including foundations, nonprofit groups and progressive religious denominations to train parents, teens and twenty-somethings about safer sex.

"This situation is a tragedy," concludes Hopkins. "When [policy-makers] do tune into this issue, they seem to want some kind of simple, one-size-fits-all method of tackling the epidemic. But it's one of the most difficult lessons of our work so far on AIDS that this approach doesn't work."