No place fills 72-year-old Betty Krawczyk with more joy than the rugged shores of British Columbia's Clayoquot Sound, where her son built an A-frame house on 10 remote acres. She adores the wilderness here, though the house has no plumbing and she must gather water from a nearby brook. So what turned this great-grandmother into inmate number 03793924 at Burnaby Correctional Center for Women--and subsequently into a folk hero and Green Party candidate for British Columbia's legislature?
Simply put, it was the clear-cutting of old-growth trees on public lands by multinational corporations. Some of the ancient trees harvested in British Columbia exceed 1,000 years in age--and can fetch a six-figure price for logging companies. But the public sees almost none of the profits and is stuck with the bill for cleaning up the leveled tree stands.
Krawczyk's horror at the logging led her to join a road blockade organized by Friends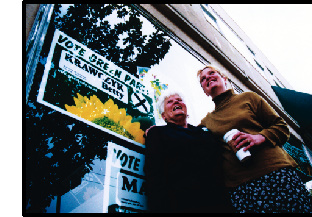 Betty Krawczyk with her daughter Marian
at her Vancouver headquarters.
JEFF SHAW

of Clayoquot Sound in the mid-'90s, resulting in her first arrest. Last year a protest in the Elaho Valley sent her to jail again. Part of the Stoltmann Wilderness, a three-hour drive from Vancouver, the Elaho Valley is teeming with biodiversity and rife with ancient Douglas firs, hemlock, and red and yellow cedar. In a controversial move--allegedly to prevent clashes between loggers and environmentalists--a court order was issued prohibiting future peaceful protests in the valley.

Krawczyk defied the court order and blocked a logging road. She was arrested and sentenced in September 2000 to an unheard of year in prison. On principle, she refused to accept parole or electronic monitoring, nor would she sign any of the customary paperwork allowing her to be released on her own recognizance. Krawczyk says any of these actions would be tantamount to an admission of guilt. "My legal and moral stance has always been that these forests belong to the people of British Columbia," Krawczyk says. "I have a right to be here, and I'm not signing any document that says I don't have a right to be here."

After a huge public outcry, a Canadian appeals court ordered Krawczyk to be released last January. In their ruling, Justices Ian Donald and Kenneth MacKenzie called the sentence "excessive," saying it seriously damaged public respect for the courts.

While in prison, Krawczyk decided to run for legislature on the ticket of British Columbia's growing Green Party, eschewing both of the province's established political parties, the New Democrats and the Liberals. The NDP, who identify themselves as allies of working people and the environment, were the ruling party going into the election--but had alienated a good portion of their traditional base of support through what many perceived as pro-corporate, anti-environment policies.

The Liberals exploited the loss of public confidence in the NDP. Despite the name, the Liberals are a party of passionate free- marketeers--more than one Green refers to them casually as "fascists"--who push tax cuts, logging and an anti-treaty agenda hostile to the First Nations, Canada's indigenous population. The New Democrats were harshly swept out of power in May in a landslide vote that saw the Liberals take 76 of 79 seats in the legislature.

Though they won no seats, the Greens scored more than 12 percent of the vote--tripling their showing in 1996, the province's last election. Green leader Adriane Carr credits Krawczyk for assisting the party in this year's momentum-building election. "People admire her for her integrity and her commitment," Carr says. "She brought a lot of energy to the party."

Krawczyk became familiar with NDP leader Ujjal Dosanjh before her jail term, offering to meet with him and discuss collaborating against the Liberals. She remembers writing to him, "I'd rather work with you than against you."

Dosanjh didn't reply to Krawczyk's repeated attempts to make contact, and continued pushing policies contrary to the Green philosophy. Convinced that the NDP needed to hear what she had to say about halting old-growth logging, Krawczyk camped out in front of Dosanjh's office--until he ordered her removed and arrested.

Being a part of new political movements is nothing new for Krawczyk. In the United States, she was stirred into activism by the civil rights and women's movements. But it was the anti-war movement that most affected the Krawczyk family, forcing a move from their home in Virginia to Canada so her sons could escape the draft. "It was very hard," she remembers. "I was leaving everything I knew."

Growing up in the lush forests of the South, Krawczyk was mortified watching them get logged and seeing the fertile wetlands of Louisiana drained. "When I came to British Columbia, I was just going to retire, but I saw the same thing happening here," she says. "It's one of the most beautiful places on earth, and to see it destroyed is just crazy."

Krawczyk's prison term proved that many agreed with her. More than 10,000 people sent letters to the premier of British Columbia demanding her release; 2,000 people wrote her personal letters, some from as far away as Europe, many bearing money. Her candidacy was almost entirely funded by those contributions. "The hardest part about prison, of course, is being separated from family," Krawczyk notes. "I have small grandchildren who are used to seeing me regularly."

Family is a recurring theme for the mother of eight. Her daughter Marian coordinates media and organized jail support for Krawczyk. "Mom is very much a matriarch," Marian says. "She's a nexus point for all the kids. I certainly wouldn't be [politically active] without my mother, and a lot of other people wouldn't be either."

Krawczyk sees her work as an example for the potential political power of senior citizens. "I'm demonstrating that elder people can make their presence felt in society in a political way," she says. "Elders are pushed aside in our culture. But the traditional role of elders is to be the moderators of society, to be stewards of the land. And I consider that my right as well as my responsibility."

With a Liberal government now in power, the logging of critical areas will almost certainly pick up speed. The government also is expected to challenge reproductive rights and the treaty rights of First Nations. "It's going to be all-out war," Krawczyk says. "I'll probably wind up back in prison. People have to do what they have to do to combat this."