Time (The Revelator)
Gillian Welch
Acony Records
The first recorded appearance of Gillian Welch arrived by proxy, courtesy of the great Emmylou Harris, who chose Welch's song "Orphan Girl" as one of the tracks on her 1995 comeback album Wrecking Ball. Welch was in good company: Harris' disc collected songs written by such established names as Bob Dylan, Steve Earle, Anna McGarrigle, Neil Young, Julie Miller, Lucinda Williams and Jimi Hendrix. "Orphan Girl" fit right in, but just who was Welch, and where did she come from?
Some answers arrived a few months later, when Welch's debut disc Revival appeared.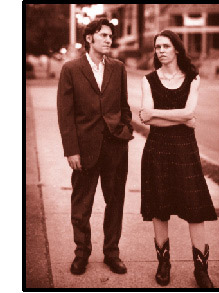 Gillian Welch and partner David Rawlings make everything
old new again.

A doggedly old-school album that embraced the more traditional elements of country, bluegrass, blues and folk, Revival immediately established the then Boston-based Welch as one of folk's most talented young practitioners. An excellent second album, Hell Among the Yearlings, further ratified that sentiment, but that was back in 1998, and a lot has changed since then.

Specifically, three major events have galvanized folk lovers and newcomers alike, lending Welch's music some cultural context and setting the stage for her highly anticipated third album, Time (The Revelator). A month after Hell Among the Yearlings arrived, Harry Smith's lauded 1952 Anthology of American Folk Music made its modern debut as a coveted six-disc set. Around the same time, Bob Dylan's Time Out of Mind announced the wandering artist's return from the wilderness. Lastly, the 2000 release of the Coen brothers' O Brother, Where Art Thou? and its corresponding soundtrack--still selling briskly--thrust early Americana into the spotlight, introducing (and reintroducing) thousands of listeners to the joys of old-time traditional music.

This trinity of crossover folk shares something in common besides genre. Notably, each finds a way to present folk music not just as a style but as part of a continuum, a mythology, a vital component of American history and a reflection of storytelling traditions. Smith traversed the country in search of authentic representations of Americana --spare, spooky music barely touched by time and deep with meaning. "Anthology" was just the right word, since the rich set exists like a collection of great short stories.

Artists like Dylan helped enshrine the Smith anthology as perhaps the key lexicon of American folk music. It was a Rosetta Stone of song. Dylan's most recent comeback returns the songwriter to this world of mythology, or at least myth-making, but this time his own brush with death is the subject. Time Out of Mind is like a collection of haunting murder ballads, with Dylan himself as the victim. It's the oldest tale in the book--death--cloaked by Daniel Lanois' production, the pinnacle of modernity (he lent a similar touch to Harris' Wrecking Ball). The eerie loops and instrumentation frame what is in essence a very old-fashioned album, a portrait of the artist as an old man.

If Dylan's disc aligned the artist's life with the legendary, half-fictional folk tales and subjects featured on Smith's anthology, and Smith assembled his rough-hewn fieldwork into something akin to a reference tome, then the deft hybrid O Brother, Where Art Thou? did something even more audacious.

The film parallels the tall tales and murder ballads of American folk with Homer's Odyssey. The film's soundtrack features artists both old (like bluegrass pioneer Ralph Stanley) and young (like Welch, also billed as an associate producer) performing songs drawn from America's rich tapestry of mysterious, authorless songs and introducing new compositions that continue the tales (tall or otherwise) begun in the Appalachians and other such outposts. Even more than the movie itself--a juxtaposition of ancient Greek literature, Depression-era screwball comedy and modern style--the soundtrack seamlessly blends past and present so that contemporary compositions are given the weight of well-traveled traditional songs.

Passing off the new as old is a scam, but it's an essential component of myth-making nonetheless. She may present herself as a no-frills folkie, but Gillian Welch, who attended the Berklee School of Music, is as urbane as they come. Still, if you close your eyes, it's not hard to imagine Welch coming from another time and place.

Welch's new album, produced by longtime partner David Rawlings and released on her own independent Acony label, is starker than her earlier albums, with Welch sticking primarily to acoustic guitar and banjo and putting her weary vocals way up front. You can even hear her stomping her foot during "My First Lover." Having discovered a rich niche of inspiration, she doesn't sound eager to stray from her stripped-down sound, but that's part of the disc's ascetic pleasures.

Welch seems wary of breaking the illusion, but she enjoys dancing around the clash of old against new. "I Want To Sing that Rock and Roll" somehow delivers the promise of the title without veering from Welch's adamant folk allegiance. Likewise "Elvis Presley Blues" manages to recall the halcyon pre-Elvis days from a distinctly post-Elvis vantage, while the epic, 14-minute "I Dream A Highway" nods to Dylan while adhering to the type of hypnotically simple structure Dylan himself frequently has subverted.

Throughout the disc, however, Welch is subsumed by her faithful recreations of a different era's music. If Harris collected her songwriting peers on Wrecking Ball like she was compiling a contemporary edition of Smith's Anthology, Welch's own work aims to be more anonymous. Welch may have written all of her own songs, but she treats them with the reverence and dusty distance of interpretation. Time (The Revelator) is an anthology of songs someone could very well have written 100 years ago, but in her own roundabout fashion Welch just got there first.

Why do we seek out these illusions, this modern mountain music that sounds as old as the country itself? The mainstream support of Americana may portend the latest return of a cyclical coping cycle. The economy is faltering, the government is untrustworthy and a debate rages as to whether the entertainment we enjoy is slowly destroying us. When faced with adversity we turn toward the familiar; the prevailing cynicism of the early 21st century only masks the romanticism that has always marked this country. By turning to America's past, perhaps we can somehow ignore the blights and disappointments of the present. More than most forms, folk at its heart is about passing feeling down from person to person, sharing joy and sorrow through song, and that sense of community is what keeps folk music alive.

Against the abrasive, disposable fabric of pop culture, Welch arrives offering something that whispers to be held. Tapped into yesterday, she successfully pulls off the time-traveling trick: She bridges the past to the present while simultaneously leading the dialogue forward. It's an illusion, to be sure, but even grasping at ghosts is better than grasping at nothing at all.
Joshua Klein is a freelance writer who lives in Chicago.