For months, Mexican President Vicente Fox has managed to stay one step ahead of the growing reality that little has changed in Mexico since his election last year, which toppled the autocratic regime that had controlled Mexican politics for 71 years. His critics charge that, after nine months in office, Fox has failed to make good on his pre-election promise to spur economic growth, end government corruption and negotiate a peaceful solution to armed uprisings in Mexico's poorest regions.
On July 2, the anniversary of his democratic triumph, Fox stole headlines from his detractors by marrying his spokeswoman and ending his controversial status as Mexico's most eligible bachelor. More recently, in early September--only days after the Mexican public coldly received his first state of the union address--Fox traveled to Washington for a high-profile state dinner at the White House and a speech before a joint session of Congress, in which he spoke boldly in defense of millions of Mexican immigrants. By focusing on the plight of immigrants in the United States, Fox shrewdly tapped into Mexican nationalism and the bitter resentment of a country that for centuries has been a doormat for the United States.
Not only was Fox able to regain his hero's status, but his visit helps President Bush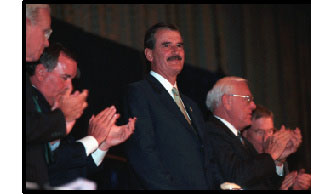 Fox has said that he is president of 118 million people,
18 million living in the United States.
JOEFF DAVIS

make further inroads into a growing constituency. Media analyst and pollster Sergio Bendixen told La Jornada, a left-leaning Mexican daily, that Bush is trying to "exorcise" anti-immigrant dogma from the Republican Party, and "Vicente Fox is the exorcist." Hispanics represent a powerful voting bloc that Bush and other Republicans can no longer ignore. The number of registered Hispanic voters grew last year to more than 8 million, up from 5 million in 1994. The Hispanic vote was 7 percent last year and is expected to be 10 percent in the next presidential election. What's more, Hispanics are centered in the most important electoral states: California, New York, Texas, Illinois and Florida. In the 2000 election, most Hispanics remained loyal Democrats, though pre-election polls showed that many maintained a favorable opinion of Bush. Bendixen said that in recent months Bush's popularity among Hispanics shot up from 42 percent to 70 percent.

While Bush is seeking votes, Fox is seeking dollars. Fox has made no secret of Mexico's growing dependence on immigrant dollars--Mexicans in the United States sent some $7 million back to their families last year. Fox has encouraged Mexicans abroad to help fund public works projects in Mexico. He has said he would match the amount of money immigrants send back dollar for dollar.

There's a degree of desperation in Fox's asking America's worst paid residents for help--as if there were little he could do to improve Mexico's ailing economy. But that may indeed be the case. Since the economic crisis of 1994, most Mexicans have been struggling to get back on their feet. The current economic slowdown has had a devastating effect on Mexico, which sells 85 percent of its exports to the United States. The low-wage maquiladoras that now dominate Mexico's industrial landscape offer no incentive for Mexicans to stay in their country. NAFTA has done little in the past seven years to reduce the country's poverty rates; up to 60 percent of Mexico's population lives in some degree of poverty.

During Fox's visit, Bush told reporters that only by strengthening its middle class can Mexico control its borders. That's easier said than done. Significantly raising salaries and thus Mexico's standard of living is unlikely, given the country's role as a low-wage haven for multinationals in the new global economy. Instead, as a way of generating much needed revenue, Fox has been pushing a fiscal reform package that includes a 15 percent tax on food and medicine. The revenue proposal, soundly rejected by the Mexican Congress and the public, represents Fox's biggest political failure yet. Add to that his inability to create new jobs, reduce crime or negotiate peace with armed rebels in poor states such as Chiapas, Guerrero and Oaxaca.

In the face of so many defeats at home, Fox has turned to foreign policy in the way one might expect a lame duck American president to do. The problem is, Fox has more than five years to go. Fox has said that he is president of 118 million people, 18 million of whom are living in the United States. Being a bold leader for these people may help get Bush votes and even encourage Mexican immigrants to wire home more money, but it won't solve the problems the other 100 million are suffering.
Martin Espinoza has written for Pacific News Service, the San Francisco Bay Guardian and CorpWatch. He spent the last three years in Guanajuato, Mexico, writing about Mexican politics and culture.