Monday, Jul 7, 2014, 4:31 pm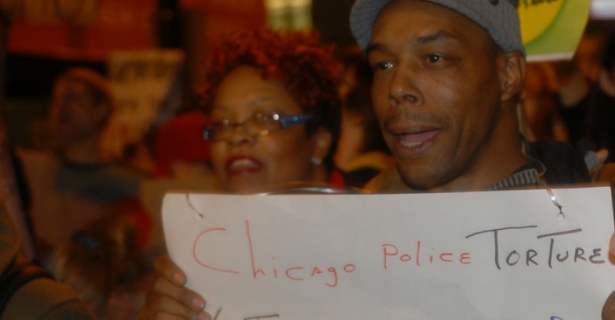 Last year, Chicago Mayor Rahm Emanuel issued an apology for a spate of police torture during the 1970s and 80s, during which the Chicago Police Department arrested and tortured an estimated 118 African-American men and women in order to obtain confessions and intimidate community members. Emanuel called this period "a dark chapter of the history of the City of Chicago," but said it was one that the city has to "move on" from. But while some are asking for the books to be closed, human-rights advocates are pushing forward with a campaign to secure reparations for torture survivors and to free those still behind bars for crimes they didn't commit.
Friday, Jun 27, 2014, 1:30 pm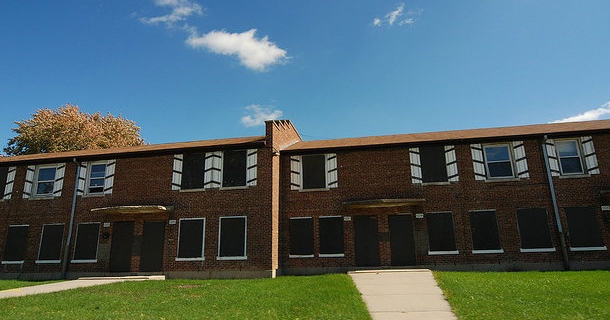 In Altgeld Gardens, the South Side public housing development where a young Barack Obama first cut his community organizing teeth, residents and local activists are voicing their concerns about the Chicago Housing Authority's (CHA) bidding process for development contracts in public housing projects.
Dozens of Altgeld Gardens residents and supporters gathered outside of CHA headquarters on June 24 to protest the consideration of the politically connected Walsh Group construction firm for a redevelopment contract in the project. If the CHA awards Walsh the deal, activists say, it will be effectively ignoring its obligations under Section 3 of the federal Housing and Urban Development Act, which requires public housing agencies "make their best efforts" to provide job training, employment and business opportunities for local low-income residents.
Based on Walsh's track record, activists say, those opportunities for locals would be scarce at best. In 2013, several residents of Altgeld Gardens filed suit against Walsh Group and the CHA, alleging that Walsh failed to provide them with priority employment under Section 3 while the company was performing construction work in Altgeld Gardens in 2009 and 2010. Additionally, according to the CHA directory of Section 3 employment opportunities, Walsh currently does not offer any jobs for Section 3 workers in the Chicago area. Locals fear this means that any new jobs created by the construction project would go to workers from outside the housing project.
Tuesday, Jun 17, 2014, 9:00 am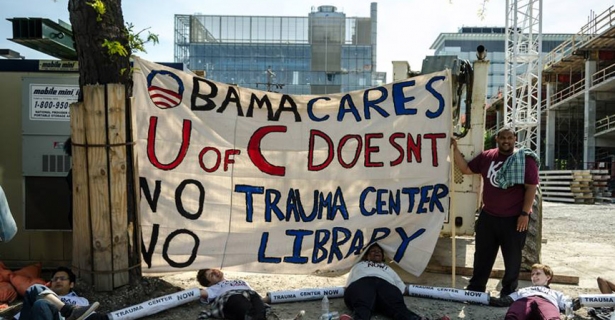 The University of Chicago (U of C) is vying to become the site of a new Obama Presidential Library and Museum, a project that would cost an estimated $500 million. Touting the added tourism draw of locating the project in the first family's home city, the University says its proposed project would represent "the first truly urban presidential library" on Chicago's South Side.
But not everyone is happy with the idea of installing a tourist attraction in an area hard-hit by poverty and violence. The Trauma Center Coalition, a grouping of South Side community organizations, has been criticizing the University for more than four years over its closure of the area's only adult trauma center—a medical facility providing specialized care to victims of gunshot wounds, stabbings, car crashes and other similar incidents.
As the University seeks to polish its image in order to attract the coveted presidential library, activists are hoping to bring pressure to bear over its role in the community. The Trauma Care Coalition maintains that by refusing to provide trauma care, the University is displaying a disregard for the health needs of the Hyde Park community and the South Side as a whole.
"The bid for the library is offensive to Black people," says Veronica Morris-Moore, a 20-year-old community organizer from Chicago's Woodlawn neighborhood. "[The University] doesn't want to provide trauma care for the surrounding African-American community, but at the same time it wants to honor the first black president. It seems as though the University only acts for our community when it is in their best interest."
Monday, Jun 2, 2014, 2:10 am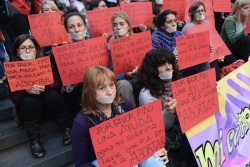 After the 2014 European parliamentary elections, the two main parties in Spain—the ruling right-wing People's Party (PP) and the left-wing Socialist Workers Party (PSOE)—lost 17 seats in the European Parliament. The results are a historic reality check for the country, as the two major parties received just over a combined 49 percent of all votes, the first time the two parties have garnered less than half of all votes in an EU election.
Still, the PP won the elections with 26 percent of the votes. And as the results show, much has changed since the PP won a historic absolute majority in the 2011 Spanish parliamentary elections. Support for the two-party system has waned among Spaniards, who have instead opted to support smaller independent parties in the EU elections.
The results have caught the ruling party by surprise, but for opponents of PP's increasingly conservative policies, the elections could mean a major tide change in Spanish politics and change the fate of some of the ruling parties more draconian plans. Among the most conservative—and most roundly opposed—policies is a controversial draft abortion bill, first introduced in the Spanish parliament in December 2013.
The draft abortion bill has been highly criticised by Spanish citizens and health experts alike. If approved, it would become one of the most restrictive abortion laws in all of Europe.
In fact, according to a recent report from the Association of Accredited Clinics for the Interruption of Pregnancies (ACAI) in Spain, up to 95 percent of the legal abortions currently performed in the country would be illegal under the bill. The March study—which includes data from more than 6,000 women interviewees who have had abortions in an ACAI clinic over a four-month period, starting in October 2013—shows that if they had to make the decision to terminate a pregnancy under the proposed law, 62 percent of them would still have an abortion. Nearly 32 percent said they would travel abroad to obtain an abortion, while 30 percent reported they would turn to an illegal clinic for the procedure.
Under the current law, women are able to terminate their pregnancies without restrictions during the first 14 weeks. The proposed law would make abortions illegal in all situations, with the exception of rape or when there is a serious mental or physical health risk to the mother. Additionally, the determination of whether a woman qualifies for a legal abortion would have to come from two different doctors; they cannot be employed by the facility that will perform the abortion. The added restrictions will only make the process of obtaining an abortion longer and stricter.
The current Spanish abortion law permits 16 and 17-year-olds to end their pregnancies without informing their parents or guardians if it will put the young woman in an unsafe situation or significant conflict at home. The draft bill would make abortions impossible without parental consent for 16-plus minors, an especially egregious move as the Spanish Healthcare Law affords them other rights, including the right to refuse therapy, or opt for surgery; in the social realm, they are able to get married without parental approval. "It's a big contradiction that these minors that have all the rights in decisions concerning health matters, couldn't decide about the termination of pregnancy, which is a very important issue for their lives," says Alberto Stolzenburg, an ACAI international representative.
Minister of Justice Alberto Ruiz-Gallardón, one of the architects of the proposed legislation, announced it just before Christmas of last year. The public argued that this was a strategic move, since most Spanish citizens would be out on holidays and wouldn't be paying much attention to the news. Yet, the reaction was far from quiet. And the outcry didn't just come from women—like those in the ACAI study—who have already had abortions.
Instead, opposition to the bill has come from all sectors of Spanish society.
Thursday, May 22, 2014, 2:45 pm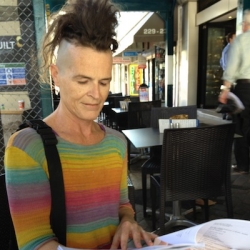 For transgender and gender-queer people, acquiring identification papers that reflect one's gender is rarely a straightforward endeavor. Asking gender-queer individuals, who by definition do not fully identify as either male or female, forces them to align themselves with a gender binary that doesn't describe them. And while there are many trans people who identify simply as male or female, there are others for whom those labels don't acceptably acknowledge one's trans identity.
An increasing number of governments now recognize the self-identified gender of trans people—as long as they fall into the already-established binary. But few governments make any accommodations for gender-nonconforming individuals who identify as neither men nor women. Such individuals are forced to fight not only for recognition of the right to affirm their own gender, but also for acknowledgment of the very existence of non-binary gender identities.
But several landmark rulings and new legislation instituted over the last few months have significantly changed the legal landscape for gender-nonconforming individuals seeking recognition of their self-affirmed gender. Much of this new policy, while a step in the right direction, is not without problem.
Tuesday, May 20, 2014, 4:42 pm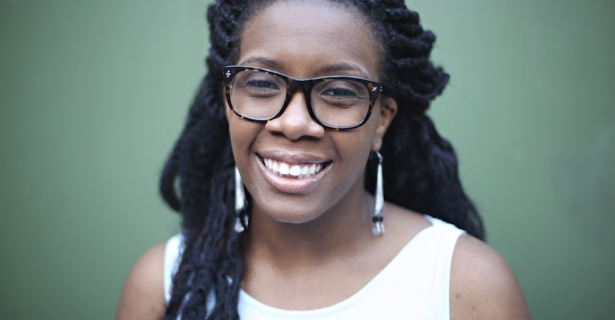 Five years ago, the Center for Public Integrity (CPI) published a series of groundbreaking reports on how U.S. colleges handle sexual violence. The investigation found that survivors faced a "depressing litany of barriers" to reporting assaults and that assailants rarely receive serious punishments. When Wagatwe Wanjuki, a former student at Tufts University, read the report, it came as life-changing evidence that she was not alone.
"That brought it home that it's not just me," says Wanjuki. "Schools are just not doing what they're supposed to be doing."
While a student at Tufts, Wanjuki says, she was repeatedly sexually assaulted by an abusive partner over the course of a two-year relationship. She says that she filed a complaint with the university, but the administration dropped her case without formal explanation. Her ex remained on campus until graduation that year. Wanjuki says that Tufts would not provide academic accommodation for her during this difficult time, and her grades began to suffer. Eventually, Tufts expelled her.
Thursday, May 15, 2014, 3:07 pm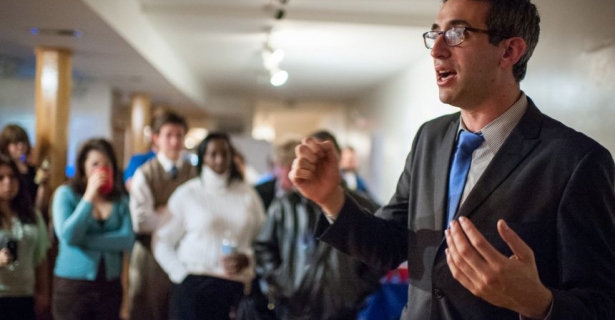 Will Guzzardi's campaign manager tells the real story of how she took on Chicago's powerful political Machine—and what lessons future progressives can use to change Illinois politics.
On an unexpectedly warm Tuesday night in March, several hundred people packed into the Logan Square Auditorium to celebrate a huge victory for Chicago progressives—and an all but unprecedented defeat for the city's powerful political Machine.
Many were exhausted, having woken up before dawn to volunteer. But the mood was pure joy, as people cheered, pumped their fists, and hugged whoever happened to be standing next to them. Scattered throughout the crowd were volunteer leaders wearing bright blue shirts proudly proclaiming them to be members of "Team Guzz."
This was the election night victory party for Will Guzzardi, a 26-year-old former journalist who took on six-term incumbent Rep. Toni Berrios, the daughter of powerful Cook County Democratic Party chairman Joe Berrios. After having come just 125 votes shy of winning two years ago, Guzzardi had just won decisively with 60% of the vote in the Democratic primary for 39th District state representative. Later that week, MSNBC's Chuck Todd named Will one of Illinois' "rising political stars" who was among those most likely to become a national name.
A lot has been said about our campaign and why we won. A lot of it missed the mark. As Guzzardi's campaign manager, I want to share the real lessons from inside our campaign, about what we learned and how Chicago and Illinois progressives can continue building momentum heading into upcoming elections.
Wednesday, May 7, 2014, 3:40 pm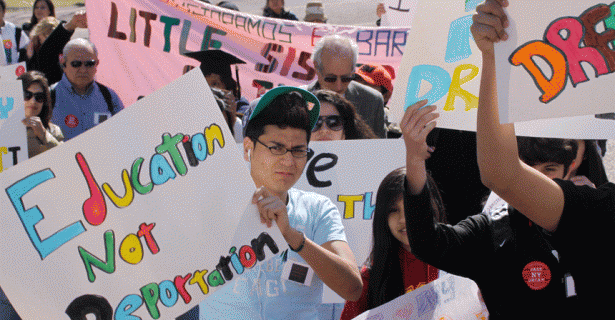 "My name is Sharanitha and I am undocumented, unafraid, unapologetic, and I too am UIC."
Applause erupted for Sharanitha in the quad at the University of Illinois, Chicago, during a "Coming Out of the Shadows" rally, where she and other undocumented students addressed the crowd. The event served as a stage for UIC students to publicly share their immigration statuses with the wider university community and to call for an end to deportations.
The Immigrant Youth Justice League, a Chicago-based activist group led by undocumented young people, collaborates with undocumented student groups to organize a series of such events every spring on campuses across Illinois, from NIU to IIT. But the UIC rally was a poignant reminder of the organization's roots on the campus where the IYJL was born.
The IYJL was founded in 2009 when UIC junior Rigo Padilla was served an order of deportation following a DUI arrest. An honors student with an otherwise clean record, Padilla hadn't been outside of the U.S. since his parents brought him from Mexico to Chicago at age six. With the support of fellow undocumented UIC students Reyna Wences and Tania Unzueta, Padilla began to fight his deportation order.
Thursday, Apr 17, 2014, 3:00 pm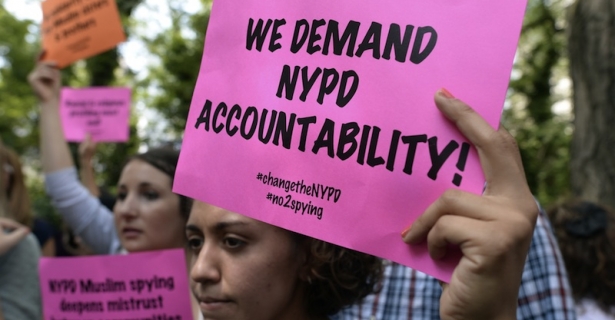 Like many other college students around the country, Soofia Tahir was an active member of a student organization while attending Rutgers University in New Brunswick, N.J. But unlike most college students, as a member of Rutgers' Muslim Students Association (MSA) from 2004 to 2008, Tahir and the rest of her group were being carefully monitored by a secret unit of the New York Police Department (NYPD) for at least three years. In 2012, students from MSA groups all over the New York area—and even a few from elsewhere in the Northeast—discovered thanks to an Associated Press story that the NYPD had targeted them as part of a broader covert spying program aimed at identifying terrorist threats.
On June 6, 2012, Tahir and ten other Muslim residents of New Jersey filed the first lawsuit against the city of New York for its Muslim surveillance program. With assistance from Muslim Advocates and the Center for Constitutional Rights, the group alleged in Hassan v. City of New York that the NYPD had illegally used ethnicity and Muslim religious identity to determine law enforcement targets. They contended that the subsequent surveillance negatively affected their careers, businesses and religious practices.
In response to the suit, the City of New York filed a motion for dismissal in December 2012. And on Feb. 20, 2014, the U.S. District Court judge granted the city's motion and dismissed the case, placing the blame for any negative consequences of surveillance on the journalists who had uncovered the program in the first place.
Friday, Apr 11, 2014, 1:52 pm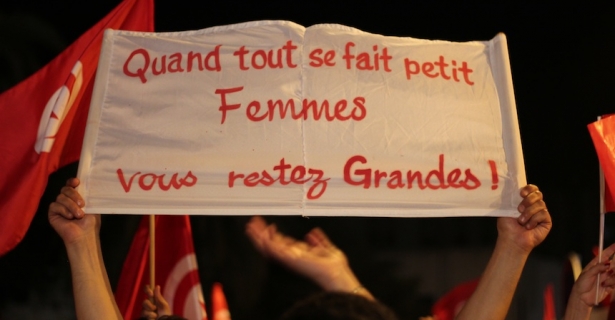 After more than two years of arguments and concessions between Islamic and secular parties, on January 26, the Tunisian National Constituent Assembly ratified the country's new Constitution.
When it was signed, assembly members spontaneously started to chant the national anthem and congratulated each other for the achievement. Indeed, there was cause for celebration. Tunisians signed one of the most progressive Constitutions in the Arab world, one that includes a commitment to gender equality. Yet, the celebratory media coverage failed to mention that other Arab countries, such as Algeria and Morocco, have also committed to gender equality in their Constitution.
Article 45 of the Tunisian Constitution guarantees "equality of opportunities between women and men to have access to all levels of responsibility and in all domains" and Article 46 seeks parity "between men and women in elected assemblies." In an interview for UN Women, Sana Ben Achour, women's rights activist, explained that the Tunisian Constitution is the first one in the Arab world to ensure equal access to the presidency. Additionally, Article 20 states: "All male and female citizens have the same rights and duties. They are equal before the law without discrimination." This accomplishment would not have been possible without the work of feminist activists and women's organizations that have advocated for gender equality.