Monday, Mar 17, 2014, 2:50 pm
In These Times Remembers Ron Dorfman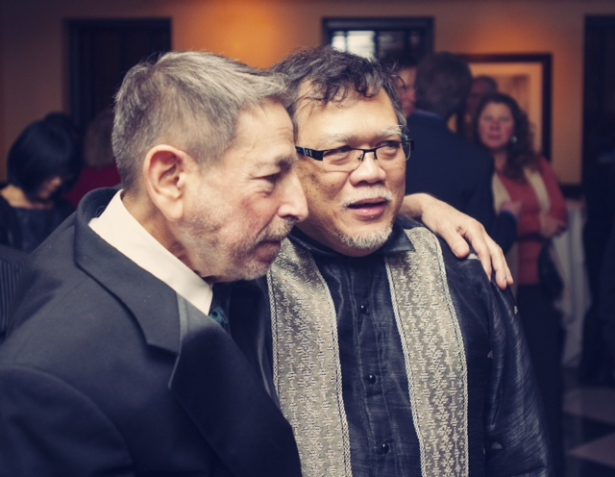 Ron Dorfman, a Chicago journalist and secretary of the In These Times Board of Directors, who died on February 10, spent his final months doing what he had done for most of his life: He fought for a worthy cause as he maintained a wry, good-humored perspective on the complex turns of injustices in the world.
Dorfman's work as a journalist—reporter, editor and journalism watchdog—was fair-minded and impeccably professional. But it also grew out of his political views, including personal support for movements promoting civil rights, civil liberties, unionization of workers, an end to the Vietnam War and gay rights.
Born in 1940 in Philadelphia, Dorfman attended the University of Chicago, where he began a long career in progressive journalism at the seminal New Left magazine New University Thought. He later worked for news organizations and publications, including the venerable City News Bureau, Chicago's American, Chicago magazine, Quill, and a publication produced by the left-wing International Union of Mine, Mill and Smelter Workers.
In an effort that demonstrates his persistent commitment to journalistic integrity, Dorfman also helped found the Chicago Journalism Review in 1968, after major news outlets accurately reported on a police riot in response to anti-war protests but subsequently backtracked. Dorfman became full-time editor of the watchdog organization in 1970.
Nearly 20 years ago Dorfman met Ken Ilio, an accomplished scientist and educator who had immigrated from the Philippines, at an AIDS benefit. A devoted couple since then, Dorfman and Ilio in December 2013 became the first male couple to marry in Illinois under the state's new marriage equality law. Dorfman learned last year that he had advanced heart disease, but despite the cloud of ill health hanging over them, Dorfman and Ilio celebrated political victory and personal happiness in their long-awaited marriage.
Soft-spoken, sometimes even self-effacing, Dorfman was a model journalist, citizen, friend and husband. His many battles for the rights and welfare of others ended with a social and personal triumph for what gay playwright Larry Kramer called "the normal heart" of love that tries to beat in the breast of everyone, even as his failing physical heart ended a principled life that was as well-thought as it was well-lived.
David Moberg
David Moberg, a senior editor of In These Times, has been on the staff of the magazine since it began publishing in 1976. Before joining In These Times, he completed his work for a Ph.D. in anthropology at the University of Chicago and worked for Newsweek. He has received fellowships from the John D. and Catherine T. MacArthur Foundation and the Nation Institute for research on the new global economy. He can be reached at davidmoberg@inthesetimes.com.
View Comments