Monday, Nov 23, 2015, 9:48 pm · By George Lavender
After 16 years in prison, DNA evidence exonerated Lorenzo Vargas as a suspect in three rapes. On Monday a Los Angeles County judge threw out his convictions.
As the Los Angeles Times reports, the testing indicated that the attacks had likely been carried out by the same assailant suspected in a series of other assaults.
The Los Angeles County district attorney's office joined the attorneys to ask Superior Court Judge William C. Ryan to release Vargas, saying the office "no longer has confidence in the convictions."

At a hearing Monday afternoon, Vargas appeared in a downtown courtroom handcuffed and dressed in blue jail scrubs. Among his supporters in attendance were his daughter and his mother, who dabbed tears from their eyes as the judge ordered Vargas' case set aside.

Though Vargas was ordered released, he will be placed in federal custody because of an immigration hold, authorities said.

At his trial, three victims identified Vargas – who had previously served time for forcibly raping a girlfriend – as the man who attacked them. One, a 15-year-old girl, was raped. In the other two cases, Vargas was accused of attacking the victims with the intent of raping them.

Jurors found him guilty even though several co-workers testified that Vargas had been miles away at work when the attacks occurred. Continue reading…
According to the National Registry of Exonerations last year 22 people were exonerated on the basis of DNA evidence. So far this year 21 people have been exonerated in cases in which DNA evidence was involved, excluding Vargas, although in some of those cases, post-conviction DNA evidence was not central to the case.
Thursday, Nov 12, 2015, 2:03 am · By George Lavender
After the Sentencing Commission retroactively reduced the length of time people convicted of some drug crimes have to spend in prison, thousands of people became eligible for immediate release from federal prison. As the LA Times reports, that has now started
…about 3,400 -- already have moved to the Bureau of Prisons' halfway houses or were confined at home, but will be released from custody by Tuesday, according to the Justice Department.

The remaining 850 or so will be released directly from prison to a probation officer.

Prisoners being released include 250 from California, 310 from Florida, 260 from Illinois, 95 from Maryland, 100 from Pennsylvania, 163 from Virginia and 35 from Connecticut. Continue reading…
The Sentencing Commission is an independent agency of the judiciary. The reduction in sentences for some drug crimes was supported by then-Attorney General Eric Holder who hailed the move as "a milestone in the effort to make more efficient use of our law enforcement resources and ease the burden on our overcrowded prison system."
Not everyone who gets out of prison will be able to return to their previous lives, as PRI's The World reports.
Nearly a third of the 6,000 are foreign inmates who will be placed on a different track, one that may lead to deportation and leaving their families behind in the United States.

Immigration officials estimate that most of those foreign inmates are from Mexico. Once released, they will be handed over to Immigration and Customs Enforcement officials for likely deportation — whether they legally immigrated to the US or illegally. Continue reading…
Monday, Oct 26, 2015, 4:33 pm · By George Lavender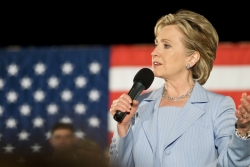 Hillary Clinton's campaign for President moved to distance itself from private prison companies last week.
Activists had criticized Clinton for what they said was a contradiction between her recent rhetoric on "ending mass incarceration" and her campaign's connections to some of the country's leading private prison corporations. Clinton's campaign announced Friday she will no longer accept donations from federally registered lobbyists or PACs for companies involved in incarceration. Her campaign said that money she has already recieved will be donated to charity.
As Alice Ollstein reports at ThinkProgress, the announcement came after months of campaigning by immigrant and civil rights groups.
"When we're dealing with a mass incarceration crisis, we don't need private industry incentives that may contribute — or have the appearance of contributing — to over-incarceration," campaign spokesperson Xochitl Hinojosa told ThinkProgress, explaining that Clinton will donate the large amount she has already received from these sources to a yet-to-be-named charity.

Hinojosa explained that the move is part of Clinton's promise to "end the era of mass incarceration," especially private prisons and private immigrant detention centers.

"She believes that we should not contract out this core responsibility of the federal government," Hinojosa said. "This is only one of many ways that she believes we need to re-balance our criminal justice and immigration systems."

Yet the decision came after months of pressure from civil rights and immigrant justice groups, who launched online petitions and interrupted Clinton's public events, demanding she cut ties with the private prison industry.

"Our message was, 'You can't be pro-immigrant and still have this blemish on your record,'" said Zenén Jaimes Pérez with United We Dream, one of many organizations that teamed up to press Clinton. "She had [campaign donation] bundlers who worked for the Corrections Corporation of America and Geo Group, which run most of the immigrant detention centers in this country. For me, it was a big deal, because my dad was detained in a Geo facility. She was taking money from a group profiting from my family's suffering." Continue reading...
As Lee Fang at The Intercept reported earlier this summer, several prominent "bundlers" for the Clinton campaign were tied to Geo Group and Corrections Corporation of America. Bundlers are campaign fundraisers who solicit large donations from friends, family and colleagues. (They regularly go on to political positions or recieve other government favors)
Richard Sullivan, of the lobbying firm Capitol Counsel, is a bundler for the Clinton campaign, bringing in $44,859 in contributions in a few short months. Sullivan is also a registered lobbyist for the Geo Group, a company that operates a number of jails, including immigrant detention centers, for profit.

As we reported yesterday, fully five Clinton bundlers work for the lobbying and law firm Akin Gump Strauss Hauer & Feld. Corrections Corporation of America, the largest private prison company in America, paid Akin Gump$240,000 in lobbying fees last year. The firm also serves as a law firm for the prison giant, representing the company in court.

Akin Gump lobbyist and Clinton bundler Brian Popper disclosed that he previously helped CCA defeat efforts to compel private prisons to respond to Freedom of Information Act requests.

Hillary Clinton has a complicated history with incarceration. As first lady, she championed efforts to get tough on crime. "We need more police, we need more and tougher prison sentences for repeat offenders," Clinton said in 1994. "The 'three strikes and you're out' for violent offenders has to be part of the plan. We need more prisons to keep violent offenders for as long as it takes to keep them off the streets," she added. Continue reading...
During this campaign Clinton has spoken publicly about the need to end "mass incarceration." In April she told an audience at the Public Policy Forum at Columbia University that "there is something profoundly wrong when African-American men are still far more likely to be stopped and searched by police, charged with crimes, and sentenced to longer prison terms than are meted out to their white counterparts."
Sunday, Oct 25, 2015, 12:50 pm · By George Lavender
Staying in touch with someone in prison can be a costly business.
Usually the cost of the call is covered by the person outside prison receiving it, and could reach as much as $14 per minute according to the FCC. The rates are often especially high for calls made out of state. For years, activists and lawyers have argued that places an unreasonable burden on people with a loved-one in prison and urged the FCC to intervene.
As NBC reports, last Thursday the FCC did just that
The move by the Federal Communications Commission was described as a "huge step forward" by one reform group and denounced as "wrong-headed" by a phone service provider that vowed to lead an industry challenge.

The FCC's decision eliminates or limits fees commonly tacked on by providers. It also caps the maximum cost of a 15-minute in-state or local call at $1.65 and lowers the per-minute rate.

The new rules affect inmates in federal and state prisons, including immigrant detention centers. They also apply to local jails, though rates are higher in smaller facilities. Continue reading…
The move follows a 2013 interim cap on the cost of phone calls. To listen to a radio report from that time go to 14.40 here
Private companies providing phone calls have vowed to challenge the caps to the rates.
Tuesday, Sep 29, 2015, 5:00 pm · By George Lavender
Georgia's board of pardons and paroles has denied clemency to Kelly Gissendaner, despite pleas to spare her life delivered by her children and Pope Francis.
Gissendaner is scheduled to be executed by lethal injection at 7pm for her part in the 1997 murder of her husband. The board met today to hear from her eldest son Brandon, but upheld its decision to deny clemency.
The intervention from the Pope comes a week after he told a joint session of Congress he opposed the death penalty "since every life is sacred." The letter, written on the Pope's behalf by Archbishop Carlo Maria Vigano read:
"While not wishing to minimize the gravity of the crime for which Ms Gissendaner has been convicted, and while sympathizing with the victims, I nonetheless implore you, in consideration of the reasons that have been expressed to your board, to commute the sentence to one that would better express both justice and mercy,"
Gissendaner's previous execution date was postponed in March after the drugs to be used in the lethal injection appeared "cloudy." She is one of three death row inmates in three different states scheduled to die this week.
Monday, Sep 28, 2015, 1:00 pm · By George Lavender
With drugs for lethal injections in short supply, Virginia has found a new supplier: Texas. As the New York Times reports, Texas has provided Virginia with the pentobarbital it needs to carry out the scheduled execution of Alfredo Rolando Prieto on Thursday.
The disclosure, which surfaced in a court filing in an Oklahoma death penalty case, was confirmed Friday by the Texas Department of Criminal Justice. Virginia prison officials also confirmed the trade, saying they needed pentobarbital to replace a dose of another drug they intended to use, midazolam, that will soon expire.

A spokesman for Texas prisons, Jason Clark, said the three vials of pentobarbital given to Virginia had been legally purchased from a compounding pharmacy, which he declined to name. Texas and Oklahoma are among a handful of states with laws — being challenged by death penalty opponents — that allow prison officials not to disclose where they get execution drugs.

Virginia prison officials gave Texas pentobarbital to use as a backup in 2013, and when Virginia asked for help this year, Mr. Clark said, "we reciprocated." Continue reading…
Critics of the death penalty have raised concerns about the exchange of drugs. Robert Dunham, executive director of the Death Penalty Information Center, told the Times the exchange between states "puts a whole new spin on the efforts by state departments of corrections for secrecy in the execution process,"
The exchange came to light in court filings in the case of Richard Glossip, the condemned Oklahoma inmate, who won a reprieve earlier this month.
Saturday, Sep 19, 2015, 11:00 pm · By George Lavender
An Indiana court has overturned the murder convictions for three of the Elkhart Four. Without ever having killed anyone, Blake Layman, Anthony Sharp, and Levi Sparks, had previously been serving 55 years in prison under the state's felony murder law. Their case sparked renewed calls for the law to be changed.
In October 2012 five young people broke into a house in Elkhart looking for a quick way to make money. They later told police that they had believed the house was empty. It wasn't. The owner Rodney Scott, who had been sleeping upstairs, came down and opened fire hitting Layman in the leg and killing 21 year old Danzele Johnson. Despite the fact that none of the four surviving teenagers had pulled the trigger, they were all charged with murder. As the Indy Star reports, they were convicted under Indiana's Felony Murder Statute
...a person can be charged with murder if someone is killed while he or she is committing or attempting to commit another crime. That crime could be arson, burglary, robbery, carjacking, human trafficking, sexual trafficking, or sex and drug crimes — acts that the law considers inherently dangerous.

Felony murder carries the same penalty as murder, but unlike a murder charge, in which intent to kill must be proven, a person can be convicted of felony murder even if the death is accidental or unintended.

Supporters say it's a useful statute, a crime deterrent and a safeguard in the criminal justice system that holds people accountable for committing dangerous acts that result in someone's death.
The four were sentenced to 55 years in prison for murder, but the case gained widespread interest. As the Guardian reports, on Friday, the sentence was overturned for all but one of the Elkhart Four. The fourth, Jose Quiroz Jr. plead guilty to felony murder and did not file an appeal.
The highest court in the state on Friday stripped out the contentious "felony murder" conviction for Blake Layman, now 19, Anthony Sharp, 21, and Levi Sparks, 20, stating that none of the three had ever engaged in any "dangerously violent and threatening conduct".

The judges reduced the convictions to simple burglary and ordered the lower courts to resentence the prisoners accordingly. Continue reading...
Wednesday, Sep 16, 2015, 2:00 pm · By George Lavender
An Oklahoma appeals court has granted death row prisoner Richard Glossip a two-week reprieve, just hours before he was due to be put to death. Glossip's lawyers had argued that newly unearthed evidence cast doubt on his murder conviction. As NBC reports, his supporters had urged Oklahoma's Governor to grant a stay of execution.
Oklahoma Gov. Mary Fallin was unswayed, but the Oklahoma Court of Criminal Appeals issued an emergency stay of execution that will remain in effect until Sept. 30.

In a brief order, the judges said they wanted time to give "fair consideration" to all the materials Glossip's defense submitted. Continue reading...
On Tuesday Oklahoma City's Fox News station, revealed that evidence in Glossip's case had been destroyed while he was still seeking to appeal his case.
Some of the physical evidence from the murder still exists, but acting on questions from Fox 25, the Oklahoma City Police Department reviewed the property room and discovered an entire box from the case is missing.

That box of evidence was destroyed in 1999. According to a police report the order for destruction came on October 25, 1999, just five days after the Oklahoma Court of Criminal Appeals ordered Glossip's initial trial verdict back to Oklahoma County District Court for a 'fact finding' hearing on his claims of prosecutorial misconduct and ineffective assistance of counsel. Continue reading...
Glossip's execution has been rescheduled for September 30th.
Monday, Sep 14, 2015, 11:00 am · By George Lavender
Time is running out for Oklahoma death-row prisoner Richard Glossip.
With just days to go before his scheduled execution, Glossip's lawyers used a press conference on Monday to present what they said was previously unexamined evidence of his innocence. His new attorney Donald Knight says that Glossip had been unable to pay for an adequate legal defense. "Not very many people can afford a death penalty defense" he told the Guardian "that should scare everyone." Knight is seeking a 60 day stay of execution from Governor Mary Fallin.
Glossip has been convicted twice for arranging the killing of Barry Van Treese in 1997, but no DNA or fingerprints were ever presented linking him to the murder, and the case relied instead on the testimony of the person who actually carried out the killing. As the Guardian reports Glossip's lawyers have sought to challenge that version of events.
Glossip was convicted based on the testimony of Justin Sneed, a 19-year-old maintenance worker who, at various points during his police interrogation a week after the murder, said he didn't know Van Treese, then that he didn't kill van Treese, then that he had killed him accidentally, and then that he had killed him intentionally, under Glossip's instruction. Eventually, Sneed agreed to a plea deal in which he would testify against Glossip to save himself from the death penalty.

Transcripts of the police interrogation show Sneed first denied any knowledge of the murder. "I don't really know what to say about it," he told investigators, stumbling over a story about his brother before admitting that he robbed Van Treese but "I only meant to knock him out".

"The thing about it is, Justin, we think – we know that this involves more than just you, okay?" Detective Bob Bemo said to Sneed, later introducing Glossip as a snitch. "You know Rich is under arrest don't you? … [H]e's putting it on you the worst."

Sneed's story shifted.

"Actually, Rich asked me to kill Barry, that's what he'd done," Sneed said, and investigators took the conversation off-camera, where Sneed signed a plea deal. Continue reading...
Last year, Sneed's own daughter wrote in a letter to the state's Parole and Pardon Board that for "a couple of years now, my father has been talking to me about recanting his original testimony. But has been afraid to act upon it, in fear of being charged with the Death Penalty, and not be here for his children."
Glossip has come close to death before. In January he was just a day away from the death chamber before being granted a stay.
Oklahoma's death penalty has been under scrutiny ever since the botched execution of Clayton Lockett in April 2014. Glossip's own execution was delayed because he was part of a legal challenge to the use of the death penalty drug, midazolam, one of the drugs used in Lockett's execution. In June the Supreme Court ruled that use of the drug was constitutional.
Monday, Aug 31, 2015, 4:00 pm · By George Lavender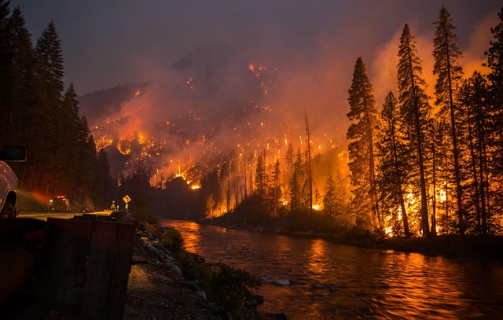 As a record-breaking wildfire season scorches the West, Inmate firefighters are among those on the frontlines of blazes from California to Washington.
An escape attempt this week drew attention to the little-known use of young people from juvenile detention facilities in firefighting crews in Washington state. As The Guardian reports, the 16 year old had been working on the Chelan Complex fire, when he escaped. He later tried to commit suicide when he was spotted by police, but survived.
David Ball, a criminal justice lawyer and corrections expert at California's Santa Clara University, said he was surprised to learn of fire camps for inmates under the age of 18.

"The word about scared-straight boot camps for juveniles is that they don't do any good," said Ball. "For most juvenile programs, there are lots of other things for these kids to do, like get their GED and go to counseling. This is really something that I have not heard of."

The Washington state government said it was reassessing the juvenile work camps, in light of the events. Two deployed crews had been recalled to their main facilities. Continue reading…
Meanwhile, despite earlier predictions that California's widespread use of inmate firefighting crews might be reduced owing to a decline in the prison population has proved unfounded according to Capitol Public Radio.