Thursday, Oct 24, 2019, 6:02 pm · By Lisa Schulte Moore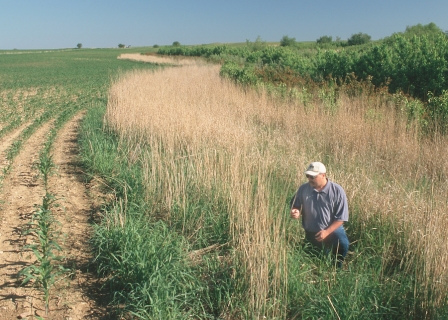 Iowa's first-in-the-nation caucuses bring the state a lot of political attention during presidential election cycles. But in my view, even though some candidates have outlined positions on food and farming, agriculture rarely gets the attention it deserves.
As a scientist at Iowa's land-grant university, I believe our state is at the forefront of redefining what agriculture could be in the U.S., and addressing environmental and economic challenges associated with the extensive monocultures that dominate our current system. I think these conversations should be at the forefront nationally. After all, everyone needs to eat, so all Americans have a stake in the future of farming.
Saturday, Oct 19, 2019, 12:53 pm · By Jonathan R. Latham
Gene editing of DNA inside living cells has many potential uses — from treating human disease to altering crops and livestock for agriculture — and is often considered the preeminent technological breakthrough of the new millennium. For example, in a move that has been widely criticized, Chinese researcher He Jiankui claims to have edited human babies to resist HIV by altering a gene called CCR5.
For most commercial applications gene editing's appeal is simplicity and precision: It alters genomes at precise sites, without inserting foreign DNA. This is why, in popular articles, gene editing is often referred to as "tweaking."
The tweaking narrative, however, is an assumption and not an established fact. And it recently suffered a large dent.
Thursday, Oct 17, 2019, 8:15 am · By Dave Dickey
This story was originally published on The Midwest Center for Investigative Reporting
The nexus for defining gaslighting comes from Ingrid Bergman's brilliant performance as Paula in George Cukor's 1944 film Gaslight. In the movie Bergman's character witnessed the murder of her aunt as a child. Years later she marries Gregory who, in a twist of fate, returns with her to live in the very house where her aunt was killed. As it turns out Gregory isn't a loving husband, but rather a cold and calculated abuser whose insidious and chilling lies and actions have Paula coming unhinged and doubting her sanity.
Over seven decades later, gaslighting has become a White House weapon of choice in trying to convince individual American farmers all is well while they suffer financially from the POTUS agricultural policy choices. (By the way, as early as February 2017 I cautioned in a blog that farmers needed to be on alert.)
So what is gaslighting? We'll define it as manipulative behavior designed to sow seeds of uncertainty in victims with the objective of gaining power and control. Over time, gaslighting creates self-doubt, which causes the victims to question their reality. The POTUS and his toadies have been gaslighting farmers in general and soybean farmers in particular with his trade war against China.
Friday, Oct 11, 2019, 12:00 pm · By James Dinneen
It was morning on Ganienkeh, a Mohawk community near the Canadian border in Upstate New York, and about ten people had showed up for the daily tobacco burning ceremony. Mostly older folks, 7 a.m., sipping coffee, smoking, and chatting softly. We sat at picnic tables around a fire, surrounded by high pines. The fire was covered by two panels of corrugated metal to protect it from the rain. A man seated next to me explained that the fire had been kept burning continuously for years, too many to remember when it last went out.
Though Ganienkeh Territory is officially only a few hundred acres, the word Ganienkeh—also spelled Kanièn:ke—refers to the much larger pre-colonial Mohawk homeland, "The Land of the Flint." The contemporary Ganienkeh was established in 1974 to be a home for people who wished to live by traditional Iroquois laws and to live outside the reservation systems of the Canadian and American governments.
That year, a group of Mohawk militants repossessed an abandoned girls' summer camp near Moss Lake, New York. After the occupation, which lasted more than three years and attracted international attention, the Ganienkeh Mohawks negotiated an unprecedented land swap with New York State in which they would leave Moss Lake in exchange for land further north. Though the land is technically held by a trust, the Ganienkeh Mohawks deny the legality of the 18th century treaty that forms the basis for any land claims by the U.S. government, and consider Ganienkeh to be sovereign territory. Several people described all the legal business to me as mere "paper shuffling."
Editor's Note: This story was originally published on The Midwest Center for Investigative Reporting.
Farming, more than any other industry, might be the best hope for curbing climate change.
The global food production system, which includes agriculture, accounts for more than a third of man-made greenhouse gases, according to an August report from the United Nations' Intergovernmental Panel on Climate Change.
And while past focus has been on industries such as fossil fuels and transportation, new attention is being put on agriculture's role in the climate change solution. On Sept. 18, a coalition representing 10,000 farmers and ranchers delivered a letter to Congress supporting the Green New Deal, a congressional resolution to transition the United States to 100 percent clean energy by 2030.
"Farmers and ranchers are on the front lines of the climate crisis. Their livelihoods are put at risk by more intense droughts and storms and flooding, and extreme heat and humidity are endangering the health of farm workers," said New Mexico Congresswoman Deb Haaland at a press conference announcing the coalition. "It makes all the sense in the world that farmers and ranchers support our Green New Deal resolution."
Small rural Midwest community hospitals, squeezed by financial and regulatory pressures, are scaling back on services, merging with larger hospital systems and searching for other creative ways to survive in the short term, an Institute for Nonprofit News investigation by 12 news organizations in seven states revealed.
Rural health experts said the real challenge in this quiet transformation will be to redesign rural health delivery so that residents do not lose access to high quality, timely care.
"Usually there are two sides to every story, but there are not really in this one," said Alan Morgan, chief executive officer at the National Rural Health Association. "Everyone realizes we're at a crisis point."
Thursday, Sep 19, 2019, 12:51 pm · By John Ikerd
We are now seeing a corporate takeover of dairy production, which is the last bastion of full-time, independent family farms in animal agriculture.
In an April 2018 blog post, Farm Aid noted that, since 1970, the number of American dairy farmers has dropped by more than 93%, from more than 640,000 to about 40,000 today.
The post goes on: "In an industry dominated by corporate interests, family farms are constantly at risk of going under. A consistent, severe slump in milk prices in recent years has pushed many dairy farm businesses beyond the point of survival. In the last year, there's been a 3% drop in the number of dairy farms, with the future of those remaining increasingly uncertain."
There has been little cause for hope over the year since this Farm Aid blog post and little hope for a significant improvement in prices for at least a year in the future. Considering this stark situation, independent dairy farmers would do well to review how the corporate takeover of other sectors of animal agriculture has come about.
Monday, Sep 16, 2019, 5:12 pm · By Conner Martinez
Driving into the rural community of Adelanto, Calif., you are greeted by a large sign that reads "Adelanto, The City With Unlimited Possibilities." Unfortunately, the sign's statement is incompatible with the environment surrounding it, a seemingly endless desert with sparse housing, almost no community spaces and a massive immigration detention center.
Adelanto's reality may finally change, however, with a new bill (AB 32) banning private prisons, including immigrant detention centers, passed by the legislature September 11, and now expected to be signed by Gov. Gavin Newsom (D). Though the effects are uncertain, the bill's passing could mean Adelanto's detention center closing as early as next March. That would not only put an end to the consistent human rights violations committed inside the facility, but it would also end the city's long, failed attempt at using detention as a development strategy, providing an example for other rural communities across America who have gone down the same disastrous path.
In his 1944 State of the Union Address, President Franklin Delano Roosevelt noted that while the Constitution guaranteed a set of political rights, they were in some respects inadequate. To ensure equality, Roosevelt proposed an Economic Bill of Rights that would guarantee full employment with adequate income; freedom from unfair competition; adequate housing, health care, and education; Social Security; and fair incomes for farmers.
Many items from the Economic Bill of Rights have emerged in the 2020 presidential campaigns, such as the call for free post-secondary education, affordable housing, anti-trust enforcement, Medicare for all, and a living wage. Yet, only Sens. Elizabeth Warren (D-Mass.) and Bernie Sanders (I-Vt.) have expressed their support for rural people by endorsing a "Farmers Bill of Rights."
Basically, the Farmers Bill of Rights aims to break the stranglehold of the big agri-corporations, stop the wave of farm consolidation and re-empower the small, family farmers who actually work the land.
Even as humans have brought more and more of ourselves into existence—7.7 billion as of 2019—our species has continued to degrade and destroy the Earth's natural systems that make human life possible. Humans have depleted nonrenewable resources and sullied renewable resources essential to life, such as water and air, and so undermined not only ecosystem health but human health as well.
In late 2017, four environmentalists came together to create the non-profit EcoHealth Network (EHN) to address this growing crisis. Bound by a common vision of a future where the health of people and the health of ecosystems are connected, the group promotes ecological restoration through the creation of a worldwide network of restoration projects, whose researchers will share resources and expertise.