Secrets and Lives
By Scott McLemee
Joe Gould's Secret
By Joseph Mitchell
Vintage Books
208 pages, $9.95
Joe Gould's Secret
Directed by Stanley Tucci
Several years ago I came across, and pounced upon, a book by Joseph Mitchell called Joe Gould's Secret. Mitchell was a writer for the (old) New Yorker and something of a legend around the magazine. That fact was not known to me at the time, nor would it have inspired rapt fascination, in any case; but the prospect of reading a whole book about Joe Gould was another matter.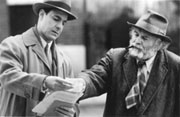 It's all about finding the right words.
Credit: Abbot Genser/USA Films
In accounts of Greenwich Village during the first half of the 20th century, Gould turns up as a minor character. He was a roving landmark, an embodiment of the spirit of the place. In Albert Parry's Garrets and Pretenders (1933), Gould is described as "a genuine relic of the old days" of bohemianism: "a perfect portrait of a dwarf intellectual with his big, bald head, his wisp of a beard, his eyes peering from under his eye-glasses. ... There is, as ever, a stack of notebooks in Joe Gould's arms, loose or in a portfolio, and he keeps on entering everything he sees and hears."
The notebooks contained Gould's Oral History of the World in Our Time - into which he incorporated thousands of conversations and life stories from people who occupied the lower depths of the city. He had consecrated his life to this masterpiece. To get by, he improvised. Gould was legendary for discovering that you could make soup from hot water and ketchup. He accepted donations from writers and artists who "sold out" enough to have a roof over their heads. The words "property" and "propriety" are closely related; and Joe Gould had no use for either. At the same time, he was contemptuous of the Village radicals. Poet and essayist Milton Klonsky (a minor figure from the Partisan Review circle) recounted Gould's slogan from the '30s: "Poets of the world ignite! You have nothing to lose but your brains!"
Gould refused to adapt to society on any terms but his own; this, as the Quaker saying has it, spoke to my condition. But it was difficult to learn more about him. During the '20s, a few pages from his Oral History appeared in important literary magazines, which I dug up and read with some disappointment. They were brief yet woolly essays. Gould denounced materialism and conformity, questioned the distinction between madness and sanity, and proclaimed his vision of "an aristocracy in which each person can be an aristocrat." Little, in short, that Whitman hadn't said, and said better. Beyond the stray anecdote in other people's memoirs, these fragments seemed to be all that remained of Joe Gould.
So Joseph Mitchell's little book was a revelation. Joe Gould's Secret has two parts. The opening is Mitchell's New Yorker profile of Gould from 1942. It filled in some background on Gould, who was a Harvard alumnus (class of 1911) and ex-newspaperman. It portrayed a man who had sacrificed security to freedom, and described how unrelentingly Gould worked on the Oral History, which had reached a length of 9 million words. There were colorful details about his place in the Village scene - how, for example, restaurant owners hid the ketchup bottles when they saw him coming.
The next and much longer portion of the book was a memoir. In it, Mitchell recounted his dealings with Gould, both while researching the profile and over the years that followed. It is a very sensitive and brilliant piece of meta-journalism: an essay on how reporter and subject can get entangled, each becoming part of the other's life story. But to someone interested mostly in Gould himself, its impact derived mainly from Mitchell's painful exposé of Gould's great secret.
To onlookers - and to Mitchell himself, at first - the Oral History looked like a fanatical effort to capture the world around him in words. A graphomaniac, Gould filled thousands of composition books with the narratives people recounted from their lives. But eventually Mitchell got to read the notebooks. Gould had been scribbling about a handful of incidents and ideas that obsessed him. The story he had to tell was his own, and even then, there were only a few events and questions he could wrestle into prose. He revised those pages, tirelessly, over and over - trying to impose form on his own experience. Maybe with the next draft he would find out what it meant.
Stanley Tucci's decision to put Joe Gould's Secret on the screen was a gamble. The high point in a writer's week is when hours of hair-pulling frustration give way to a bright idea; this may well occur while staring off into space or changing the kitty litter. The moment itself is exciting, but not the kind of thing audiences often pay to see (though I'm asking a fair price for tickets if anyone wants to stop by).
The gamble pays off, modestly. Joe Gould's Secret is, above all, its actors' film. Ian Holm portrays the old bohemian just as the chroniclers of Village life describe him: holy fool as homunculus, with the trace of a Boston patrician accent as he wheedles donations for the Joe Gould Fund. Tucci plays Mitchell as brooding but sweetly disposed - an émigré from North Carolina, in love with New York, but making no effort to match the city's own bluster.
Much that is implicit in the book about the difference between the men is rendered in the movie as outright contrast. Gould is a Yankee and a manic talker; a bohemian and often homeless, by choice. Mitchell is a Southerner and depressive; he writes for the consummate bourgeois magazine, and is a family man. Other characters are less sharply drawn, despite appearances by Susan Sarandon and Steve Martin. And the director has been remarkably careless about registering the passing of time. A viewer would have no reason to suppose that 15 years pass in the course of the story. One of Mitchell's daughters, who looks about six when the film opens (in 1942) has reached the ripe old age of seven by the time Gould dies (in 1957).
A note at the close of the film explains that his memoir of Joe Gould was the last piece of work Joseph Mitchell published. For decades after it appeared in 1964, he showed up regularly at his New Yorker office, spent the day typing something that nobody ever saw, then went home. Long before Mitchell died in 1996, he was an almost mythical figure: a writer hurling himself against a block so huge that it never budged an inch.
Which is not, in fact, the best way to remember him. The film may lead new readers to the original book - or to Mitchell's collection Up in the Old Hotel, which gathers all of his pieces, including the two essays on Gould. Mitchell could write about calypso, or the daily life of a bearded lady at the circus, or the Mohawks who had settled in Brooklyn, or a social club exclusively for deaf-mutes - all with an understated elegance that makes his work a classic of American prose. It is the book that Joe Gould wanted to write, and tried, but couldn't.
Scott McLemee is a contributing editor of In These Times.
In These Times © 2000
Vol. 24, No. 13