Locked Down
By Kristin Eliasberg
By most accounts, Charles Hamilton was a model inmate at Green Haven Correctional Institute, a maximum-security prison in Stormville, New York. He lived on the "honor block," where he was given privileges as a reward for good behavior. Serving a 25-year-to-life sentence for second-degree murder and attempted robbery, he took advantage of virtually every outreach and education program at the prison, even as those programs were being gutted. Hamilton earned his GED, took college courses, worked in the law library, and organized fundraising drives to benefit New York's inner-city schools.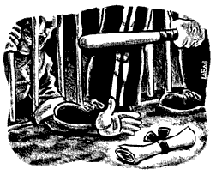 Credit: Terry LaBan.
He was also president of an organization of inmates called Prisoners for a Calculated Transition, or PACT, which worked to establish connections with communities outside the prison walls, including Yale Law School. Twice a month, PACT hosted a discussion session among prisoners and students from the school. As the session moderator, Hamilton provided a revealing perspective; many of the students considered him an educator on par with their best professors.
But in early December, student visits were canceled because the prison was in lockdown. Rumors filtered out that inmates were organizing demonstrations, staging silent meal times, and wearing their "greens" prison-issue clothing instead of the more usual civilian garb they are allowed. According to a pamphlet by prisoners titled "Wake Up!" the demonstrations were protesting prison work conditions and New York Gov. George Pataki's "tough on parole" policies.
Alarmed by the protests, Green Haven administrators feared that an inmate strike was planned for New Year's Eve, timed to coincide with any Y2K-related system breakdowns. The fears intensified when gunpowder was found hidden in the ceiling of the gym. Officials at the prison responded by transferring 140 inmates. Without warning, one day after Thanksgiving, Hamilton was shipped to Attica, one of the harshest penitentiaries in the New York system.
Kristin Eliasberg has written for The Nation, The Village Voice, the New York Times Book Review, Salon and other publications. She recently completed a Knight Journalism Fellowship at Yale Law School.
In These Times © 2000
Vol. 24, No. 16