In September, Data for Progress released a Green New Deal plan that established the goal of creating 10 million new jobs in 10 years through a combination of private-sector growth, workforce training and a "green-job" guarantee: a federal obligation to provide a job at a living wage to anyone who seeks one. A YouGov poll commissioned for the report found that, all things being equal, 51 percent of eligible voters would be more likely to support a candidate running on a green-job guarantee.
State Violence Against Minorities
The Clintons' newfound defensiveness about their record on criminal justice is one measure of how politics have changed. In 2015, Bill Clinton admitted that the "three strikes" law he signed in 1994 had locked up "minor actors for way too long." Then, Hillary Clinton's racially charged comments about going after gangs and "superpredators"—comments made during a 1996 speech in praise of that bill—became an issue during her 2016 presidential bid.
Demonizing immigrants and people of color is inherent to Trump's white Christian nationalism. But outside of the GOP base, rising awareness of the radical injustices of the criminal justice system have put Clinton-era policies in a completely different light.
Influential books like Michelle Alexander's The New Jim Crow, coupled with the powerful Movement for Black Lives, have reshaped the criminal justice narrative. Harrowing videos of police violence against African Americans have awakened the national conscience. The Movement for Black Lives, a collective of more than 50 organizations, has a wide-ranging platform that calls for the elimination of money bail, ending the use of criminal history in determining eligibility to work and vote, and for "an immediate change in conditions and an end to all jails, detention centers, youth facilities and prisons as we know them."
In Michigan, Dana Nessel won her primary race for state attorney general on a platform that included pot legalization. And Summer Lee, in her race for the Pennsylvania legislature, called for an end to cash bail and to mandatory minimum sentences, and a moratorium on new prison construction.
Public outrage over the militarization of Immigration and Customs Enforcement (ICE) and Border Patrol, the forced separation of immigrant families and the president's never-ending demonization of immigrants have spurred broad solidarity with the immigrant rights movement.
In Boston, Ayanna Pressley's winning U.S. House campaign provides a case study in how the movement for racial justice and the push for immigration reform can come together. On criminal justice reform, her detailed platform called for pot legalization and sentencing reform and an end to cash bail, "predatory prison phone rates," and state and federal funding of private prisons.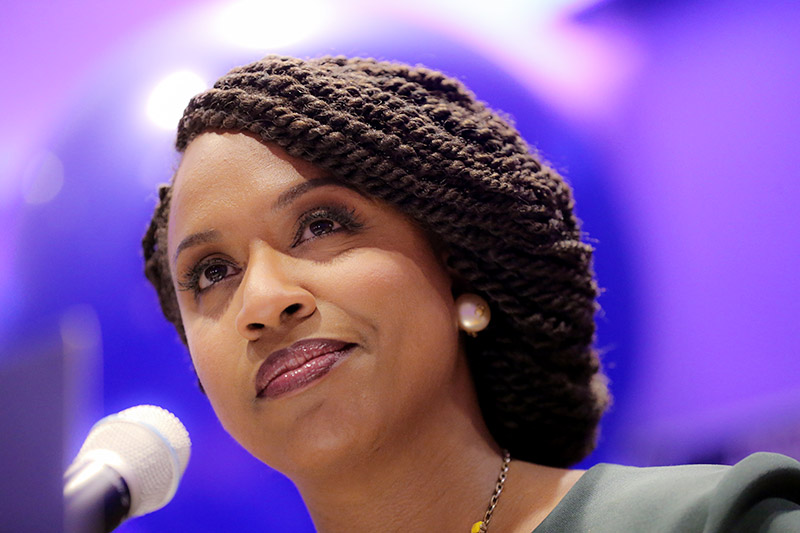 ---
On immigration reform, Pressley supported not only the usual items—blocking funding for Trump's border wall and ending enforcement and deportation efforts by ICE—but more radical and forward-thinking policies, like supporting migrants in their home countries. "The United States has the resources and power to help improve conditions in countries that comprise the majority of forced migration," her platform notes. In July, three members of the Congressional Progressive Caucus—Mark Pocan (D-Wis.), Pramila Jayapal (D-Wash.), and Adriano Espaillat (D-N.Y.)—introduced a bill to abolish ICE. They intended it as a statement of principle and, as Vox observed, "weren't ready to be taken seriously," given that the majority of Americans oppose abolishing ICE and Democrats themselves are split. House Republicans threatened to bring it up for a vote, with the hope of embarrassing Democrats. The progressives then announced they would vote against their own bill. But as with Warren's plan for reforming capitalism and the more ambitious climate change plans, such laws that push the moral envelope lay important groundwork for when progressives and Democrats actually have power.
Corrupt Elections
Since the Supreme Court's 2010 Citizens United decision, the corruption of our campaign-finance regime has been a high priority target for progressives. Ultimately, the passage of any bold progressive legislation relies on freeing our democracy from corporate capture.
Yet Trump, maddeningly, has been more effective at tapping into the anger and alienation it produces than most Democrats. It was his most effective critique of Clinton; at their final debate, he taunted her for failing to support campaign finance reform as a senator "because you take in so much money."
Achieving deep reforms will be a generation-long struggle, given rulings by the Supreme Court that effectively legalize unlimited spending to influence elections. Consequently, relying on small-donor donations and refusing to accept money from corporate PACs have become defining themes for the new crop of left candidates. It was key to Ocasio-Cortez's breakout bid.
These self-imposed limits "aren't the ideal," says Demos Action's Lioz. But they're nonetheless important. "They establish campaign finance reform as a top priority, if and when progressives have power in 2020," Lioz says.
"There is a 100-day window at the beginning of an administration in which lawmakers can make a strong legislative push. Because so many candidates have made campaign finance a key part of their platform, they're more likely to feel obligated to move on it."
At the federal level, there are bills to create public-financing systems for both House and Senate elections. In the Senate version, candidates who opted in would limit their spending to small donations ($150 per donor) and grants and matching funds from a Fair Elections Fund. Booker, Gillibrand, Sanders and Warren are among the 29 cosponsors.