July 15, 2019
In These Times asked the leading presidential candidates:
"If elected president, what would you do to help strengthen workers' rights and the labor movement, whether through legislative or executive action?"
Joe Biden, Cory Booker and Kamala Harris did not respond. Here are the responses we received from Pete Buttigieg, Beto O'Rourke, Bernie Sanders and Elizabeth Warren.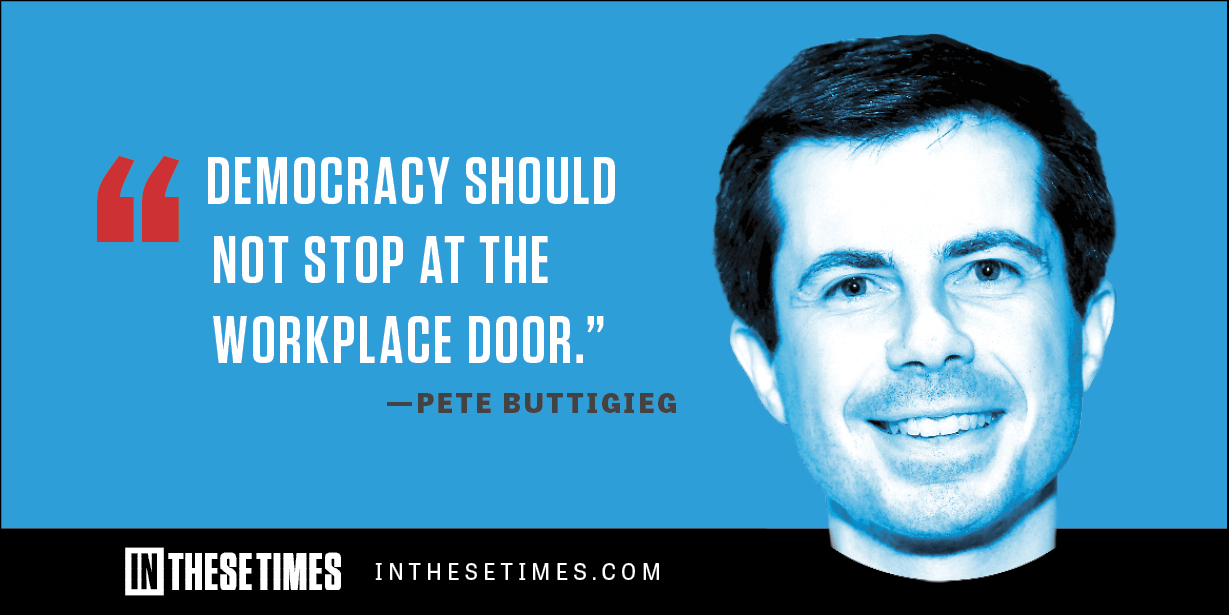 Pete Buttigieg
"Our nation's middle class was built by organized labor, and rising attacks on labor have led to the middle class becoming more and more vulnerable. And because of historical exclusions in our labor laws, many women workers and workers of color have been unable to collectively bargain. I believe that unions must have a powerful seat at the table—to stand up against unfair and abusive practices and to collaborate in improving work environments and productivity. Meanwhile, as our workplaces continue to change, we need to be thinking about how we can structure labor laws to empower workers in every sector of the economy. That's why, as President, I will take aggressive action to stop the kinds of attacks on worker voice that have helped undermine organized labor in recent decades. I will support a new Wagner Act to empower workers in existing unions, and others who have been historically excluded from collective bargaining, to advocate for better wages, hours, and working conditions. I will also support strong measures to ensure that union elections can happen freely and fairly, because democracy should not stop at the workplace door."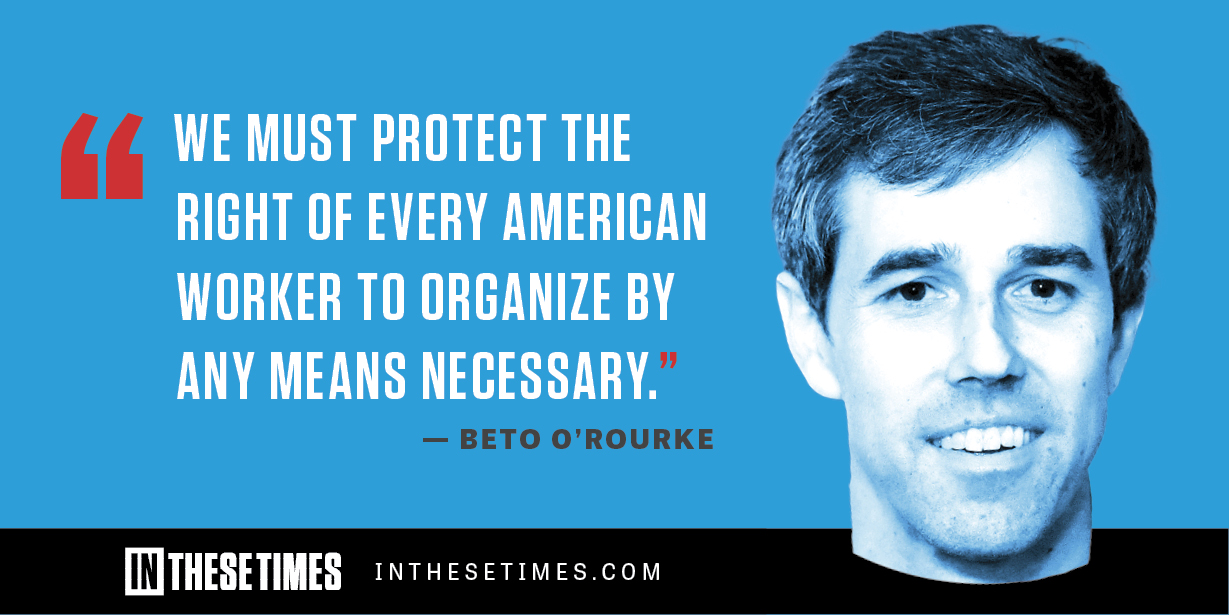 Beto O'Rourke
"From the 40-hour work week to Social Security, organized labor has delivered some of the most important safeguards that Americans count on to protect their families and quality of life. In a time of record wealth and income inequality, we must protect the right of every American worker to organize by any means necessary."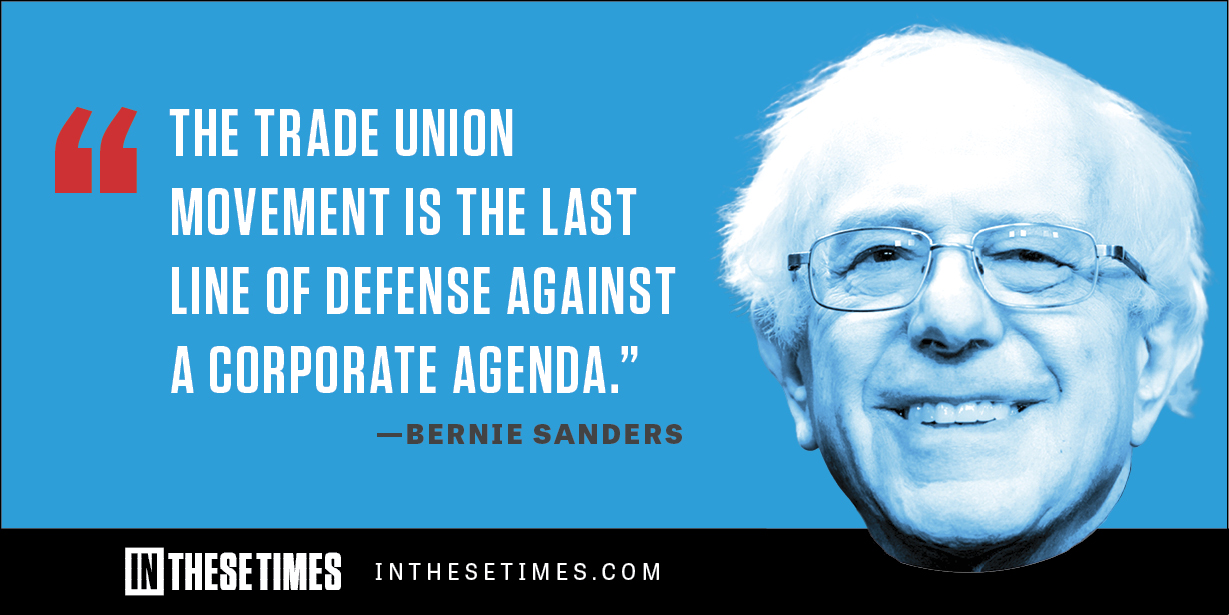 Bernie Sanders
"The Trump administration, the conservative justices on the Supreme Court, and the billionaire class are engaged in class warfare against the workers of this country. Virtually all of the power rests with employers and large corporations, and Republicans are doing everything they can to keep that power out of the hands of workers. What the Waltons, Jeff Bezos, the Koch brothers and other billionaires understand is that if they are able to destroy trade unions in America, workers without unions will find it very difficult to get the kind of wages and benefits that they need. Right now, in the United States of America, three families control more wealth than the bottom half of our country, some 160 million Americans. The top 1% own more wealth than the bottom 92% and 49% of all new income generated today goes to the top 1%. In fact, income and wealth inequality today in the United States is greater than at any time since the 1920s. Union membership reduces income inequality and narrows the egregious racial wealth gap for families of color. Strong unions are the backbone of the American middle class and must be strengthened.
As President, I will make it easier for workers to join unions by passing the Workplace Democracy Act. This legislation would protect union workers by ensuring companies do not deny or delay a first contract with workers who have unionized, protect their right to secondary boycotts and picketing, and prohibits employers from misclassifying their employees as independent contractors or supervisors to exploit their work hours without proper compensation. Under the Workplace Democracy Act, workers would also have the right to know if their company spends huge amounts of money to run anti-union campaigns.
I would repeal Section 14(b) of the Taft Hartley Act to eliminate so-called 'Right to Work for Less' laws in states, support legislation to require companies to elect workers to their boards, and pass legislation to provide workers with the tools and funding needed to convert businesses into employee-owned businesses and expand employee-ownership in this country.
The trade union movement is the last line of defense against a corporate agenda that not only wants tax breaks for billionaires but wants to privatize Social Security, Medicare and Medicaid. We must strengthen unions and bargaining rights of workers everywhere."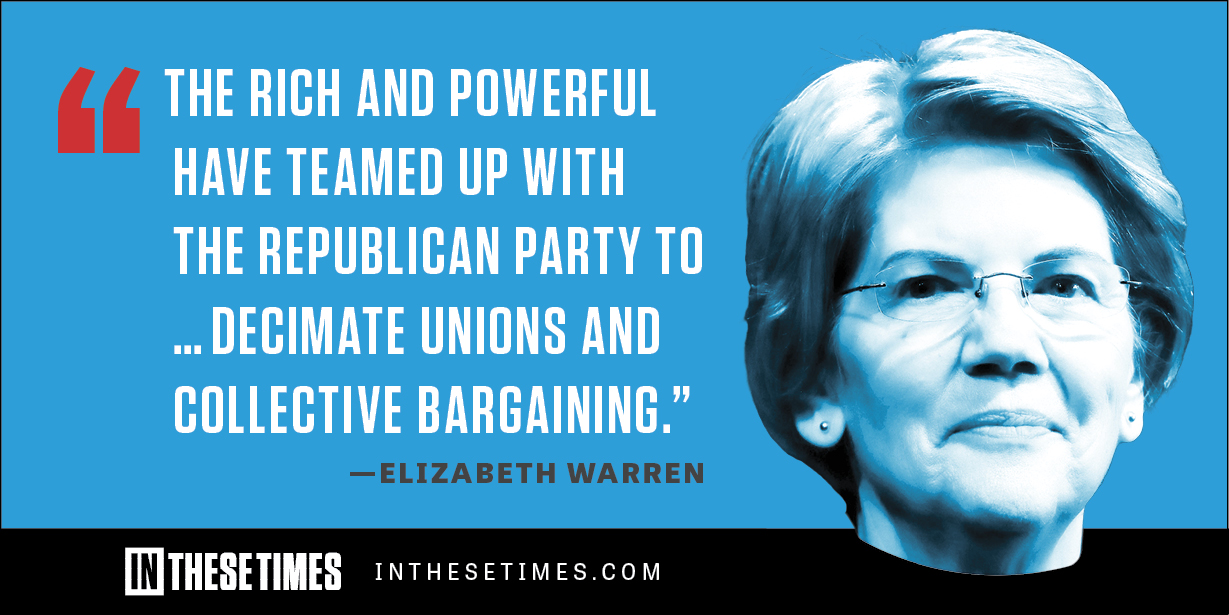 Elizabeth Warren
"Strengthening America's labor unions will be a central goal of my administration. For too long, a worker's right to unionize has been under attack. The rich and powerful have teamed up with the Republican Party to push for measures at all levels of government designed to decimate unions and collective bargaining. That's why I introduced a new law that would ban states from passing so-called right-to-work laws that destroy unions, and why I will appoint people to my administration who have a history of fighting for workers and are committed to fighting for workers' rights. I will ensure union members have a real voice in any trade deal negotiation, and I will use the White House bully pulpit to support workers as I've supported striking workers at Stop & Shop, Marriott hotel workers, and teachers in Oklahoma.
It's also time to modernize our labor laws for the 21st century. We must fight for fully portable benefits for everyone and make sure that all work—full-time, part-time, gig—carries basic, pro-rata benefits. We must make sure that employers can't misclassify workers as independent contractors to prevent them from joining a union, and we must ban the permanent replacement of economic strikers, which hollows out the right to strike. We also need to turn the minimum wage into a living wage, protect card check, implement President Obama's overtime pay rules and rules that limit workers' exposure to chemicals that can cause lung disease and cancer, ensure workers' hours are stable and fair, and make it quick and easy to join a union.
In a Warren administration, workers will have a real seat at the table. My Accountable Capitalism plan empowers workers to elect no less than 40 percent of board members at big American corporations. My agenda for Economic Patriotism will aggressively use every tool to defend and create American jobs, including replacing the Commerce Department with a new Department of Economic Development with the sole responsibility of promoting sustainable, middle-class American jobs. And the first part of this agenda, my Green Manufacturing plan, will make big, bold investments in American research, American industry and American workers while at the same time helping us combat our climate crisis and implement the Green New Deal.
I will also push to repeal the secondary boycott provisions of the Labor Management Relations Act of 1947, which would allow labor organizations to gain strength by boycotting or attempting to stop others from purchasing products, performing services, or doing business with another company engaged in a labor dispute. I would also like to repeal the provisions in the LMRA that allow the President and federal courts to enjoin lawful strikes that pose a threat to national health or safety. Far too often, these injunctions have been invoked in strikes not because there is a genuine threat to national health or safety, but rather to curb the power of unions engaging in lawful strikes. And I oppose the 'supervisory' statutory exclusion from the LMRA, which robs too many relatively low-level employees with any 'supervisory' authority from the right to organize and engage in collective bargaining."
Jeremy Gantz is a contributing editor at the magazine. He is the editor of The Age of Inequality: Corporate America's War on Working People (2017, Verso), and was the Web/Associate Editor of In These Times from 2008 to 2012.
---
Never miss a story. Subscribe to the free In These Times weekly newsletter:
---