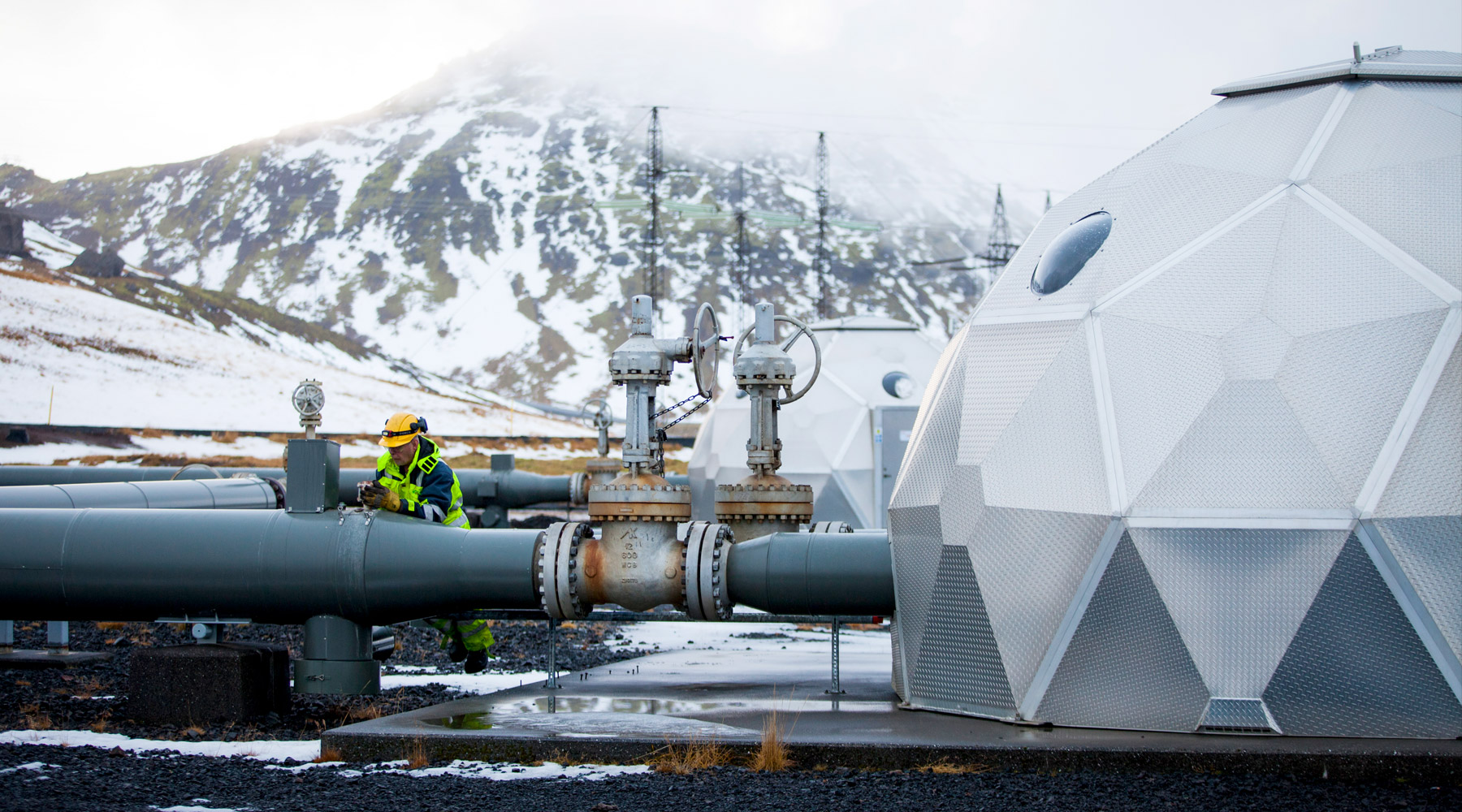 ---
Geoengineering is broadly discussed by researchers as a tool to allow more time to achieve the goal of decarbonization, but SRM alone does nothing to reduce carbon dioxide. Meanwhile, negative emissions technologies—actually removing carbon from the atmosphere—are seen by many as a core part of the solution. The IPCC report authors expect them to play a central role in restricting warming to 1.5 degrees.
But the problem, as Johnston says, is that "we're betting on this technology that doesn't even exist."
"It's still to be proven that there is anything called negative emissions," Ribeiro contends, at least at any scale envisioned by the IPCC report. Some negative emissions technologies do exist, such as the low-tech tactic of planting new forests. Others, like carbon capture and storage (CCS) technology to suck up emissions from fossil-fuel power plants, are further off and still incredibly expensive. According to the Global CCS Institute, 18 large-scale operational facilities utilize CCS worldwide, a small fraction of what the IPCC calls for. At 14 of these, the captured gas is simply used to help fossil fuel extraction efforts elsewhere.
Other possible technologies include what is known as "bio-energy with carbon capture and storage" (BECCS). BECCS involves planting prodigious amounts of fast-growing trees, burning them for energy, then capturing those emissions with CCS. Because plants take in carbon as they grow, the process would theoretically be carbon negative. At scale, however, it could involve requisitioning a land mass twice the size of India, note climate scientists Kevin Anderson and Glen Peters. Setting aside this much land, some fear, could compete with food production and cause massive human displacement.
Another infant tech is "direct air capture" (DAC), sucking carbon dioxide directly out of the air rather than from an industrial process. One company, Global Thermostat, has partnered with a soft drink manufacturer to use its captured gas in the production of bottles and carbonated beverages. Another firm, Carbon Engineering, founded by Harvard's David Keith and backed by a host of Silicon Valley types, hopes to create and market synthetic fuels with its carbon harvest, combining it with hydrogen and water. Early DAC prototypes have been promising, but are still a long way from the kind of scale needed by IPCC models.
The HOME manifesto opposes all of these technologies, wary that they will be used as an excuse to extend the life of coal, oil and gas power, and that their large-scale implementation would require unsustainable levels of energy, land, water and other resources.
The signatories charge that the impacts of this resource use—as well as the other side effects of SRM—would disproportionately harm small farmers and indigenous communities, who would be most vulnerable to any crop reductions caused by SRM or potential land grabs for bioenergy production. What's more, they believe, early experiments are being pushed through without popular consent.
Similar charges could also be lobbed at global warming itself: Rich countries are the primary cause, and the global poor will bear the brunt of the effects. Indeed, some of these communities may now find themselves confronting two very different kinds of man-made climate interventions at once.
Utqiaġvik, Alaska, has been described as a ground zero for climate change. On Inupiaq land along the Arctic Sea, temperatures are rising faster than anywhere else in the world. Last year, the National Oceanic and Atmospheric Administration's temperature monitor algorithms incorrectly rejected read-outs for the area as unrealistic; average October temperatures, for instance, have risen 8 degrees Fahrenheit since 2000. As a result, permafrost is melting, ice is thinning and species of insect no one alive can remember seeing there, including tree-killing spruce bark beetles, are beginning to invade.
"It's made life harder," says Adrienne Aakaluk Titus, an Inupiaq organizer with the nonprofit Native Movement who works with Utqiaġvik residents. "We have to travel farther to go hunting, and the farther out you have to travel, the more dangerous it gets."
For the last decade or so, Utqiaġvik has also been ground zero for a type of "soft" geoengineering known as ice thickening: spreading out white silica sand to reflect the sun and prevent ice from melting. The project, known as Ice911, is the brainchild of Bay Area-based engineer Leslie Field, who has 12 years of field trials under her belt.
Geoengineering Monitor, a collaboration between ETC Group and other environmental organizations, fears the project could disrupt weather patterns and animal migrations, though Ice911 maintains that, if any negative effects arise, the process is easily reversible.
Field emphasized how important she saw the permitting process and collaboration with the Utqiaġvik Inupiaq Corporation, one of several for-profit Alaska Native corporations set up by the federal government to settle land and property claims brought by indigenous communities. There are tensions, however, between Native corporation executives, seven of whom each make at least $1 million a year, and the people who live with the decisions those executives make.
"Permission is easy," Titus says. "You can go into an office and you can sign for a permit. That's the law. Consent is another matter." Titus says that few of the Utqiaġvik residents she had spoken with had heard of Ice911, and were surprised to learn about its existence.
HOME manifesto signatory Tupac Enrique Acosta is a longtime organizer and founder of the indigenous environmental organization Tonatierra. He sees geoengineering as "built upon a predatory relationship with the natural world," and the push to test and implement geoengineering in indigenous-populated areas as an extension of colonization: "They put wings on the Niña, the Pinta and the Santa María and they're flying them up there in the sky."
For both Acosta and Titus, however, concerns about geoengineering tests extend beyond process. "I think [ice thickening] is a false climate solution," Titus says. "There are so many other things we could be doing. We don't need another Band-Aid."
In the wake of the new IPCC report, the challenges posed by geoengineering aren't really so different than those surrounding the climate crisis writ large. In both cases, the greatest uncertainties have less to do with science and technology than with democracy. Who decides what technologies are necessary, who controls them and who profits? What sacrifices will be made by whom, and who gets to make that call?

Kate Aronoff is a Brooklyn-based journalist covering climate and U.S. politics, and a contributing writer to In These Times and The Intercept.
Correction: The print version of this article stated erroneously that opposition to the Kyoto Protocol and binding climate commitments stemmed from the Clinton administration. The article has been updated to reflect.
---
Support Independent Journalism
In These Times has been selected to participate in NewsMatch 2018—the largest grassroots fundraising campaign for nonprofit news organizations.
For a limited time, when you make a tax-deductible donation to support our reporting, it will be matched dollar-for-dollar by the NewsMatch fund, doubling your impact.
---