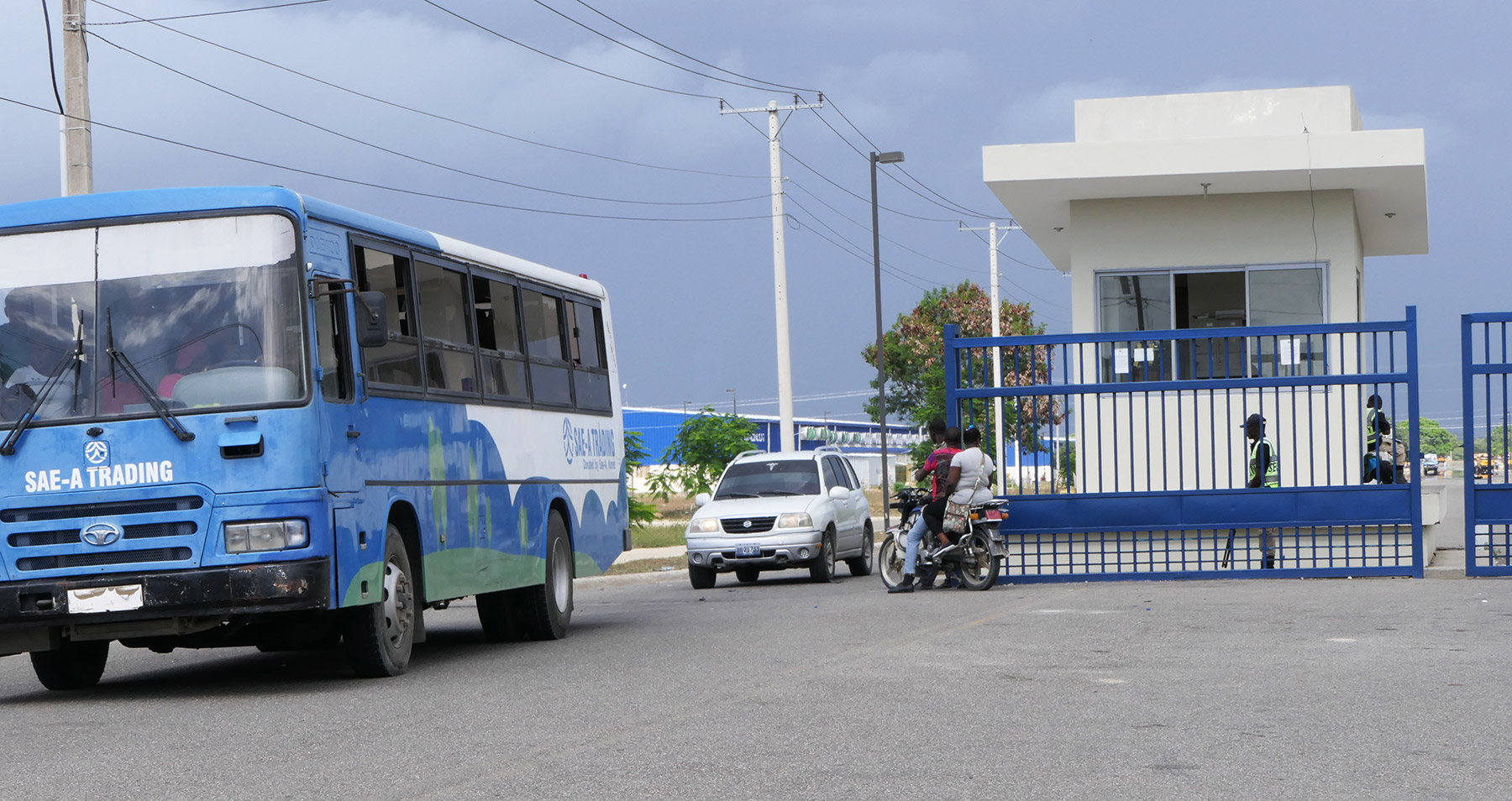 ---
The backers of the Caracol Industrial Park have claimed it will create up to 60,000 local jobs. At the ceremony that established the Caracol Industrial Park in September 2010, Hillary Clinton assured the public that the jobs at Sae-A's new factories would be "not just any jobs; these are good jobs with fair pay that adhere to international labor standards."
So far, just 13,000 of the 60,000 projected jobs have been created, and most pay unlivable wages. Haitians who do the physically demanding and repetitive work of sewing and assembling clothing in the new industrial park earn the Haitian minimum wage of just 500 gourdes (about $5.25 U.S.) a day—three times less than the estimated cost of living in Haiti, according to the Solidarity Center.
The park's largest employer is S&H Global, Sae-A's wholly owned Haitian subsidiary, whose biggest customer is Walmart. Other Caracol factories include Taiwanese firm Everest Apparel and Sri-Lankan-owned Mas Akansyel, both of which manufacture clothing for Nike and Puma. According to the International Labor Organization's Better Work Program, these three companies have all repeatedly been found to violate Haitian and international labor laws, with numerous breaches of health and safety regulations, wage theft, temperatures that exceed safe levels, verbally abusive bosses and sexual harassment.
When Philogène Nelange, now 35, heard about the opening of the new industrial park in Caracol, he had high hopes. He had grown up in the nearby commune of St. Suzanne, where there were few viable prospects for young people. "I thought that, with the arrival of the factory, things would be better," Nelange says.
He landed a job at S&H Global. Three years later, the salary he makes is barely enough to cover a single worker's expenses. Sitting on the porch of the tiny two-room home he rents in Trou-du-Nord with his wife and three kids, he says he often can't sleep at night because he's so worried. "It's not even enough for food," he says bluntly. Yet he also has to cover the costs of rent and utility bills, drinking water and school tuition (water and education being largely unsubsidized by the government). While S&H Global built a school in Caracol that provides free schooling to 500 local children, Nelange says this is insufficient to serve its more than 10,000 employees, many of whom have young children.
One young seamstress at S&H Global spoke with In These Times on the condition of anonymity, fearing retribution. She says she was suspended without pay for refusing her boss's unwanted sexual advances. "He asked me to sleep with him," she explains. "I didn't agree."
Another young woman, who applied for a job at S&H Global in the summer of 2019, tells In These Times that a manager offered to push her application forward in exchange for sex.
Unité Technique d'Exécution, the Haitian government office responsible for managing the industrial park, says it has a zero tolerance policy on sexual harassment and requires companies to have procedures in place for workers to report such violations.
Karen Seo, senior public relations manager at Sae-A, tells In These Times via email that Sae-A takes a proactive stance to detect and address workplace problems, including sexual harassment, through trainings and disciplinary actions.
A Haitian government spokesperson added that a 2018 report of sexual harassment at the park resulted in disciplinary action against a perpetrator.
Yet sexual harassment remains endemic across the factories, according to a representative from one of the unions working at the industrial park, who feared retaliation if their name was used. "Each week, you hear a different complaint," they say, adding that discipline and even firings are common if a worker refuses a superior. They estimated more than 60 workers have been fired in the past four years at their factory for this very reason.
Factory workers have also filed complaints with Haitian authorities, saying that company grievance procedures had failed to address their reports of physical violence at the factory and of bribes being demanded in exchange for employment, according to the government spokesperson.
Even IDB's Haiti department manager, José Agustín Aguerre, admitted in an interview with the New York Times before the park opened its doors, "Creating an exclusively garment maquiladora zone is something everyone—I wouldn't say tries to avoid, but considers last resort." He also defended the decision, calling this "last resort" strategy "a good opportunity" because of Haiti's very high unemployment.
But with such low wages, the garment factories have little capacity to stimulate the economy. As Haitian economist Camille Chalmers put it in an interview with Haiti Grassroots Watch: "It's a big error to bet on slave-wage labor, on breaking the backs of workers who are paid nothing while [foreign] companies get rich. It's not only an error, it's a crime."
Of the total of $4.16 billion the U.S. government awarded for projects in post-earthquake Haiti, for-profit U.S. corporations received a greater share than any other single group: $1.86 billion, about 45%.