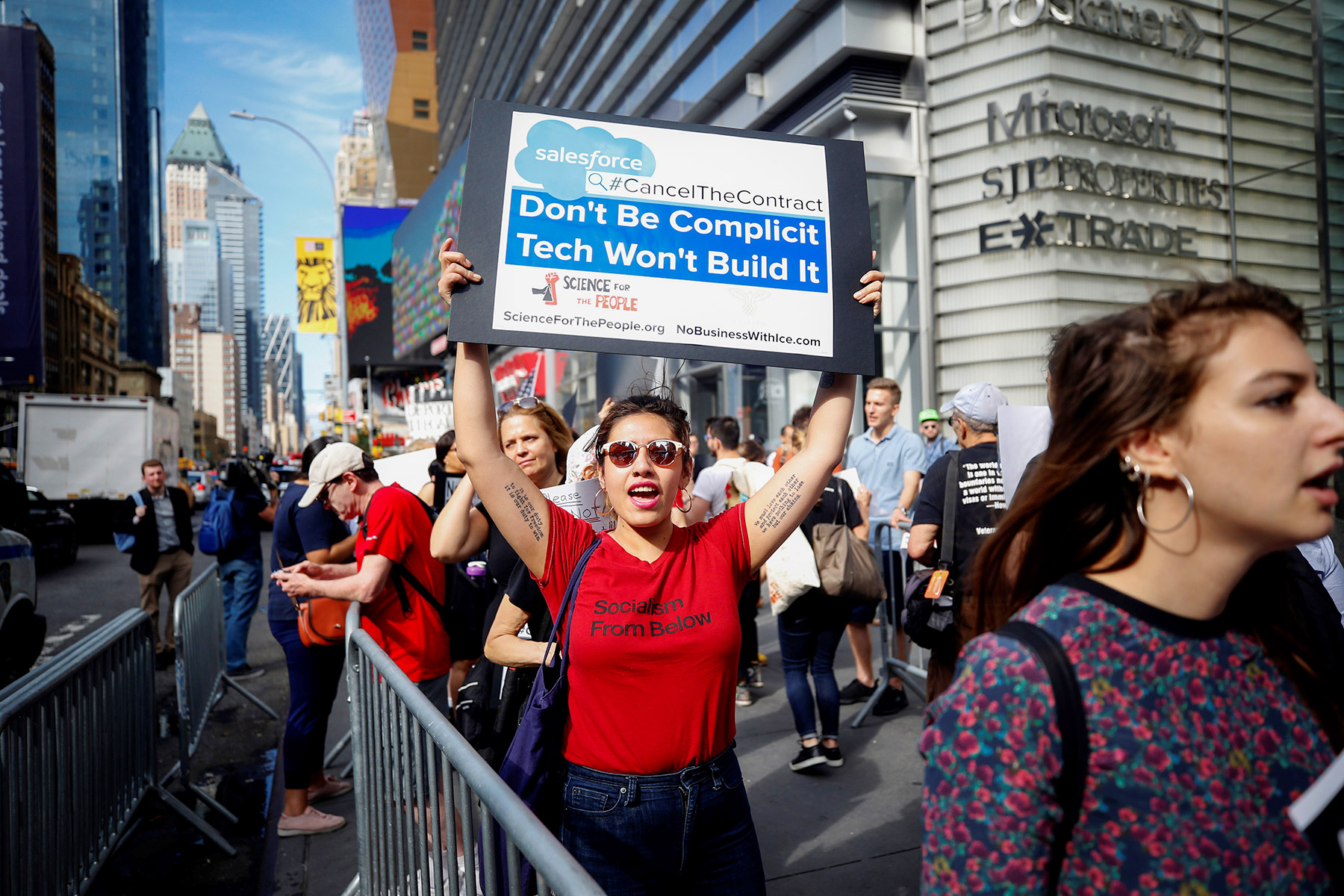 ---
Movimiento Cosecha (The Harvest Movement), an immigrant justice organization, defines complicity with ICE as being involved in or facilitating deportations. The group targets even more casual connections, like when Customs and Border Protection agents boarded Greyhound buses asking for identification from Latinx passengers or when Motel 6 allegedly gave ICE information on Latinx guests.
"The more institutions stop working with ICE, the more people are forced to ask themselves, which side am I on?" says Arielle Clynes, an organizer with Cosecha.
Cosecha's No Business with ICE campaign kicked off in early July at an Amazon bookstore in Manhattan's Columbus Circle. "We wanted to make a statement that if Amazon does business with ICE, we're not going to let them do business at all," Clynes says. Cosecha activists blocked the entrance with a rally and shut down the store for the day.
The pressure escalated during a July 31 day of action in 10 cities. In Boston, hundreds marched at Northeastern University, which holds a $7.8 million technological research contract with ICE; twelve were arrested after lying down in the street in front of university President Joseph Aoun's home. In Philadelphia, eight protesters were arrested after occupying the lobby of the Comcast Center for 90 minutes; Comcast provides internet access to ICE. In New York, Cosecha partnered with Science for the People on a march from Microsoft and Salesforce headquarters to an Amazon Books on 34th Street. In Palo Alto, the group targeted Palantir headquarters.
Other Cosecha protests focused on municipal officials. Local coordination with ICE has spiked in the Trump era, with DMVs, hospitals and even public schools sharing personal data on immigrant families. In liberal cities like Los Angeles and Philadelphia, activists are demanding that public officials live up to their values, but even redder towns like Grand Rapids, Mich., and Williamson County, Texas, have seen protests.
The next wave of the campaign will target investors in the lucrative immigrant detention industry. The American Federation of Teachers (AFT) released a report August 10 identifying 26 hedge funds holding over $4 billion in stock in Geo Group, CoreCivic and General Dynamics. The report urges public pensions serving AFT's teachers, which carry over $3 trillion in assets under management, to dump those hedge funds from their portfolios. AFT President Randi Weingarten condemned the hedge funds for "abetting the administration's policies of family separation and the permanent harm it has caused children."
Beneficiaries of immigration-related investments include the burgeoning class of multi-millionaire politicians. Illinois Gov. Bruce Rauner (R) has money in a private equity fund that owns Correct Care Solutions, a healthcare provider that serves immigrant jails. Montana Rep. Greg Gianforte (R) bought at least $100,000 in CoreCivic stock in January. SuperPACs for Florida Gov. Rick Scott (R), who is now running for U.S. Senate, took hundreds of thousands of dollars from Geo Group.
But the firms spread their cash around to both parties. Democrats in Congress have scrambled to clean up their campaign treasuries. Records show the Democratic Congressional Campaign Committee, the campaign arm for House Democrats, taking a direct $10,000 donation from Geo Group in November 2017, and over $380,000 throughout the 2018 election cycle bundled by lobbyists connected to private prison companies. New York Gov. Andrew Cuomo has been criticized for taking money from landlords who rent out field offices to ICE.
The pressure put on anyone profiting from or enabling ICE complements the direct-action tactics of a growing movement known as Occupy ICE. Abolitionists have physically blocked entrances to ICE buildings in San Francisco, Louisville, and Tacoma, Wash., leading to confrontations with law enforcement. In Portland, Ore., ICE temporarily closed its facility; in Los Angeles, one entrance has been barricaded since late June. An Occupy ICE blockade in Denver drew a SWAT team and ICE employees had to drive across the lawn to leave the building. "As much as we can, we'd like to interrupt their ability to do their job," says one of the protesters arrested in Denver, who requested anonymity while his case is pending.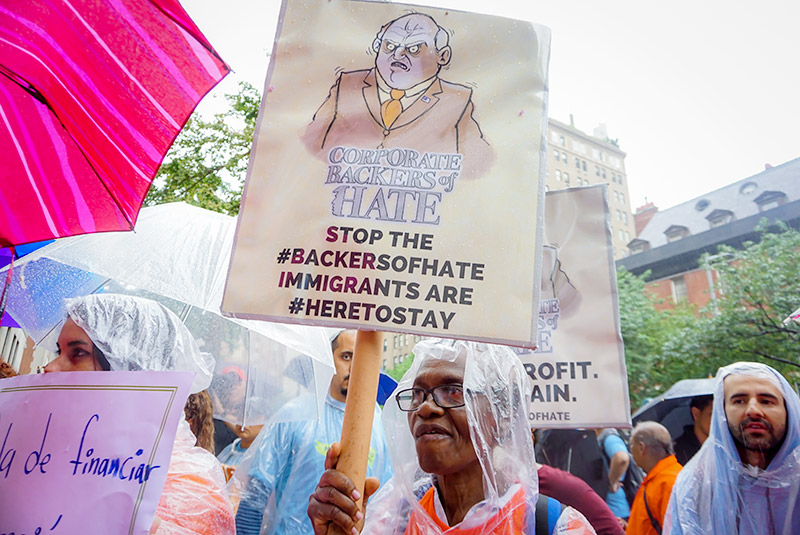 ---
The multi-pronged campaign against ICE and its private-sector partners is having an impact. After media scrutiny, MVM canceled its lease on the Phoenix office building housing migrant children. Consulting firm McKinsey terminated its contract with ICE, although its management consultant work for the agency had already been completed. New York state directed all its pension funds to divest from Geo Group and CoreCivic, following New York City and Philadelphia. At least 10 members of Congress have rejected Geo Group donations, along with state Democratic parties in California and Florida. Many politicians and parties have passed on donations to organizations protecting immigrants at the border.
But the movement is hoping for a signature victory. So far, no household names, like General Dynamics or Microsoft, have severed contracts with immigration authorities, and Amazon recently promised its "unwavering" commitment to work with law enforcement. ICE abolitionists plan to keep up the pressure. "We don't see activism fatigue; we see people stepping up," says Kristin Rowe-Finkbeiner of MomsRising.
Perhaps the most progress has been made in getting cities to cancel ICE contracts. Philadelphia Mayor Jim Kenney revoked ICE's access to a city law enforcement database, a huge win for local organizing groups. Atlanta Mayor Keisha Lance Bottoms prevented city jails from accepting new ICE detainees. And at least six cities and counties have canceled ICE contracts to use detention centers in their areas.
Bob Libal, executive director of Grassroots Leadership, recounts the organization's victory in suburban Williamson County, Texas. The county voted in June to end its contract in January 2019 for the T. Don Hutto Detention Center, a CoreCivic-run women's facility long accused of rampant abuse, though ICE could scramble to try and renegotiate. Grassroots Leadership used the testimony of 40 Hutto detainees separated from their families to sway county commissioners. "We had people going to the county every week to read letters of women detained there," Libal says. "It was really the powerful experience that won."
Some immigrant rights groups are wary of county closures because of the potential impact on current detainees. When Contra Costa County, Calif., Sheriff David Livingston revoked ICE's contract to house migrants at the West County Detention Facility, the group Freedom for Immigrants feared detainees would be moved across state lines, far from their families and legal resources. "Canceling the contract shows that these protests are working," says Liz Martinez, advocacy and communications director for Freedom for Immigrants. But the real goal, she says, is "to get people out of detention."
Libal, whose Grassroots Leadership has been trying to close down the Hutto detention center since it opened in 2006, says it was critical for the movement to gain momentum. "You have to fight back somewhere, and one way to be effective is to win local battles," he says.
Geo Group has lost at least one contract because of its association with family separation. Lancaster County, Penn., rejected a Geo Group attempt to take over prison re-entry services, even though the contract had nothing to do with immigration. "If they get painted as the family separator, that's going to hurt them across the board," says Jeremy Mohler of In the Public Interest.
Attacking the money alone will not fulfill the end goal; abolishing ICE will require legislation. But in the meantime, making ICE toxic can have powerful effects, preventing a return to the pre-Trump status quo of undocumented immigrants being treated abominably in virtual obscurity. It's already shown up in polling data; in just a few short months, ICE is net unfavorable, even less popular than the IRS. When a concept bleeds into the culture, as Abolish ICE signs are being seen at sporting events and the Statue of Liberty, that signals the ground is shifting. "Even people who don't want to abolish ICE really hate ICE," says Sean McElwee, who popularized the Abolish ICE slogan. "It's defined in an incredibly negative way, and that makes it hard to do its job."
Combining street protests with research on who profits from the immigration system—a Gordian knot of opaque subcontracting and financing relationships that activists have been picking at for years—is critical to that effort. When every uniform, every catered meal, every transportation shuttle, everything ICE does is contested, it throws sand into the gears of its operation.
ICE's extreme privatization was a catalyst to produce these pressure points, but it also speaks to a disconnect between capitalism and morality, and how family separation reveals those fissures. The ICE fight is about human rights but also labor rights—the rights of workers to exert democratic control over company contracts and reject immoral work. It's about small towns with dried-up economies that have no choice but to become America's migrant jailers. It's about the influence of lobbyists, and also financiers. It's about how the public gets a say in how public money should be spent. It's about the over-criminalization that gets the undocumented on ICE's radar. It's even about our energy policy, with climate refugees soon to follow the current wave of asylum seekers fleeing violence.
"A lot of times in our politics, there's a singular focus on who is elected and who might hold formal reins of power," says Kevin Connor, co-founder of Little Sis, which has focused on ties between political and financial elites for years. "This is a moment where people are seeing a power structure above and beyond that. Research systems and organizing can lay the groundwork for this kind of moment where that power structure can be challenged more directly."

This story was supported by the Leonard C. Goodman Institute for Investigative Reporting.