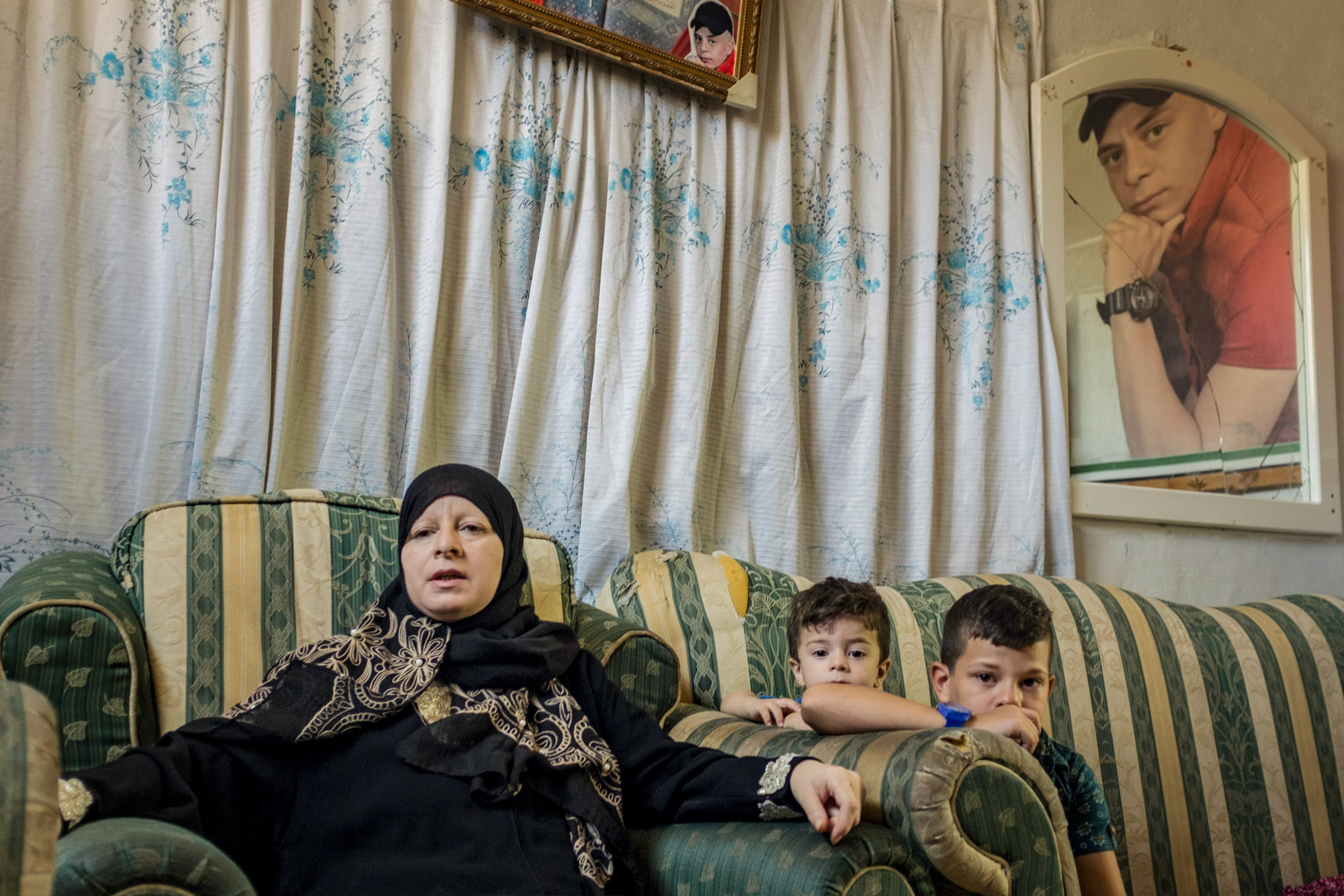 ---
Like that of many Palestinians, Sabaa Obeid's life was shaped, constrained and ultimately ended by Israel's occupation, which began in 1967.
Obeid lived in a modest, two-story stone home in Salfit, with his mother, father and brothers. Today it is decorated with reminders of his life—like the motorbike clock that hangs on the wall, an homage to his love of motorcycles—and with posters memorializing his death.
The city of about 11,000 is an administrative and commercial hub. But Israel's separation wall snakes around the Israeli settlement of Ariel to the north of the city. The settlement divides Salfit from many of the surrounding villages.
Obeid came of age during the Second Intifada of 2000-2005, a bloody Palestinian uprising during which Israeli forces killed 3,223 Palestinians and Palestinians killed 950 Israelis, with numerous civilians and children slain on both sides. Obeid's parents say that one of his first experiences with the reality of Israeli occupation came when soldiers raided his elementary school in Salfit, shooting tear gas at the students. As Obeid grew older, he and his friends would come outside to throw rocks at Israeli soldiers when they raided the city on manhunts.
"During the Second Intifada there were clashes and youth being killed all the time," says Nidal Obeid, Sabaa's father. "We live in a place that has never seen peace."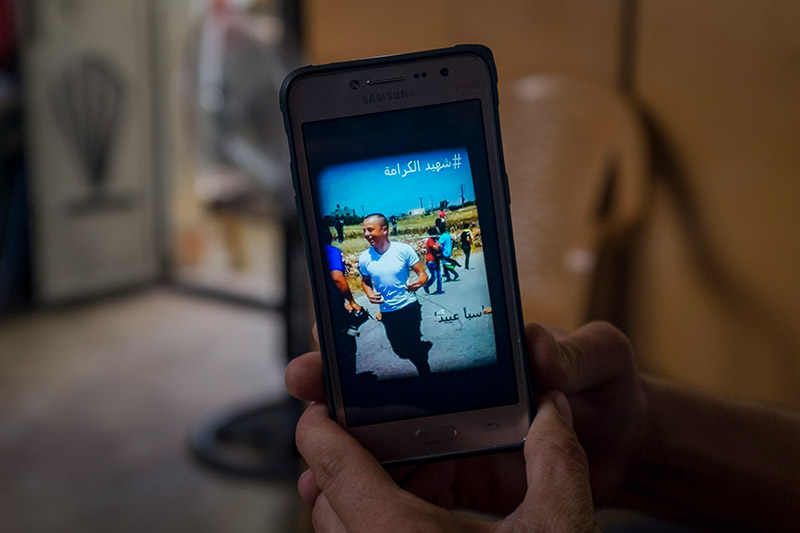 ---
Sabaa Obeid was arrested on charges of stone throwing when he was 18. After 16 months in an Israeli prison, he returned to his parents' home determined to fight for the rights of Palestinian prisoners. "He memorized the names of prisoners. He wanted to be a martyr," says Asmaa Shaheen, his mother. "I wanted him to be engaged [to be married], so he'd get distracted. He said, 'There are brides in heaven waiting for me.' "
In April 2017, about 1,500 Palestinian prisoners launched a hunger strike for better conditions. To show solidarity, Sabaa Obeid ate very little, and he and his friends set up a symbolic tent in Salfit to gather community support.
On May 12, 2017, Obeid headed down to nearby Nabi Saleh, a tiny village famous for its resistance to Israeli occupation, to participate in a protest in support of the strike. In the hills of Nabi Saleh, where the red-tiled roofs of the Israeli-only settlement of Halamish peer down on the village, he joined a group of young Palestinians throwing stones down at two Israeli soldiers who were taking cover behind an unfinished building. One of the soldiers, armed with a Ruger sniper, took potshots at the stone-throwers.
A spokesperson for the Israel Defense Forces (IDF) says this confrontation was a "violent riot" that constituted a "threat" because "approximately 100 Palestinians threw rocks at IDF troops and a road used by civilians." But video footage taken by Mersiha Gadzo, a journalist, shows that at most 20 people were throwing stones, some with their hands, others with slingshots.
"At the end of the day, we are talking about stones from a distance of 100 meters. How dangerous can it be?" says Miki Kratsman, an Israeli photographer who captured the day's events. "We're not talking about a dangerous situation."
At around 2:15 p.m., Obeid walked over to a fence and crouched down to throw a few rocks at the two soldiers standing hundreds of feet away. Then he turned to head back toward the rest of the group, according to witness testimony given to B'Tselem. (In These Times could not contact this witness.) Before he could reach cover behind the remains of what was once a house, the Israeli sniper took aim at Obeid and pulled the trigger on his Ruger rifle, sending a .22 caliber bullet directly into Obeid's stomach. That afternoon, Obeid was pronounced dead.
An IDF spokesperson told In These Times in August 2018 that Obeid's killing was investigated by military police, and the findings "have been forwarded to the Military Advocate General for further examination." The IDF did not respond to In These Times' request for those findings.
But the prospects for accountability appear slim. Between 2000 and 2016, only 25 of 280 Israeli soldiers investigated for involvement in the killings of Palestinians have been charged with crimes, according to data compiled by Yesh Din, an Israeli human rights organization. Of those, only eight were convicted—four on charges of negligent manslaughter, two for manslaughter, and two for negligence.
Obeid was the fourth Palestinian killed by Israeli soldiers in Nabi Saleh, where residents began holding weekly unarmed marches in 2009 to protest an Israeli settlement's takeover of a natural spring long used by the villagers. One of those slain, 28-year-old Mustafa Tamimi, was shot in the face by an Israeli-fired tear gas canister manufactured by Combined Systems Inc., a Pennsylvania corporation. No criminal charges were filed.
"When the value of Palestinian life is so low [in the eyes of the Israeli army], no one is held to account," says Amit Gilutz, a spokesperson for B'Tselem. "Soldiers know they'll be fine no matter what."