And now, a billionaire intends to settle the red planet within a decade. On February 6, Elon Musk's SpaceX corporation blasted a Tesla Roadster into orbit, a test of the Falcon Heavy rocket—the most powerful on the market. The launch became the second-most livestreamed video in YouTube history, and the rocket's success—alongside Musk's subsequent publicity tour—set off renewed excitement about space travel.
When I've spoken to left-leaning friends and family about all this, most aren't sure what to think. Many socialists are skeptical of the union-busting Musk—Kate Aronoff, writing for In These Times, said it was time to "nationalize" the entrepreneur and put his space program in public hands. Others oppose throwing money into space so long as inequality remains at home. As poet Gil Scott-Heron wrote in 1970, "I can't pay no doctor bill. / (But Whitey's on the moon)."
But not all on the Left are anti-space. In the 2015 Jacobin piece "Democratize the Universe," Nick Levine argues that a collectively owned space mining industry could be a tool for wealth redistribution, while avoiding the harms of mining Earth. The late Stephen Hawking, a vocal progressive, suggested that humans must leave the nest if we want to survive climate change.
For the layperson, it's hard enough to know whether these futuristic visions are even plausible. Parsing the political implications feels out of our wheelhouse.
The same cannot be said for Kim Stanley Robinson. The award-winning science-fiction writer—an anti-capitalist himself—spent more than a decade researching and writing his Mars trilogy, a centuries-spanning epic sketching out a possible future of Mars settlement. Sci-fi maestro Arthur C. Clarke called 1993's Red Mars, the first in the series, "The best novel on the colonization of Mars that has ever been written. … It should be required reading for the colonists of the next century."
The next century has arrived, and the colonists are getting their plans in order. In These Times spoke with Robinson about Mars, our own fragile planet and his hopes for a robust space science program.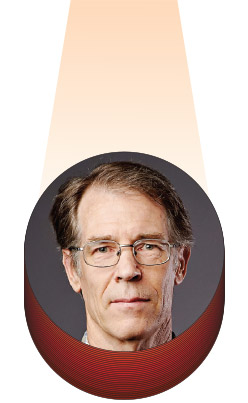 In Red Mars, the first mission to settle Mars launches in 2026. SpaceX is hoping to send the first crewed mission to Mars before that. Did you expect the real world to move this quickly?
I am surprised by the speed of SpaceX's accomplishments. We needed a big booster like the Falcon Heavy, and I expect it will get put to good use—meaning not just SpaceX using it, but other entities doing interesting things like sending landers to the moon or to asteroids.
But Elon Musk's Mars plan is still a science fiction story, in the same way that grant proposals and fundraising pitches are science fiction stories. They're set in the future, and they hope to bring that future into being by telling the story in advance.
So as far as settling Mars, I didn't have any expectations then, and I still don't. All these projects are contingent on human decisions. The technical problems are only one aspect, and the other aspects, including funding, are unpredictable.
Is there a danger to putting a billionaire in charge of space exploration?
It's a mistake to say a billionaire is in charge of space exploration. Landing people on Mars will require an actor network that includes Mars itself, the space between, the laws of physics and many parts of human civilization both public and private: scientists, workers, politicians and more.
No one actor in this network can do it just because they have a passion for it. It would have to be done on the cheap, and this would create unacceptably high risks for the astronauts involved. Landing people on Mars is harder than many people seem to think; robot landers have only a 50 percent success rate, and human landers would be much harder. As the 2020s pass with nothing much happening in the Mars way, the difficulty will become more obvious. Although probably the stories will continue full speed ahead.
Some on the Left suggest that putting resources into space takes away resources from the social good here at home. Do they have a point?
No. Space science is an Earth science. Our current presence in space is all about science and communications. Communications satellites are a big part of our civilization right now, and mostly in a good way.
Space science is important because we live on a planet that we are impacting in unexpected ways, so we need to know more about planets to help figure out what to do about that. A good example of this is when we found out we were creating a hole in our atmosphere's ozone layer, and managed to stop creating that hole before we all died from it. How did we do that? By sending orbiters to Venus and Mars and studying their atmospheres.
There are many other examples of this kind of useful knowledge, because comparative planetology is a real thing. Earth is a planet, and we depend completely on it for our existence. Now that we're damaging it in very dangerous ways, we have to invent a sustainable relationship with it. In that project, space science is useful. It isn't a cure-all, not even close, and should only be funded in proportion to its usefulness. But it is useful.
At the recent SXSW festival, Elon Musk mentioned that having a reserve population in outer space—on the moon or on Mars—could be helpful in case World War III devastates humanity. Is this a viable solution? Or might the rich leave for space while the rest of us suffer?
Billionaires moving to space is not just similar to a sci-fi plot—it is a sci-fi plot, and not very realistic.
It has to be said: There is no Planet B. It's here for us, or nowhere. But really, that is very obvious. Very few people actually believe that setting up a small settlement on Mars is an adequate safeguard or mitigation for the damage we are doing here on Earth. Those who do are fooling themselves.
Mars and all the rest of outer space are spectacularly unsuited as another basket to put our eggs in. The rich can always just move to Malibu or Davos and hire guards. That's the outer space being referred to.