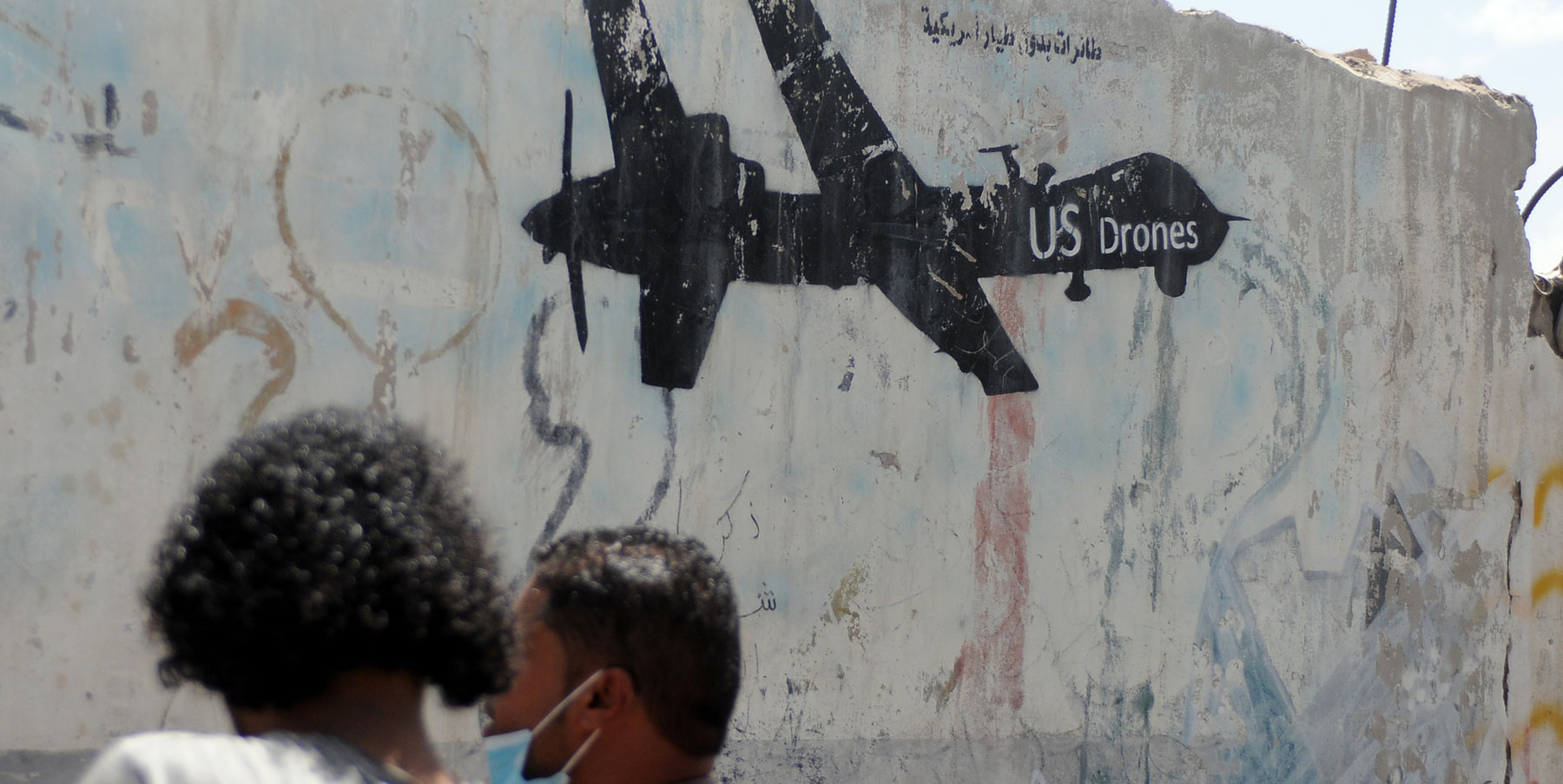 ---
THE WAR ON TERROR
What George W. Bush first called "the global war on terror" is still raging almost 17 years later, though with different forms of killing and different casualty counts. Today's reliance on airstrikes, drone attacks and a few thousand special forces has replaced the hundreds of thousands of U.S. and allied ground troops. And today hardly any U.S. troops are being killed, while civilian casualties are skyrocketing across the Middle East and Afghanistan. Officials from the Bush, Obama and Trump administrations have repeated the mantra that "there is no military solution" in Afghanistan, Syria, or Iraq or against terrorism, but their actions have belied those words. Progressive elected officials need to consistently remind the public and their counterparts that it is not possible to bomb terrorism out of existence. Bombs don't hit "terrorism"; they hit cities, houses, wedding parties. And on those rare occasions when they hit the people actually named on the White House's unaccountable kill list, or "terrorist" list, the impact often creates more terrorists.
The overall progressive policy on this question means campaigning for diplomatic solutions and strategies instead of military ones. That also means joining the ongoing congressional efforts led by Rep. Barbara Lee (D-Calif.) and others to challenge the continued reliance on the 2001 and 2002 Authorizations for the Use of Military Force (AUMF).
In general, privileging diplomatic over war strategies starts with withdrawing troops and halting the arms sales that flood the region with deadly weapons. Those weapons too often end up in the hands of killers on all sides, from bands of unaccountable militants to brutally repressive governments, with civilians paying the price. Congress members should demand an end of massive arms sales to Saudi Arabia, the UAE and other U.S. allies carrying out brutal wars across the Middle East, and they should call for an end to the practice of arming non-state proxies who kill even more people. They should call for a U.S. arms embargo on Saudi Arabia, the UAE, Qatar, Iraq, Afghanistan, Egypt, Turkey, Pakistan, Jordan and Israel (which presents a whole other set of arms-related challenges), while urging Russia to stop its arms sales to Syria, Iran and Pakistan. Given the power of the arms industries in the United States, arms embargoes are the most difficult—but perhaps the most important—part of ending the expanding Middle East wars.
Progressives in Congress should demand real support for UN-sponsored and other international peace initiatives, staffing whole new diplomatic approaches whose goal is political solutions rather than military victories—and taking funds out of military budgets to cover the costs. The goal should be to end these endless wars—not try to "win" them.
Israel-Palestine: The most important thing for candidates to know is that there has been a massive shift in public opinion in recent years. It is no longer political suicide to criticize Israel. Yes, AIPAC and the rest of the right-wing Jewish, pro-Israel lobbies remain influential and have a lot of money to throw around. (The Christian Zionist lobbies are powerful too, but there is less political difficulty for progressives to challenge them.) But there are massive shifts underway in U.S. Jewish public opinion on the conflict, and the lobbies cannot credibly claim to speak for the Jewish community as a whole.
Outside the Jewish community, the shift is even more dramatic, and has become far more partisan: Uncritical support for Israel is now overwhelmingly a Republican position. Among Democrats, particularly young Democrats, support for Israel has fallen dramatically; among Republicans, support for Israel's far-right government is sky-high. The shift is particularly noticeable among Democrats of color, where recognition of the parallels between Israeli oppression of Palestinians and the legacies of Jim Crow segregation in the United States and apartheid in South Africa is rising rapidly.
U.S. policy, unfortunately, has not kept up with that changing discourse. But modest gains are evident even there. When nearly 60 members of the House and Senate openly skipped Benjamin Netanyahu's speech when he came to lobby Congress to vote against President Obama's nuclear deal with Iran, the sky didn't fall. The snub to the Israeli prime minister was unprecedented, but no one lost their seat because of it. Rep. Betty McCollum's bill to protect Palestinian children from Israel's vicious military juvenile detention system (the only one in the world) now has 29 co-sponsors, and the sky still isn't falling. Members of Congress are responding more frequently to Israeli assaults on Gaza and the killing of protesters, often because of powerful movements among their constituents. When Trump moved the U.S. embassy to Jerusalem, the Israeli daily Ha'aretz acknowledged the divide: "While members of the Republican Party overwhelmingly expressed support for the move, Democrats were split between those who congratulated Trump for it and those who called it a dangerous and irresponsible action."
That creates space for candidates and newly elected officials to respond to the growing portion of their constituencies that supports Palestinian rights. Over time, they must establish a rights-based policy. That means acknowledging that the quarter-century-long U.S.-orchestrated "peace process" based on the never-serious pursuit of a solution, has failed. Instead, left and progressive political leaders can advocate for a policy that turns over real control of diplomacy to the UN, ends support for Israeli apartheid and occupation, and instead supports a policy based on international law, human rights and equality for all, without privileging Jews or discriminating against non-Jews.
To progress from cautiously urging that Israel abide by international law, to issuing a full-scale call to end or at least reduce the $3.8 billion per year that Congress sends straight to the Israeli military, might take some time. In the meantime, progressive candidates must prioritize powerful statements condemning the massacre of unarmed protesters in Gaza and massive Israeli settlement expansion, demands for real accountability for Israeli violations of human rights and international law (including reducing U.S. support in response), and calls for an end to the longstanding U.S. protection that keeps Israel from being held accountable in the UN.
The right consistently accuses supporters of Palestinian rights of holding Israel to a double standard. Progressives in Congress should turn that claim around on them and insist that U.S. policy towards Israel—Washington's closest ally in the region and the recipient of billions of dollars in military aid every year—hold Israel to exactly the same standards that we want the United States to apply to every other country: human rights, adherence to international law and equality for all.
Many supporters of the new crop of progressive candidates, and many activists in the movements they come out of, are supporters of the increasingly powerful, Palestinian-led BDS (boycott, divestment and sanctions) movement, that aims to bring non-violent economic pressure to bear on Israel until it ends its violations of international law. This movement deserves credit for helping to mainstream key demands—to end the siege of Gaza and the killing of protesters, to support investigations of Israeli violations by the International Criminal Court, to oppose Israel's new "nation-state' law—that should all be on lawmakers' immediate agenda.
Afghanistan: More than 100,000 Afghans and 2,000 U.S. troops have been killed in a U.S. war that has raged for almost 17 years. Not-Yet-President Trump called for withdrawal from Afghanistan, but within just a few months after taking office he agreed instead to send additional troops, even though earlier deployments of more than 100,000 U.S. troops (and thousands more coalition soldiers) could not win a military victory over the Taliban. Corruption in the U.S.-backed and -funded Afghan government remains sky-high, and in just the past three years, the Pentagon has lost track of how $3.1 billion of its Afghanistan funds were spent. About 15,000 US troops are still deployed, with no hope of a military victory for the United States.
Progressive members of Congress should demand a safe withdrawal of all U.S. troops from Afghanistan, acting on the long-held recognition that military force simply won't work to bring about the political solution all sides claim to want.
Several pending bills also would reclaim the centrality of Congress' role in authorizing war in general and in Afghanistan in particular—including ending the 2001 AUMF. Funding for humanitarian aid, refugee support, and in the future compensation and reparations for the massive destruction the U.S.-led war has wrought across the country, should all be on Congress' agenda, understanding that such funding will almost certainly fail while U.S. troops are deployed.
Iran: With U.S. and Iranian military forces facing each other in Syria, the potential for an unintentional escalation is sky-high. Even a truly accidental clash between a few Iranian and U.S. troops, or an Iranian anti-aircraft system mistakenly locking on to a U.S. warplane plane even if it didn't fire, could have catastrophic consequences without immediate military-to-military and quick political echelon discussions to defuse the crisis. And with tensions very high, those ties are not routinely available. Relations became very dangerous when Trump withdrew the United States from the multi-lateral nuclear deal in May. (At that time, a strong majority of people in the United States favored the deal, and less than one in three wanted to pull out of it.)
The United States continues to escalate threats against Iran. It is sponsoring a growing regional anti-Iran alliance, with Israel and Saudi Arabia now publicly allied and pushing strongly for military action. And Trump has surrounded himself with war-mongers for his top advisers, including John Bolton and Mike Pompeo, who have both supported regime change in Iran and urged military rather than diplomatic approaches to Iran.
Given all that, what progressive elected officials need to do is to keep fighting for diplomacy over war. That means challenging U.S. support for the anti-Iran alliance and opposing sanctions on Iran. It means developing direct ties with parliamentarians from the European and other signatories to the Iran nuclear deal, with the aim of collective opposition to new sanctions, re-legitimizing the nuclear deal in Washington and reestablishing diplomacy as the basis for U.S. relations with Iran.
It should also mean developing a congressional response to the weakening of international anti-nuclear norms caused by the pull-out from the Iran deal. That means not just supporting the nonproliferation goals of the Iran nuclear deal, but moving further towards real disarmament and ultimately the abolition of nuclear weapons. Progressives in and outside of Congress should make clear that nuclear nonproliferation (meaning no one else gets to have nukes) can't work in the long run without nuclear disarmament (meaning that the existing nuclear weapons states have to give them up). That could start with a demand for full U.S. compliance with the Nuclear Non-Proliferation Treaty, which calls for negotiations leading to "nuclear disarmament, and on a treaty on general and complete disarmament."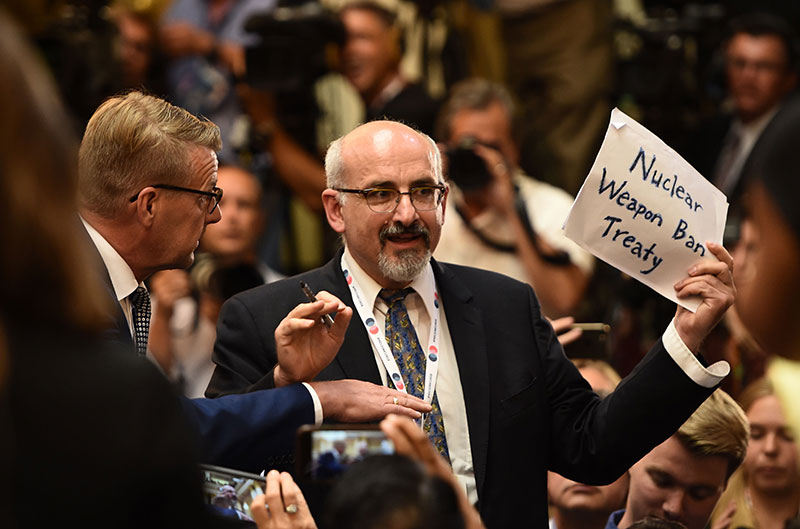 ---
Syria: Progressive candidates and elected officials should support policies designed to end, not "win" the war. That means withdrawing troops, ceasing airstrikes and drone attacks, and calling for an arms embargo on all sides of the multiple proxy war. The civil war component of the multiple wars in Syria is winding down as the regime consolidates its control, but the sectarian, regional and global components of that war have not disappeared, so continuing a call for an arms embargo is still important. The first step is to permanently end the Pentagon's and the CIA's "arm and train" policies that have prolonged the war and empowered some of its most dangerous actors.
There will also need to be negotiations between the regional and global actors that have been waging their own wars in Syria, wars that have little to do with Syria itself, but with Syrians doing the bulk of the dying. That means support for the UN's and other internationally-sponsored de-escalation efforts, and serious engagement with Russia towards a permanent ceasefire, as well as the arms embargo. U.S. policy should include absolute prohibitions on Washington's regional allies—including Saudi Arabia and Turkey—sending U.S.-provided arms into Syria. And progressive supporters of diplomacy should also maintain pressure on the United States to back multi-lateral diplomatic processes organized by the UN and others—on humanitarian issues in Geneva, and political issues in Astana. Cutting the United States' multi-billion dollar arms sales to Saudi Arabia, the UAE, Jordan, Turkey and other U.S. allies involved in the Syrian wars would also lend legitimacy to U.S. efforts within those diplomatic processes to press Russia to stop providing arms to the Assad regime.
Iraq: Congress has largely abrogated its responsibilities even as the 15-year war initiated by the United States continues. Progressive policymakers would do well to join the existing efforts to end—not replace, but cancel—the 2002 Authorization for the Use of Military Force against Saddam Hussein's government in Iraq, and reopen congressional debate, with the goal of ending funding for war in Iraq once and for all. When President Obama withdrew the last troops from Iraq at the end of 2011, stating that "war in Iraq ends this month," many assumed that the authorization ended as well. But it was never officially repealed and had no expiration date, and three years later Obama claimed that the then-12-year-old authorization justified the war against ISIS in Iraq. While Trump has relied primarily on the 2001 AUMF, the Iraq-specific authorization of 2002 remains in place and should be withdrawn.
In the meantime, progressives in Congress should support many of the same policies for Iraq as for Syria: withdraw the troops and special forces, stop the assassination program that is the heart of Washington's "counter-terrorism" campaign and cease sending arms. Congress should end funding to force the closure of the network of small "forward operating bases" and other U.S. military bases that may remain in U.S. hands in Iraq despite earlier agreements to turn them over to the Iraqi government. The U.S. must figure out new ways to provide financial compensation and support to the people whose country and society has been shredded by more than a dozen years of crippling U.S.-led economic sanctions bookended by two devastating wars (Desert Storm, starting in 1991, and the Iraq War, starting in 2003)—while somehow avoiding the further empowerment of corrupt and sectarian political and military leaders.
Yemen and Saudi Arabia: The ongoing Saudi-led war against Yemen reflects the most deadly front of Saudi Arabia's competition with Iran for regional hegemony. The United States is providing indirect and direct support, including U.S. Air Force pilots providing in-air refueling so Saudi and UAE warplanes can bomb Yemen more efficiently, and Green Berets fighting alongside Saudi troops on the border, in what the New York Times called "a continuing escalation of America's secret wars."
The U.S.-backed Saudi war against Yemen has also created what the UN has declared the world's most serious humanitarian crisis. Congress' first action must be to immediately end all U.S. involvement in the war. Next, Congress must reject all approvals for arms sales to Saudi Arabia and the UAE as long as they continue to bomb and blockade Yemen.
Ending these arms sales may be a serious challenge, given the power of the arms manufacturers' lobby, Israel's strong support of Saudi Arabia against Iran and the fact that Saudi Arabia remains the top U.S. arms customer. But recent efforts and relatively close votes in both the House and Senate, while not successful, indicate that challenging the longstanding process of providing the Saudis with whatever weapons they want may be closer to reality than anticipated. The House called the U.S. military involvement in the Saudi war in Yemen "unauthorized." Reps. Ro Khanna, Marc Pocan and others have introduced numerous House bills in recent months aimed at reducing U.S. arms sales and involvement in the Saudi-led assault. In the Senate, a March resolution to end U.S. military involvement in the Yemen war failed by only 11 votes, a much narrower margin than anticipated. Progressive candidates and new members of Congress should support all those efforts, and move further with a call for ending the longstanding U.S. alliance with Saudi Arabia, especially military sales and support for the Saudi-Israeli partnership against Iran.