Squeezing workers for interest
In search of higher returns, pension fund managers have taken to what are known in the trade as "alternative investments," such as hedge funds and private equity.
Although distinctions can blur, hedge funds are aggressively managed—run by professionals intent on making boatloads of money quickly, which means they can also lose boatloads of money suddenly. They trade in what is known in economics as "hot money"—highly speculative, short-term capital investments that create massive market instability by moving money fast. That instability has greatly increased the precarity of the working class, fueling, for example, the housing bubble that led so many to lose their homes to foreclosure.
Private equity (PE) generally has a longer time horizon, with fund managers investing in a business for several years. Their aim is to increase a company's profitability by increasing its "efficiency," then sell their stake at a profit. In the interim, PE funds often take cash out of the business through dividends and fees. PE can be a very lucrative line of work, and managers enjoy special tax breaks on top of their big paychecks.
So-called efficiency is often code for "screwing workers." An infamous example is what happened at Safeway stores in the 1980s. By mid-decade, the unionized supermarket chain was suffering increased competition from lower-cost nonunion stores. In 1986, the company went private in a leveraged buyout engineered by boutique investment house Kohlberg Kravis Roberts (KKR). In a leveraged buyout, a small group of investors (in partnership with corporate management), borrows lots of money to buy out a business. That debt is often quite burdensome, which is part of the point: The urgency of the debt becomes a disciplinary force, driving management to achieve greater "efficiencies." In the case of Safeway, that meant selling off divisions (mostly to nonunion operators), closing stores and squeezing labor. In all, 63,000 people lost their jobs. The human toll was detailed by Susan Faludi in a 1990 article for the Wall Street Journal: suicide, alcoholism, heart attacks, bankruptcy and broken lives. Displaced workers had a hard time finding new jobs, and those who did saw their pay cut by, on average, more than half. But KKR made off with $7.2 billion, after an initial investment of $129 million.
This isn't an unfamiliar story for anyone who's been following American capitalism for the last several decades. Less widely known is that KKR, the era's leader in leveraged buyouts, got a lot of its financing from public pension funds. In its early days, KKR had trouble raising money for its adventures, such activities being seen as disreputable in the sleepy pre-Roaring Eighties culture of Wall Street. KKR's efforts were greatly assisted when the Oregon state employee pension fund, no doubt dazzled by the potentially glorious returns, kicked in some cash. With a respectable institutional investor like that in its stable, other institutional investors (including other public pension funds) opened their wallets, and KKR was on its way. On its website, KKR marks 1982—when Oregon was joined by the Washington and Michigan public pension funds—as a milestone in its history. The special relationship between the Oregon fund and KKR continues today. George Roberts, one of KKR's named partners, told the Oregon pension board in 2013, "You all are our longest standing partner. We always start with you."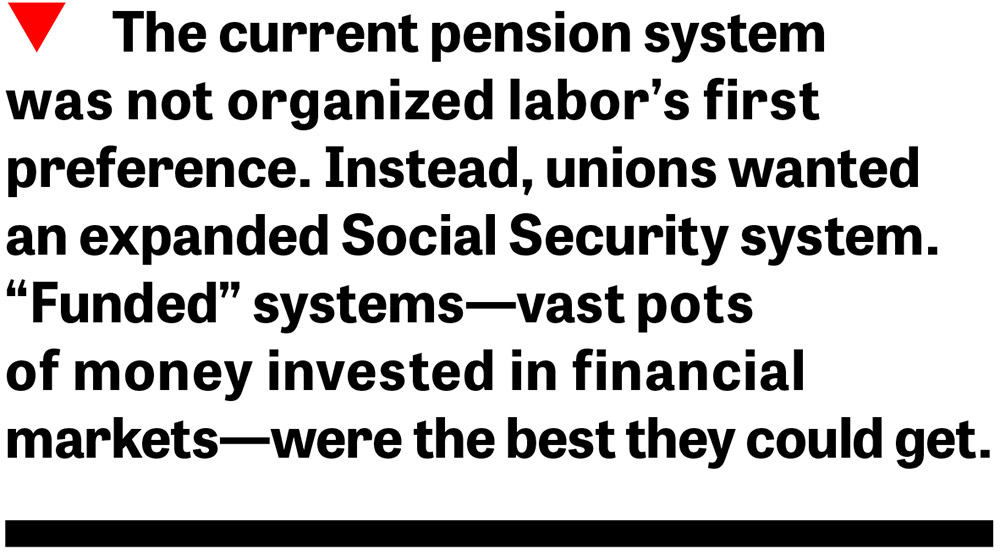 Over the 1980s, the wave of leveraged buyouts pioneered by KKR helped transform the business landscape dramatically, contributing to workplace speedup (an increase in productivity but not pay), union-busting and downward worker mobility. The movement hibernated in the 1990s only to be reborn in the 2000s under the name "private equity." But the strategy remains the same, as do its effects.
In late 2016 and early 2017, for instance, unionized workers (represented by the Communications Workers of America) at Momentive, a chemicals manufacturing company in upstate New York, went on strike after the company tried to cut pay and health benefits, as well as eliminate pensions and health benefits for retirees. Momentive brought in scabs during the strike, a tactic the union says is responsible for a dramatic spike in oil and chemical spills during that period.
The private equity firm Apollo Global Management had bought Momentive from General Electric in 2006. Before the buyout, a job at Momentive's 75-year-old plant was the best you could get in the small town of Waterford, N.Y., workers told the New York Daily News during the strike. "My dad worked here for 38 years, it was a great job," said one employee. He and his brother had followed in their father's footsteps, expecting that they, too, would make a good living.
After the buyout, however, the new owners put the squeeze on workers. Also holding an ownership stake in Momentive until summer 2017 was another PE firm, the Blackstone Group (whose head, Stephen Schwarzman, served a brief stint as Trump's "job czar"). Under Apollo and Blackstone, management implemented a "restructuring" plan that had as its goal trimming expenses by $35 million. The restructuring, which is typical of companies bought by PE firms, included the slashing of worker benefits that triggered the strike.
In January 2017, striking workers came to New York City to rally in front of Apollo's offices. They could also have rallied in front of the offices of the New York City pension fund, which has invested over $1 billion with Blackstone since 2003, and almost $650 million with Apollo. (Unsurprisingly, Oregon's pension fund has invested $600 million with Apollo and $850 million with Blackstone.) In February 2017, Momentive workers ended their 105-day strike, accepting cuts in health benefits and vacation time for current workers, as well as the elimination of health insurance for retirees.
That is only one example.
In 2016, Elliott Management, a hedge fund that is particularly aggressive in seeking job-killing "restructuring," and Francisco Partners, a private equity firm, acquired the software company Quest from Dell. The new owners announced layoffs the very next day.
The bloodletting continues. As this issue went to press, Israeli software development company Sintec Media, acquired last year by Francisco Partners, announced it was laying off dozens of employees as part of a "restructuring" process. And employees at MyWebGrocer, an online grocery store based in Winooski, Vt., owned by Palo Alto-based private equity firm HGGC LLC, lost jobs in another—you guessed it—"restructuring."