2. BLOOD FROM A STONE
Even before the hurricanes, it appeared unlikely that Puerto Rico could pay up. In 2015, then-Gov. García Padilla warned the debt was "not payable." The current governor, Ricardo Rosselló, projected this summer that the island might run out of money in November, despite austerity measures and massive school closures.
To understand how the island fell so deeply into debt, one must follow a century of colonialism, cronyism and finance capitalism. Soon after Puerto Ricans became U.S. citizens in 1917, the United States imposed high shipping costs that hobbled the island's economy. Congress then spurred outside investment by turning the island into a U.S. tax haven, luring in manufacturing and pharmaceutical companies. The boom did provide middle-class jobs, but it never created an ownership class. Assets and profits flowed away.
As part of a deal to balance the U.S. budget in 1996, President Bill Clinton agreed to phase out the loophole that allowed businesses to operate in Puerto Rico tax-free. Companies left the island in droves, taking thousands of jobs. Then-governor (and the current governor's father), Pedro Rosselló, was criticized for not pushing back, but, according to a 1999 Orlando Sentinel article, he argued the measure would help the island be "treated the same as the [U.S. mainland] states."
With that exemption gone, Puerto Rico's government turned to a special tax break that remained in place from the 1917 Jones-Shafroth Act. As a U.S. commonwealth, Puerto Rico can issue bonds that are "triple tax-free"—exempt from taxation by Puerto Rico, the U.S. government, and any U.S. state or municipality.
With the economy stagnating, Puerto Rico increasingly sold these bonds to pay for infrastructure projects. "Friends" of Puerto Rico's current administration often got first dibs, and many of the projects were white elephants, unlikely to ever raise enough revenue to compensate their backers.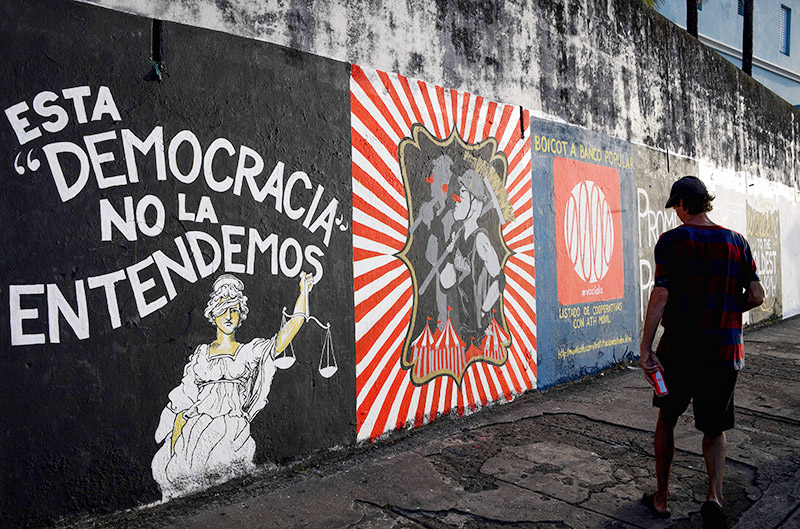 ---
One infamous example is the Trump International Golf Club Puerto Rico. Puerto Rico's Government Development Bank granted developers $25 million in the early 2000s to build a golf course and hotel. The golf course struggled to pay its debt, and the government reissued $26 million in bonds after Donald Trump agreed to license his name to the project in 2008. The owners declared Chapter 11 bankruptcy in 2015 and never paid back the loan.
In 2006, these practices caught up with the Puerto Rican government. The island ran out of money and shut down for two weeks, furloughing 95,762 employees and temporarily shuttering 1,600 public schools.
With the 2008 global financial collapse, Puerto Rico's economy went into a tailspin. Ten percent of its population emigrated between 2006 and 2016. Today, 46 percent of the population lives below the federal poverty line (compared to a national average of 14.7 percent) with a 40 percent labor force participation rate.
"There is a whole generation that knows that we are not going to live the life that our parents lived," says Verónica Rivera Torres, who convened a gathering of Puerto Rican women in a public park in San Juan in September 2015 to discuss the toll of austerity. "There are no retirement plans, the rights of public employees are precarious, there is no work.
"The majority [of the women who came] were doctors, lawyers, professionals," Rivera Torres recalls. "Some were in a state of shock. For example, a woman with a doctorate, with the opportunity to leave, did not, because of loyalties to her family and her country. Now she is in a situation of insecurity. Some women have security, but their children or grandchildren are facing precariousness."