Most reform initiatives, like the one in Maine, push for only ranked-choice voting rather than full PR, because RCV is more familiar and less disruptive. Apple's petition does the opposite. It would create eight larger state legislative districts, each with 10 representatives, cutting the total number of House seats approximately in half.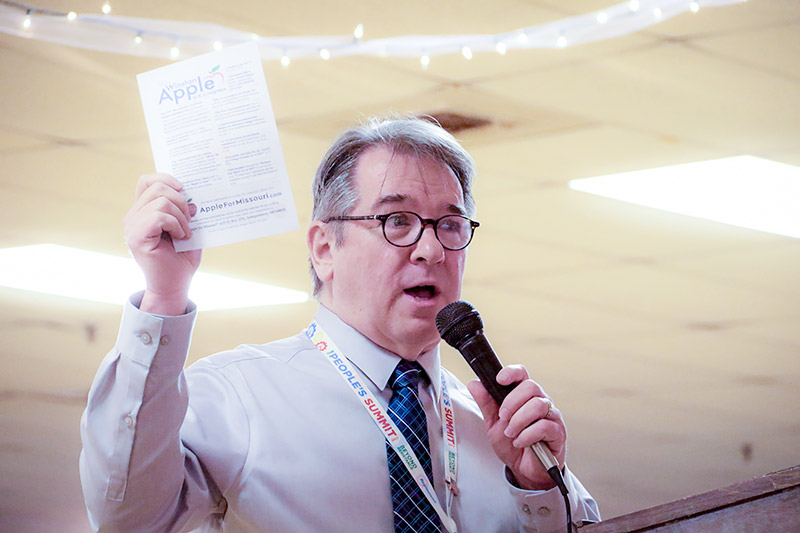 ---
Apple proposes a "list" system similar to the parliamentary democracy of many European countries. Voters cast their ballot for a party, not individual candidates. Parties fill their share of seats in the legislature according to the results of their primary elections. If a party wins three seats in a district, for example, the party's top three primary vote winners are seated.
Apple, who's from Independence and bears a bit of a resemblance to Harry Truman, says he designed it that way because it puts the focus on issues, not personalities. He has a Midwestern earnestness, and he approaches his role of political revolutionary with the energy of a convert. He's written "a manifesto for the reform of public education," Edutopia, and he's working on a book about Keynesian economics that argues the federal government should become the employer of last resort.
For his mission to change Missouri's electoral system, he's created a website, GovernmentByThePeople.org, with two short videos that explain the basics of proportional representation, in addition to essays that describe it in painstaking detail. And he takes his cause on the road. In early February, he went to a three-day summit called "Unrig the System" at Tulane University in New Orleans. The summit's goal was to "convene the brightest minds from the Right and Left to fix American politics." The slate of speakers included both Nina Turner, president of Our Revolution, and Steve Hilton, a Fox News host.
People not formally scheduled to speak at the summit had a chance to pitch their ideas for a brief talk. Attendees voted on the pitches, and the winners got to speak at an event on the last day. Apple was among the winners.
"I think I convinced a whole lot more people that if we can only make one change, proportional representation is the one we should make," he says. "It's just a numbers game. The vast majority of people have no idea what it is or how it works. I've found that if you say, 'This will break the two-party monopoly, and independent candidates will have a fair chance of getting elected,' they say, 'Where do I sign?' "
Maine leads the way
FairVote expects that the Missouri initiative will be a hard sell, especially the idea of voting for a party's slate rather than individuals. "I tend to be skeptical that a list system will be successful in the U.S," says Drew Spencer Penrose, FairVote's law and policy director. "We're used to voting for candidates, and we're also used to big tent parties."
Penrose and Rob Richie believe the path to victory for PR is a series of city and state-level reforms that evolve into a movement for federal PR over the next decade or so. A bill already in the House, the Fair Representation Act, would implement both multi-member districts and RCV. It currently has only four co-sponsors but serves to keep the item on the agenda for a future, more progressive Congress.
The referendum in Maine would establish ranked-choice voting for all state and federal elections, which is a more modest and less disruptive reform than combining it with multi-member districts. Think of RCV as the gateway to full PR.