"The U.S. should do what it can to ensure that its partners have made channels available for the public to safely report harm and that steps are taken to assess and investigate any claims that are made," Mahanty says. "This is especially true in Somalia, where the U.S. has arguably a greater responsibility given its role in developing the capacity of new security forces."
Guled, the former deputy director of Somalia's NISA, believes this concern should also be considered tactically.
"To be successful in their fight against al Shabab, the Somali government and their alliance need to have everyone on board in their operations against al Shabab," he says. "They can't win a war when everyone sees you as the enemy, which is the case for the Somali government and the U.S. at the moment.
"People will not feel liberated if they are scared of you or if they know you have killed someone they know."
Asked what AFRICOM would advise the Somali government to do if there are allegations of civilian casualties during Danab raids, AFRICOM media relations chief John Manley referred In These Times back to the Somali government for comment.
Asked if transparent investigation into allegations of civilian casualties would help legitimize the Somali government, Manley responded, "I am not in a position to provide an opinion on a speculative question like this. Your question should be directed toward the Somali people."
But Somalia's Ministry of Defense seems to have little leverage and less information about Danab-U.S. missions, according to current and former government sources. This frustrates members of Parliament who look to the Ministry of Defense for updates about the war. One member of Parliament (aligned with an opposition party), who requested anonymity because of the sensitivity of military information, said the Parliamentary Defense Committee isn't told—even after the fact—about operations. "Details of U.S. airstrikes and ground operations are limited," he said. "After each operation, we were supposed to be kept abreast about civilian casualties, but we have never gotten the casualty details. The Defense Committee is responsible for the oversight and demands that a record of civilian casualties with a considerable degree of detail be shared with the committee."
At a meeting in March, he says, the committee addressed the defense minister and his deputies about civilian casualties, following complaints a committee member had received about a recent incident, but the Ministry had no operational information.
"Accounts from people who witness these kinds of operations are very helpful to understanding of what is happening on the ground and how it might be affecting Somali communities," Mahanty says. "There's a lack of information about specific operations and the tactics that are used."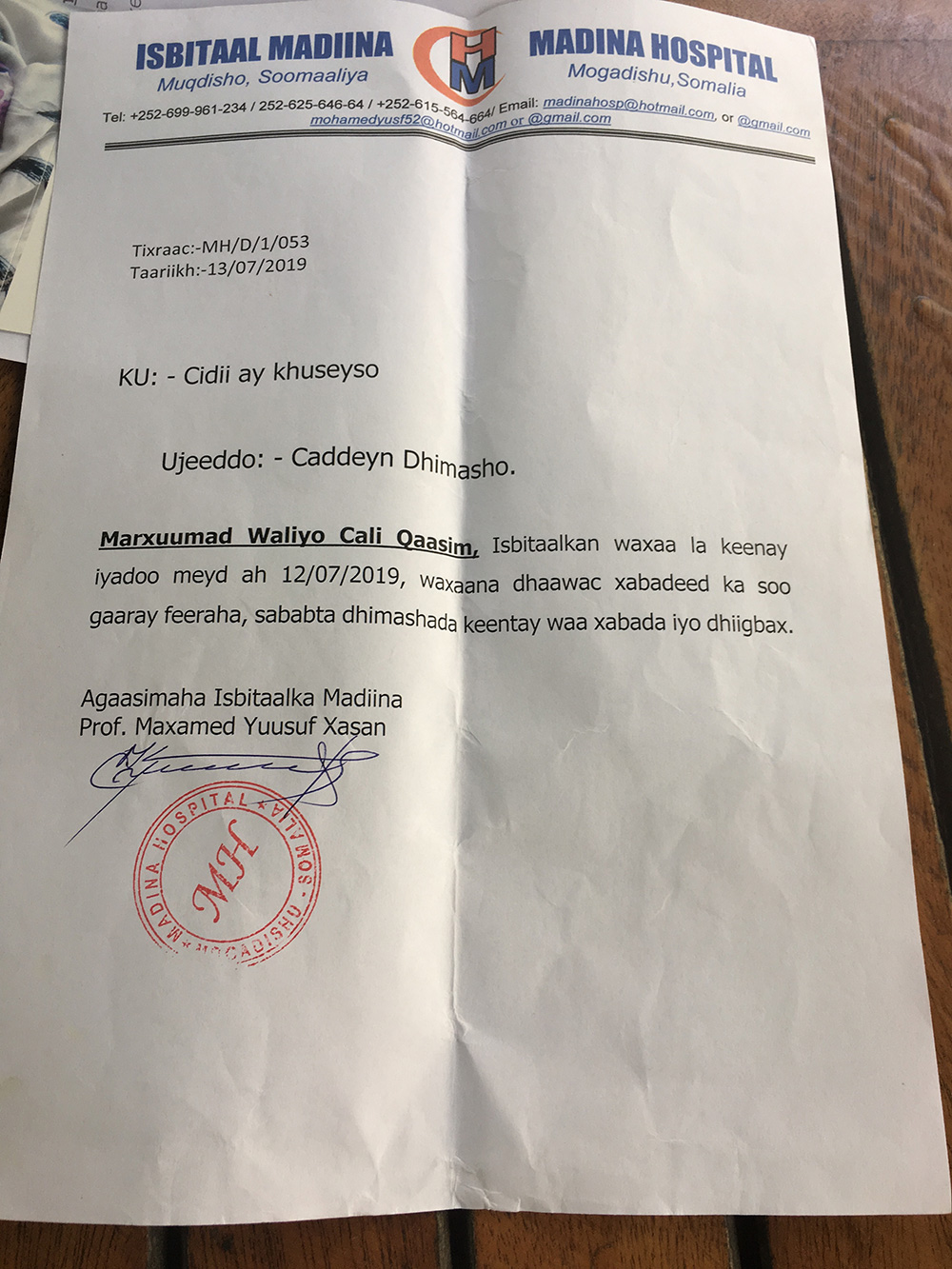 ---
Tommy Ross, a former deputy in the U.S. Department of Defense and senior advisor on intelligence and defense to Senate leaders, tells In These Times that "one of the most important concerns" about the "apparently growing reliance on advise-and-assist missions" is the "transparency of these sensitive operations and the combat situations into which they thrust American troops." He adds that "unlike traditional combat operations, advise-and-assist missions in the post-9/11 context can place U.S. forces in harm's way without any specific authorization or any congressional debate," and that these missions can "trigger escalation or damage broader interests without being appropriately scrutinized or approved."
The day after the burial, with no word from CID, Khamis brought his story to the chairman of the farmers of the Lower Shabelle, a man named Hassan Barkhadle. Barkhadle and Khamis attended a meeting that afternoon with member of Parliament in Mogadishu, held at a restaurant near the beach.
It was a crowded conference, according to Khamis, with, he estimates, more than 70 people sharing complaints about Danab and the Americans to the MPs. According to Khamis, when he showed the MPs the pictures of his dead sister and neighbor, they pushed the photos back across the table, not wanting to touch or acknowledge the documentation.
Khamis says the encounter was "demoralizing" and that he felt like he didn't matter. He says the weeks spent seeking official acknowledgement of the incident were maddening. None of the government representatives seemed to care about a constituent's legitimate accusation about the country's most revered troops—trained by the Americans, no less. The process was a disorganized tour of various meetings with disinterested people.
Al Shabab, Khamis notes, is not nearly this sloppy.

Amanda Sperber is a journalist who travels between New York, Nairobi and Mogadishu.
This reporting was supported by the Leonard C. Goodman Institute for Investigative Reporting. Skyler Aikerson contributed fact-checking.
---
Never miss a story. Subscribe to the free In These Times weekly newsletter:
---