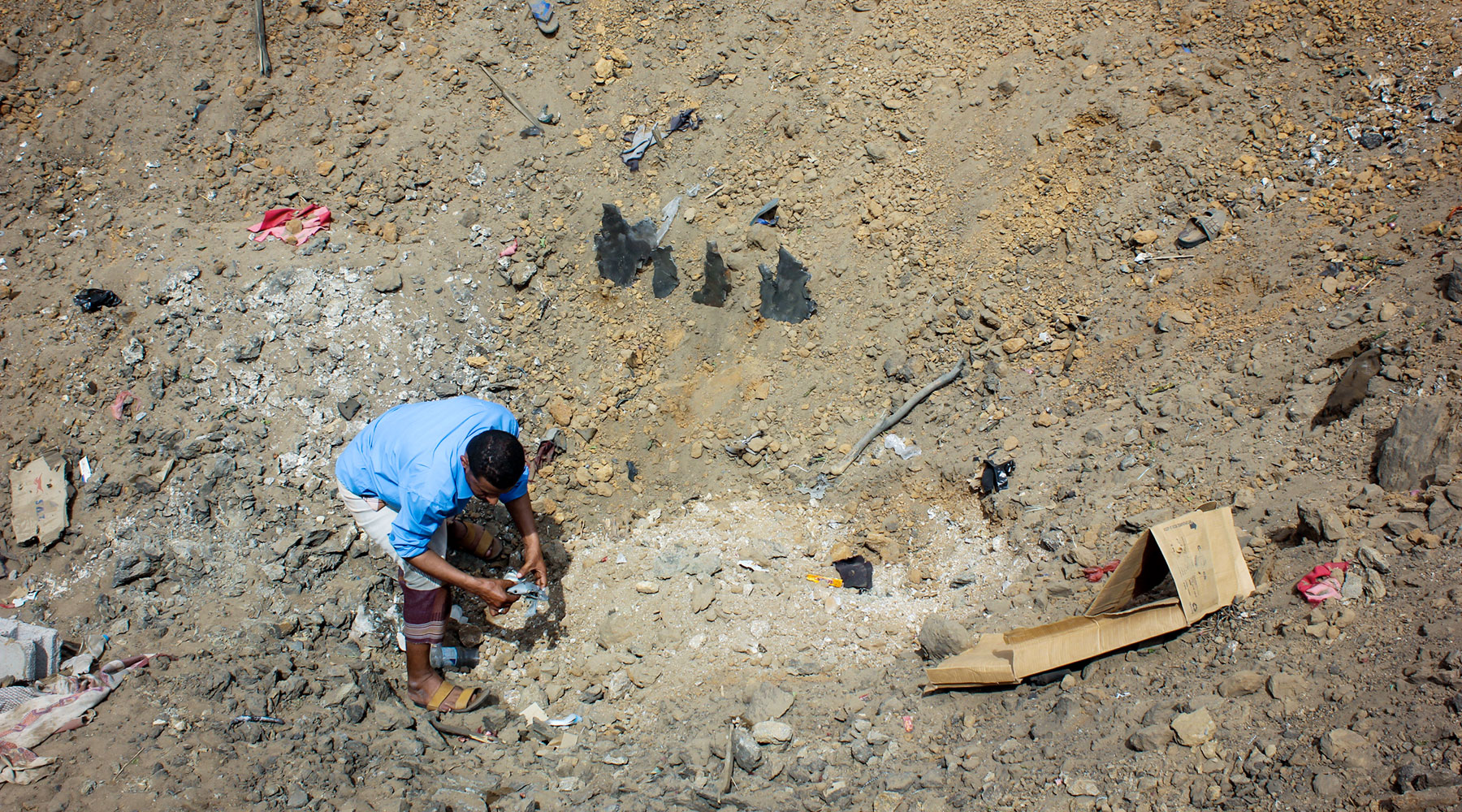 A HUNDRED-BILLION-DOLLAR CLIENT
Over the past decade, Saudi Arabia has ordered U.S.-made offensive weapons, surveillance equipment, transportation, parts and training valued at $109.3 billion, according to an In These Times analysis of Pentagon announcements, contracts announced on defense industry websites and arms transfers documented by the Stockholm International Peace Research Institute. That arsenal is now being deployed against Yemen.
Saudi Arabia's precision-guided munitions are responsible for the vast majority of deaths documented by human rights groups. In These Times found that, since 2009, Saudi Arabia has ordered more than 27,000 missiles worth at least $1.8 billion from Raytheon alone, plus 6,000 guided bombs from Boeing (worth about $332 million) and 1,300 cluster munitions from Rhode Island-based Textron (worth about $641 million).
About $650 million of those Raytheon orders and an estimated $103 million of the Boeing orders came after the Saudi war in Yemen began.
Without these ongoing American-origin weapons transfers, the Saudi coalition's ability to prosecute its war would wither. "We can stop providing munitions, and they could run out of munitions, and then it would be impossible to keep the war going," says Jonathan Caverley, associate professor at the U.S. Naval War College and a research scientist at M.I.T.
The warplanes the United States delivers also need steady upkeep. Since the war began, the Saudis have struck deals worth $5.5 billion with war contractors for weapons maintenance, support and training.
"The Saudi military has a very sophisticated, high-tech, capital-intensive military that requires almost constant customer service," Caverley says. "And so most of the planes would be grounded if Lockheed Martin or Boeing turn off the help line."
"JUST A PILIING UP OF STUFF"
The U.S.-Saudi relationship has its roots in the 1938 discovery of oil in Saudi Arabia, and President Franklin Roosevelt's energy-for-security deal with the Saudi monarchy. Today, in addition to oil, U.S.-Saudi relations are cemented by a geopolitical alliance against Iran—and by weapons deals.
Arms exports accelerated under Obama. By 2016, his administration had offered to sell $115 billion in weapons and defensive equipment to Saudi Arabia—the most of any administration in history.
Those arms exports "used to be more of a symbolic thing, just piling up the stuff," says William Hartung, director of the Arms and Security Project at the Center for International Policy.
But experts also say selling the Saudis so many arms incentivized the Arab monarchy to use them in devastating fashion.
"If a country, like Saudi Arabia or the UAE, has no commitment to human rights—whether stated or in practice—it's no wonder that those countries would eventually misuse U.S.-sold weapons by committing war crimes," says Kate Kizer, the policy director of Win Without War. "The U.S. government should be assuming these weapons of warfare will eventually be used in a conflict, even if one isn't going on at the moment."
With the Saudi invasion of Yemen in 2015, the U.S.-Saudi arms pipeline became deadly. Despite reports that U.S. bombs were killing civilians, the Obama administration's support for the Saudi war drew only muted criticism in Washington.
"It was Obama's war, and there was a lot of reluctance in Congress to take this on, particularly among Democrats," says Shireen Al-Adeimi, a Yemeni American activist and professor at Michigan State University. Still, advocates with groups like Win Without War, Just Foreign Policy and the Yemen Peace Project worked to raise public awareness of the war's horrors, lobbying Congress and the White House.
In May 2016, Obama canceled the delivery of 400 Textron cluster bombs to Saudi Arabia. In December 2016, two months after a Saudi airstrike hit a funeral hall and killed more than 100 people in the Yemeni capital of Sanaa, he halted the sale of 16,000 precision guided bombs from Raytheon, a deal worth $350 million. Those two decisions accounted for only a fraction of overall arms sales to the Saudis, and the flow of most weapons continued unchecked.