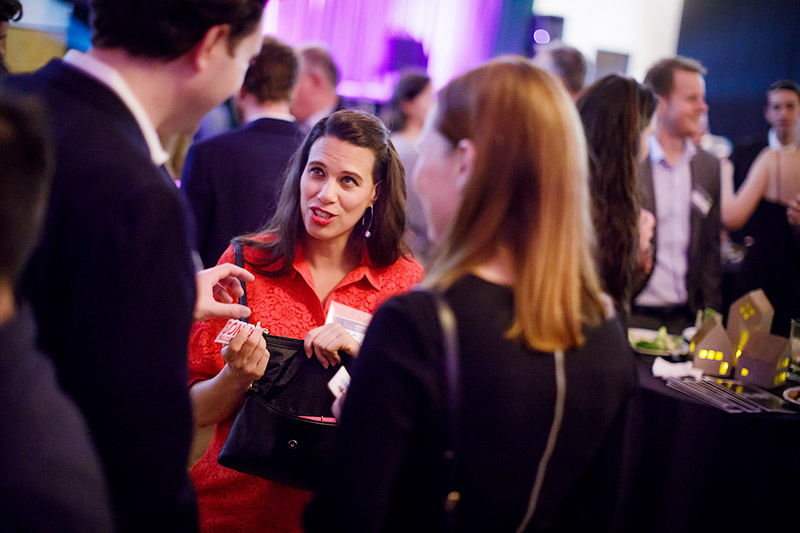 ---
The oft-told YIMBY origin story goes like this: Trauss, a math teacher who lived in the gentrifying neighborhood of West Oakland, was frustrated by her high rent. She believed that San Francisco's failure to provide housing for tech workers was having a spillover effect. In 2014, she began crossing the Bay to testify at planning meetings and recruited others to speak in favor of 300 new units in San Francisco's Potrero Hill neighborhood.
Trauss' early messaging sounded like hardline free-market capitalism: Deregulate and build. "I don't want subsidized, supervised affordable housing," Trauss wrote in 2015 for the Libertarian Party of San Francisco. "I want to consume housing the way I consume all other products."
The message resonated with the tech industry, which helped launch Trauss' one-woman crusade into a movement. In 2015, she received a personal gift of $10,000 from Yelp CEO Jeremy Stoppelman, who told the San Francisco Business Times it was "ridiculous to blame companies—tech or non-tech—for rapidly adding jobs" and praised Trauss as representing "a massive segment of the population that's been largely ignored in the discussion on Bay Area housing—renters."
Trauss used the donation to, among other things, start the real-estate news and opinion website SFYimby.com, and to pay her rent. Stoppelman went on to donate at least $100,000 to the first YIMBY group Trauss founded, the SF Bay Area Renters' Federation, or SFBARF.
There are now more than two dozen YIMBY-affiliated groups in the Bay Area, by YIMBY.wiki's count. In These Times investigated the filings of three that are registered as PACs, which must disclose their donors by law: Yes in My Backyard, Affordable Housing for Teachers and Working Families, and the SFBARF PAC. Together, they have raised $377,000 since 2015, mostly in donations of $100 or $500.
Forty-three percent of that money came from employees of tech firms. The next-largest proportion, 10 percent, came from real estate employees. Architects, real estate attorneys and other PACs and YIMBY groups also showed up frequently in the donor rolls.
The tech money came from the middle or upper echelons of Silicon Valley. Donors included top executives at Cisco Systems, Palantir Technologies, tech incubator Y Combinator and cloud communications firm Twilio, as well as software engineers at companies like Google and Facebook.
In summer 2017, tech executives, including Microsoft's Nat Friedman, gave half a million dollars to form the statewide lobbying group California YIMBY. By December, California YIMBY had raised nearly $1 million with Friedman's help, according to the New York Times.
Asked about the tech industry's donations, Trauss says that big employers like Google have "a workforce housing issue." On this, she says, "workers and their employers are on the same page."
Tech has also been a hotbed of YIMBY recruitment. Palo Alto-based engineer Max Kapczynski, 25, who moved to Silicon Valley in 2015 to work for Verily (formerly Google Life Sciences), estimates he now spends 8 to 10 hours a week promoting the YIMBY message. Though his efforts are largely online, he notes that his stable, well-paying job affords him time for advocacy: "I have the luxury of being able to leave at 5 or 6 and sit at a city council meeting for hours … before I make a public comment."
California YIMBY co-founder Brian Hanlon (a former grant writer for the U.S. Forest Service) explained to real estate blog The Real Deal why he thinks techies are drawn to YIMBYism: "I think tech people are used to solving to [sic] hard problems. They're used to thinking in terms of scale."
Even for those outside of tech, it's easy to see the appeal of the stated goal of YIMBYism—bring down the cost of housing through increased density. Where the YIMBY ethos conflicts with many housing experts' opinions is the belief that more housing alone will bring down prices.
Market-rate housing often "actually creates its own demand," writes Rice University urban planning professor Bill Fulton, in the July 2015 issue of the journal California Planning & Development Report. In already expensive cities such as London, New York and Santa Barbara, Calif., Fulton writes, the wealthy "drive up home prices by paying premium prices, often for houses they don't actually occupy very often."
In a December 2015 study of nine Bay Area counties, the University of California, Berkeley's Urban Displacement Project found "no clear relationship or correlation between building new housing and keeping housing affordable in a particular neighborhood." The study noted other research showing that market-rate housing may alleviate a housing shortage over a region, but can exacerbate displacement within a given neighborhood. The researchers estimated it would take 50 years for market-rate development in California to make additional housing available to people who earn less than 50 percent of the median income.
The Berkeley study's recommendations included expediting the building of low-cost housing, coupled with measures like tenants' rights protections and rent stabilization. Similarly, anti-displacement activists tend to push decommodifying approaches such as rent control, higher taxes on investment properties and increasing public housing stock.
City planning departments favor more market-based solutions. The latest buzzword is "inclusionary zoning," in which new market-rate housing can be built only if some percentage is affordable.
The standard definition of "affordable" is housing that does not cost more than 30 percent of one's income. San Francisco then uses the area median income (AMI), currently $82,900 for a single person or $118,400 for a family of four, to calculate affordability. Depending on the project, "affordable" rentals can range anywhere from housing geared to "very low-income" people making up to 55 percent of the AMI to "moderate income" people making 110 percent of the AMI.
San Francisco currently requires 18 percent of units to be affordable (down from 25 percent). Often, developers fulfill the requirement by promising to build a separate affordable housing project later, somewhere else. The effect is that very little affordable housing gets built. As this issue went to press, San Francisco's official housing website, where people can enter a lottery for affordable rentals, listed no available units.
As the YIMBY movement has grown, there has been "a pretty strong shift toward inclusionary housing," says Steven Buss, head of Mission YIMBY. "A lot of people within YIMBY … know the market could not possibly serve everyone." Mission YIMBY, he says, "only shows up for affordable housing projects. … Market-rate developers [in the Mission] don't need our help."
When asked about her previous disdain for "subsidized, supervised affordable housing," Trauss insists her views have never changed. She says the emphasis was on supervised: "The way nonprofit affordable housing is managed can be super disrespectful to the residents."
Trauss says she supports publicly subsidized housing and rent control for big developers. One YIMBY group, East Bay for Everyone, even wrote a letter of support for overturning California's statewide restrictions on rent control, though it suggested a "rolling phase-in period."
But the heart of the YIMBY movement remains pro-development: YIMBYs advocate affordable housing only if it doesn't conflict with the goal of more housing. Believing it would dampen development, YIMBYs were the loudest voice against Prop C, a June 2016 San Francisco ballot initiative that raised the affordability requirement for new building projects from 12 percent to 25 percent. Trauss and her younger brother, Milo, spoke against the measure. (The younger Trauss serves as the YIMBY Party's policy director while working as a consultant for GCA Strategies, the self-styled "top public affairs firm" for "mobilizing community support for real estate proposals.")
In California alone, YIMBYs have backed hundreds of local developments, by Trauss' estimate. That's why activists like Zamudio suspect YIMBYs of serving to lend a (false) grassroots face to real estate interests.
For examples, YIMBYs have spoken for several projects by Lennar, the nation's largest home developer. Lennar has had a run of bad press going back a decade, when it played a major role in the subprime mortgage crisis. Its redevelopment of Hunters Point Shipyard, a Navy Superfund site on San Francisco's southeast coast, is the subject of an ongoing lawsuit. Residents charge the development's construction illegally emitted asbestos-laced dust that caused high asthma rates among children in the surrounding, low-income neighborhood.
While developers were not the top overall donors to the YIMBY PACs, they have poured money into YIMBY lobbying on specific measures. The YIMBY group San Francisco Housing Action Coalition raised $1.8 million for its successful campaign opposing a 2015 ballot initiative, Prop I, that would have placed a moratorium on market-rate building in the Mission District.
According to In These Times' research, at least 45 percent of this money came from the real estate industry, including banks that fund real estate development. Lennar gave $82,500; the firm behind the "Beast on Bryant," the largest proposed complex in the Mission, gave $137,500; and the head of Maximus, the firm behind the controversial "Monster in the Mission" project, gave $450,000. Prop I was defeated 57 percent to 43 percent.