No Snickering 9.2
Junk food junkies in Texas can rest a little easier: Kenneth Dude Payne III is going away for a long time. Sure, it might seem a tad excessive to sentence a man to 16 years in prison for stealing a Snickers bar, but Smith County assistant district attorney Jodi Brown has no regrets: "It was a king size," she says.
Payne was convicted as a "habitual offender" after being caught stealing from a grocery store in Tyler last December. "I know it's kind of goofy when people look at it," Brown told the Houston Chronicle. "It wasn't about stealing a Snickers bar, it was about a lifestyle essentially. ... a lifestyle that he chose and has been choosing since he was 16 years old."
Payne, twice convicted of credit-card theft and "felony criminal mischief," apparently began his "lifestyle" of crime back in 1987 - when he was caught pilfering a bag of Oreos.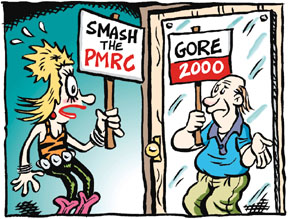 Twisted Around 6.4
Back in 1985, Tipper Gore pointed to glam-metal band Twisted Sister as a prime example of all that was wrong with American society. The feeling was mutual: The band despised Tipper and her Parents Music Resource Center for launching a crusade to put warning labels on raunchy rock albums - a crusade Frank Zappa declared "the equivalent of treating dandruff by decapitation."
But 15 years after Twisted Sister's Dee Snider and Tipper's husband faced off in a Senate hearing, Snider is ready to vote for Al Gore for president. Not that he's terribly happy about the choice - he told The Associated Press that he doesn't trust Gore "as far as I can throw him." But Gore's better on the environment than George W. Bush. And Ozzy is constitutionally barred from running for president (he's British). What's a poor old rock 'n' roller to do? "I'm 45 years old and faced with the prospect of my two nemeses becoming president and first lady of the United States," Snider says. "So I'm pretending [the Senate hearing] didn't exist."
Usual Suspects 7.4
If you're visiting Japan in the near future, watch out for earthquakes. Not just because you might get hit by a piece of flying debris - but because you might just find yourself knocked on the head by a riot policeman. Reuters reports that Tokyo Gov. Shintaro Ishihara recently told troops to be on the lookout for rioting foreigners taking advantage of earthquakes to get in a little bit of looting. "Atrocious crimes have been committed again and again by sangokujin and other foreigners," he said, using a derogatory Japanese slang term for Koreans and Taiwanese. "We can expect them to riot in the event of a disastrous earthquake."
In the wake of the Great Tokyo Earthquake of 1923, Japanese mobs attacked and killed hundreds of Koreans, some of them slave laborers brought to the country against their will, after rumors spread that they were involved in looting.
David Futrelle is a contributing editor of In These Times.
In These Times © 2000
Volume 24, Number 12