Collateral Damage

10 Years of Sanctions in Iraq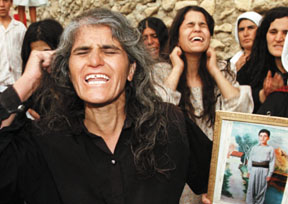 Credit: FK/STR Reuters
By John Pilger
The memories of my journey to Iraq last fall are almost surreal. Beside the road to Baghdad from Jordan lay two bodies: old men in suits, their arms stiffly beside them. A taxi rested upside-down beside them. The men had been walking along the road, each with his meager belongings, which were now scattered among the thornbushes. The taxi's brakes had apparently failed, and it had cut them down. Local people came out of the swirling dust and stood beside the bodies: for them, on this, the only road in and out of Iraq, it was a common event.
The road on the Jordan side of the border is one of the most dangerous on earth. It was never meant as an artery, yet it now carries most of Iraq's permissible trade and traffic to the outside world. Two narrow single lanes are dominated by oil tankers, moving in an endless convoy; cars and overladen buses and vans dart in and out in a kind of danse macabre. The inevitable carnage provides a gruesome roadside tableau of burnt-out tankers, a bus crushed like a tin can, an official U.N. Mercedes on its side, its once-privileged occupants dead.
Of course, brakes fail on rickety taxis everywhere, but the odds against survival here are shortened to zero. Parts for the older models are now nonexistent, and drivers go through the night and day with little sleep. With the Iraqi dinar worth virtually nothing, they must go back and forth, from Baghdad to Amman, Amman to Baghdad, as frequently and as quickly as possible, just to make enough to live. And when they and their passengers are killed or maimed, they, too, become victims of the most ruthless economic embargo of our time.
John Pilger is a documentary filmmaker, journalist and author. A regular contributor to the Guardian and the New Statesman, he is the author of Hidden Agendas (New Press), A Secret Country (Knopf) and Distant Voices (Vintage). This article is taken from Iraq Under Siege: The Deadly Impact of Sanctions and War (South End Press).
In These Times © 2000
Vol. 24, No. 12