Even more darkly, he concluded: "A reckoning is on its way. And there's an old saw on Wall Street that, in times of panic, money returns to its rightful owners. Let's not have any delusions as to who that might be." So the news that the top 1% captured 91 percent of all real income gains from 2009 to 2012 might have been surprising to some, but not to any readers of In These Times.
As for memories of ITT, I'm still making great memories with so many of the people I worked with there. Hell, just this summer, I went to Oakland for the joyous wedding of former ITT associate publisher Erin Polgreen to former ITT editorial intern Brian O'Grady, which was attended by (at least) six other ITT alums; had a great dinner in North Carolina with former ITT associate publisher Aaron Sarver and his wife, who he met at a Media Reform conference on ITT's dime; and went to Wrigley Field to watch former ITT Senior Editor Chris Hayes throw out the first pitch at a Cubs game. So I guess my main memory of ITT is that it creates a special bond among the people who work there, one that endures long after you've left. You might even call it, Solidarity.
Jessica Clark
Publishing department, 2002-2003, managing editor, 2003-2006, executive editor, 2006-2007
In These Times was a tremendous opportunity for me—I learned to argue for my perspective, to edit until the thing got good, and to revel in ideas there. I met some of my closest friends and co-conspirators there. It was core to my life and work.
Sanhita SinhaRoy
Managing editor, 2007-2009
My fondest memories of working at ITT will always be the meetings that took place behind the scenes, particularly discussing editorial pitches and brainstorming headlines—from the unambiguous ("Death Squads in Oaxaca") to the clever ("ICE Cold to Kids" or "Big Trucking Deal"). No pun was too ridiculous to share. And while I'm most proud of reining in the long nights to help the magazine meet all of its printer deadlines (as was my task as managing editor), I secretly also enjoyed the occasional late evening, going through stock photos with the art director and other colleagues to find the right image to go with a story. Plus wrapping up an issue usually meant ordering takeout and picking up beer.
In my 16 years of being an editor and working at five magazines, I've never experienced the same level of camaraderie as I did at ITT. Colleagues and interns were whip-smart and passionate about peace and social justice, and they also knew how to relax and have a good time.
Dan Dineen
Intern, 2008, deputy publisher, 2008-2013
I first found In These Times early in college, during the darkest days of the Iraq War. I was immediately attracted to the clarity of its opposition. As I got to know the magazine more, especially its coverage of labor, I began to feel as though ITT was the conscience of the U.S. Left. I've always respected that this consciousness extends beyond the beltway to the movements and struggles emanating from smaller cities and rural regions throughout the country.
The most immediate and lasting impression from my experience at In These Times is the enormously satisfying experience of closing the magazine each month. The cycle of producing such a vital, substantive document was addictive. After closing my first issue in January 2008, I was hooked. I suspect this is true of a lot of past and present In These Times staff members. There are many other things I loved about working at ITT—the urgency of the work, the debates about pieces, the brilliant and wild pitches, the curiosities of ITT HQ, the headline meetings. All of this created a shared sense of purpose among the staff that made long deadline nights not only endurable but enjoyable. None of this would be possible without ITT's wonderful readers, who are committed to the magazine's quality and its mission, and are generous in support of both.
Jeremy Gantz
associate editor, 2008-2012, editor, The Age of Inequality: Corporate America's War on Working People: A 40-Year Investigation by In These Times (Verso, 2017)
2009 was a very, very bad year for In These Times: The economy tanked, donations dropped and the staff shrank. We ended up a skeleton crew of just four full-time employees. Job descriptions became increasingly theoretical: We did whatever had to be done to keep the wheels on. A photo of us made its way into a holiday card for major donors above the half-jesting caption "In These Times' staff is small but mighty."
The staff has since grown, thank god. I now feel rather sheepish for ever thinking the magazine wouldn't make it past its 33rd birthday. I was too focused on cash flow (i.e., my paycheck) to realize that In These Times' ethos and reputation let it flout the normal laws of economics, at least for a little while. There were volunteers everywhere: the board of directors, proofreaders, a newly minted "board of editors," and, of course, interns. All pitching in because they wanted to make the idea of In These Times a reality. They wanted to be part of something that has the power to change the world. Small but mighty, indeed.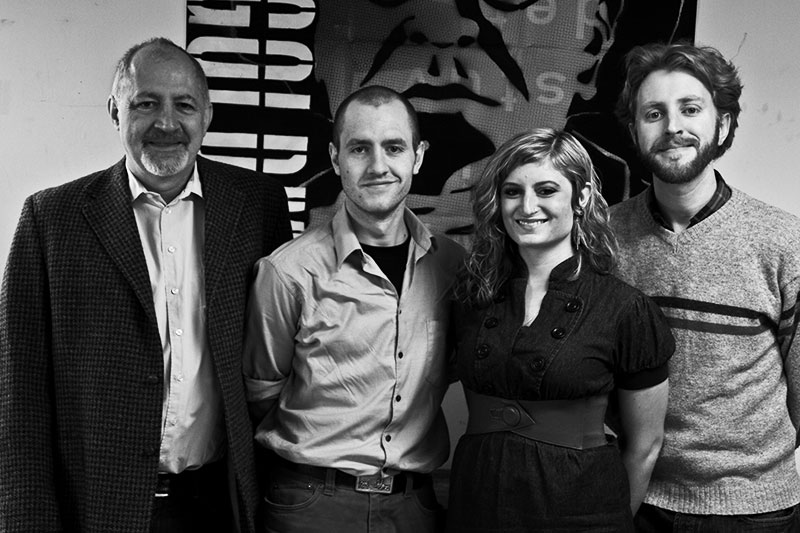 ---
The "small but mighty" In These Times staff, circa 2009. Left to right: Joel Bleifuss, Dan Dineen, Rachel Dooley, Jeremy Gantz (ITT Archives)
Liz Novak
Development director, 2011-2012
Where would I be without In These Times? I wouldn't know about "stripper solidarity" at the Lusty Lady, I might have trouble remembering what ALEC is, and I certainly wouldn't know the heart-wrenching stories of mothers balancing care for their newborns while trying to remain gainfully employed. Thanks for 40 years of exposing corruption and advancing justice. Here's to 40 more!
Alex Lubben
Deputy publisher, 2013-2015
Three days after I started my editorial internship at In These Times I was sitting down with Joel, poring over the magazine's annual budget. As usual, there wasn't enough money.
I was 22 when I started at ITT, fresh out of undergrad, with no experience with anything relating to the magazine business, or any other business, for that matter. I remember, maybe a month of two into my time there, telling Joel that I'd studied English. He was a little taken aback, maybe surprised at himself for having hired a math-illiterate almost-teenager to act as his assistant publisher. I issued checks, and handled most of the business administration for the magazine, and, in my two years there, somehow managed not to burn the place down.
In These Times was a great place for me, as it has been for many other young journalists, to learn how a magazine works. It was also where I developed my own politics—a sort of second undergraduate education. I'm very grateful to the magazine, to Joel in particular for trusting me as he did, and to everyone else I worked with there. ITT attracts a smart, competent, and kind bunch.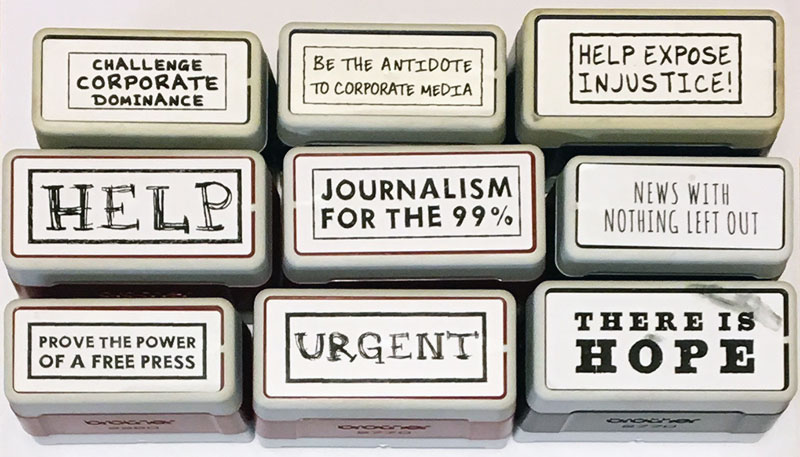 ---
A selection of In These Times ink stamps, used for fundraising mailings (ITT Archives)
Cole Stangler
Staff writer, 2013-2014
One of the basic hurdles for In These Times reporters is that many sources aren't familiar with the magazine. As a full-time staffer, I'd regularly introduce myself and the publication over the phone. More often than not, people on the other end would respond with a question of their own: "The What Times?" they'd ask. Or, "The News Times?" To a surprising degree, I'd get "India Times?" And my favorite, "the New York Times?" Occasionally, I thought about letting that last one slide—just to see if it made a difference—but I invariably corrected my respondents each time. "In, space, These, space, Times," I'd carefully enunciate.
When I was a senior in college and working on my first cover story for the magazine, I interviewed Rep. Keith Ellison (D-Minn.), co-chair of the Congressional Progressive Caucus. I showed up to his office in Capitol Hill on an early weekday morning. I was anxious, under-caffeinated and in accordance with my erstwhile undergraduate style, sported longish, slightly disheveled hair. After a brief introduction, I pulled out my backpack and struggled to find my voice recorder. "Where'd you say you were from again?" he asked as I fumbled around for far too long. "High Times?"
I accompanied Bernie Sanders on a fall 2013 road trip in the South that was, in retrospect, a clear trial run for the presidential campaign. Toward the end of my brief stay, it dawned on me that he might be preparing to run for president. Naturally, this was the last question I asked the senator during our interview and he replied in a way that clearly suggested he was mulling a White House bid. Back in D.C., I told friends I was absolutely positive he was going to run in 2016 and they laughed at me.
In any case, In These Times became one of the first media outlets to cover Sanders' historic presidential campaign. I'm grateful the magazine thought it a good idea to send a 23-year-old reporter to Alabama and Georgia to cover a speaking tour organized by the junior senator from Vermont in a non-election year—and I'm glad the Sanders camp recognized In These Times as a publication worth giving access to.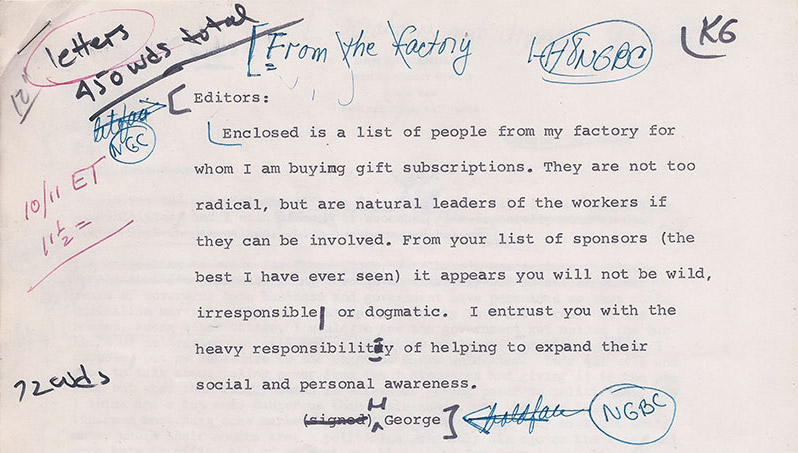 ---
Hand-edited copy for an early letters page (ITT Archives)
One of my favorite things about In These Times is its unapologetically critical coverage of organized labor. Too often, progressive publications practice self-censorship when confronted with some of the movement's uglier elements—say, its racist or environmentally damaging tendencies. In These Times takes a very different approach: Editors understand the fear of airing our side's "dirty laundry" doesn't just translate into bad journalism—it's actually counterproductive for the movement.
In May 2014, I teamed up with two other In These Times writers to report on the AFL-CIO building and construction trades department's embrace of the fracking boom. The story critically examined the benefits of the trades' newfound alliance with the nation's top oil and gas lobby—and it highlighted a painful contradiction: The unions' supposed "partner," the American Petroleum Institute, was leading lobbying efforts against a rule that the Occupational Safety and Health Administration projected would directly save the lives of hundreds of workers each year—in construction, oil and gas and elsewhere. After we published the story, I sent it a building trades union official. I received a profanity-laden response that remains my favorite from any spokesperson to this day. He called out my journalism, my band, my masculinity—and ended his tirade like this:
There's a saying that goes, "An honest man's pillow is his peace of mind." The men and women of North America's Building Trades Unions will sleep well tonight. I surely doubt that you will.
Clearly, we had hit a nerve. I knew it meant we did a good job.
Micah Uetricht
Intern, 2009-2010, associate editor, 2014-2016
In These Times changed my life. I came to the magazine as an intern, my only journalism experience at my school newspaper. I did the whole bit—fact-checking; transcriptions; sitting silently through editorial meetings, terrified I'd say something stupid.
Afterwards, I worked in the labor movement but kept contributing to the magazine. I saw it as a hobby: the real work was in unions, I thought to myself, but it was fun to see my name in print once in a while.
Over the years, I kept at that hobby, and it somehow became a job: associate editor at In These Times. Still, I figured I'd just do it for a little while before returning to the real action. Then something funny happened: I decided this was the action I wanted to be a part of.
Chicago's 2015 mayoral elections sealed the deal. I was in the office late most nights for weeks, pounding out blog posts about Mayor Rahm Emanuel—his brand of Democratic union-busting and privatization, the unions that cheerfully lined up behind him.
Our coverage was uncompromising, occasionally scathing. It shifted the political conversation in the city (and won me a few enemies in labor). I felt the power of journalism to set the terms of a political debate—and to polarize it. (Even if my groundbreaking story about Mayor Emanuel tipping a cafe worker 37 cents on a $7 bill didn't become the kind of marquee campaign issue that I thought it would.) Writing and reporting didn't feel like a hobby anymore. It felt like a calling.
ITT's 40-year history is a proud one, characterized by independence from and confrontation with the powerful—whether neoliberal Democrats, reactionary zealots or union hacks. I'm proud to have played a small part in that history. But I'm also deeply grateful I had the chance to let that history transform me.

Selections from this feature ran in the 40th anniversary issue of In These Times.
Selections from this feature ran in the 40th anniversary issue of In These Times.