Critics denounced the fires as the destruction of Yellowstone. "Much of this beloved natural wonderland died this summer," began a Chicago Tribune report, headlined "Requiem for a National Treasure." The editors attacked "the folly" of the Park Service's "excessive ecological idealism." Wyoming's senators demanded the resignation of the director of national parks, William Penn Mott Jr. (He refused.)
More was at stake, however, than an agency's reputation. In question was the place of wildfire, and wildness, in natural landscapes.
•
The deadly fires in northern California in fall 2017 pushed wildfire back into the national consciousness. Driven by drought conditions and the strong Diablo winds, the fires ripped through Mendocino, Napa and Sonoma Counties, burning 245,00 acres, including vineyards, businesses and whole neighborhoods. The fires destroyed more than 8,000 structures and killed 43 people, making them the deadliest in California history.
Though they took fewer lives and made fewer headlines than the California blazes, last summer's fires in Montana burned 1.2 million acres. Nationally in 2017, wildfires burned more than 8.8 million acres.
In the debate ignited by these fires, some climate activists have added wildfires to the list of evidence for human-caused climate change. Some conservatives have blamed the fires on environmental protections that, they argue, have hindered the logging operations needed to keep forests clear of fire fuels.
Few have shown much interest in understanding wildfire, its ecological role or how recent human activity has thrown us into conflict with this ancient force.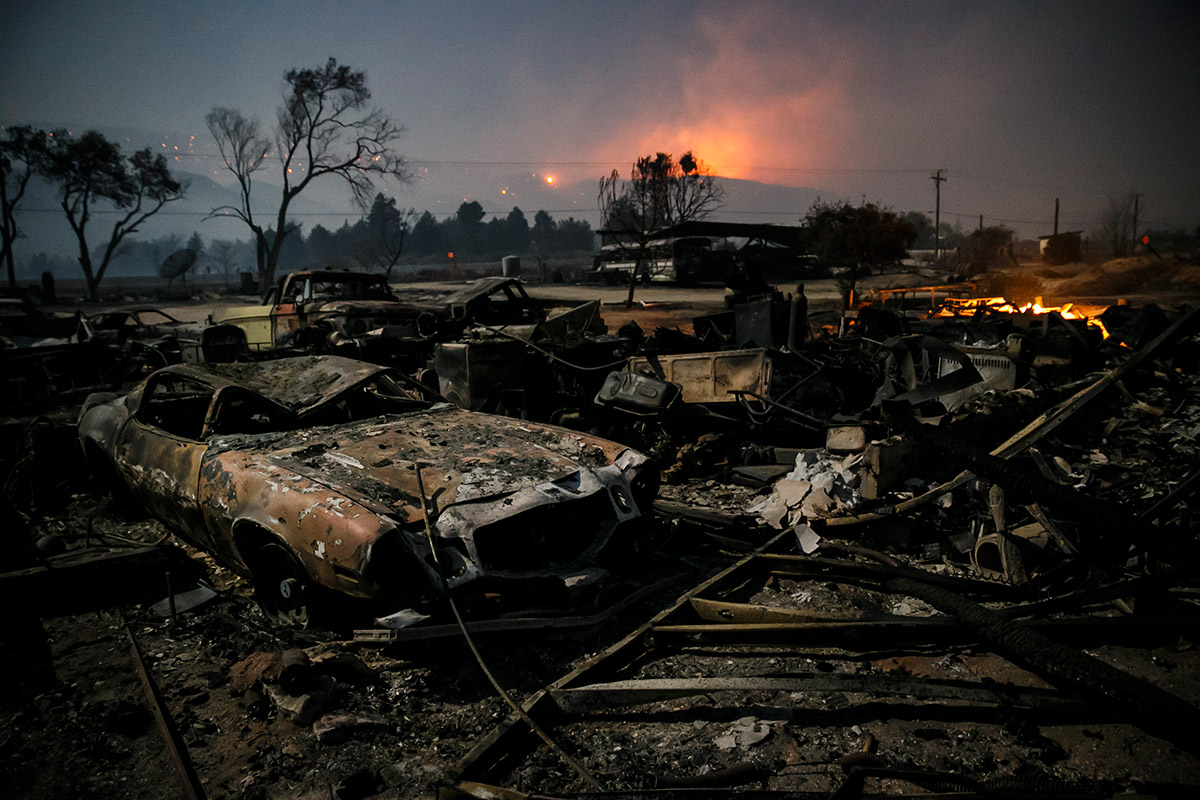 ---
The idea that wildfire is simply bad and should be suppressed is relatively new to North America. Long before European colonization, Native Americans recognized the rejuvenating power of wildfire and started fires of their own to shape the landscape and encourage the flourishing of favored plants and game.
The dawn of widespread fire suppression can be traced to the summer of 1910, when a series of large fires blackened swaths of the Northwest. The "Big Burn" rattled the country at a time when the U.S. Forest Service, only a few years old, was struggling to justify its existence to a skeptical Congress. The agency argued that, with enough resources, it could virtually eliminate wildfire.
For the next 60 years, the Forest Service sold itself as a fire suppression agency that could protect the nation's valuable timber. In 1935 it adopted the "10 a.m. policy"—wherever and whenever a wildfire broke out, it was the Forest Service's goal to control it by 10 a.m. the next morning. In the 1940s, the agency introduced one of the most effective propaganda campaigns in U.S. history: Smokey Bear. With his simple and ubiquitous slogan—"Only You Can Prevent Forest Fires!"—Smokey convinced people that wildfire was an ugly thing, like littering, that could and should be stopped.
Thankfully, Gary Ferguson, author of Land on Fire: The New Reality of Wildfire in the West, reveals Smokey Bear for what he really is: a traitor to his own kind. "Being a creature of the woods," Ferguson writes, "Smokey might well have known what it would take humans longer to understand—that fire can in a lot of cases be a blessing."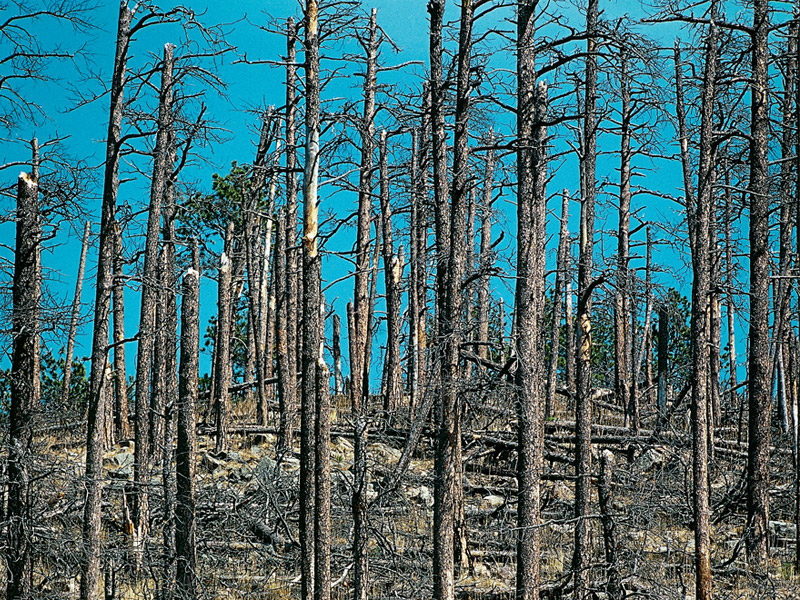 ---
The ponderosa pine, an icon of the West, is recognizable for its thick, reddish, spongy bark and tall, barren trunk topped by a mane of branches and needles. These characteristics are not arbitrary. The bark insulates the trunk from fire, and the shedding of lower branches prevents ground fires from climbing to the canopy and killing the tree.
Other species have adapted to thrive in fire's aftermath. In Yellowstone's lodgepole pine forests, for example, between 38 and 58 percent of the trees produce resin-sealed seed cones that open only through exposure to the heat of fire. Vast lodgepole forests like those in Yellowstone have adapted not only to low-intensity burns that clear the forest of dead wood and undergrowth, but also periodic "stand replacement fires"—big burns that kill swaths of old trees and seed the next generation.
A year after the Yellowstone fires, a research project found lodgepole pine seeds sprouting at the rate of 300,000 per acre. "Not only were transitional plants—fireweed, currant, raspberry—abundant within just a couple of years of the burn," writes Gary Ferguson, "but also the vast majority of greater Yellowstone was on its way to rebuilding the same mix of vegetative communities that were present before the burn."
Nor did the fires do much harm to wildlife. According to Ferguson, only two species suffered significant population declines due to habitat loss: capshell snails and moose. Nutrient-rich grasses, favored by elk and bison, sprouted profusely from the blackened ground, and increased sunlight along streams fed more algae, which fed more insects, which fed more trout and birds.
Ferguson says that while the media response to Yellowstone's 1988 fires may have soured many people on the idea of natural fire, scientists who documented the recovery grew more convinced than ever that fire plays a vital ecological role in the landscape.
•
In the arid West, the process of decay is hobbled by lack of water, which is­ essential to the digestion of bacterial and fungal decomposers. There, wildfire largely takes the place of decay in the cycle of life: It frees and recycles the carbon and other life-fueling nutrients locked up in trees and other plants. As from a decaying nurse log in a temperate rainforest, new life often blooms from the scorched ground in the wake of a wildfire. In his essay "The Fire of Life," fire historian Stephen J. Pyne puts it this way: "Combustion takes apart what photosynthesis puts together. It is among the most elemental of biochemical reactions; when it occurs in cells, we call it respiration, and when it occurs on landscapes, we call it fire."
Whatever we may prefer to think, people are not independent from the mutual relationship between fire and life. James C. Scott argues in his recent book, Against the Grain: A Deep History of the Earliest States, that biologically modern humans would not exist without wildfire. "Our ancestors," Scott writes, "could not have failed to notice how natural wildfires transformed the landscape: how they cleared old vegetation and encouraged a host of quick-colonizing grasses and shrubs, many bearing desired seeds, berries, fruits and nuts." Learning from wildfire, and initially using flames captured from wildfires, early humans shaped lands to attract more of the plants and the animals they liked to eat.
At some point, our ancestors also began exposing raw food to fire. By externalizing the digestive process, cooking allowed humans to eat a wider range of foods, to get more nutrients from a smaller quantity of them, and to expend fewer calories doing it. As a result, Scott writes, we have a gut less than half as large as our primate cousins—and a much larger brain.
Fire is arguably the tool that allowed humans to conquer the world. "Tool," however, is not quite the right word. Fire is, at best, a "semi-domesticate," Scott writes, "appearing unbidden and, if not guarded carefully, escaping its shackles to become dangerously feral." That, it seems, is the deal.
When humans break this deal by trying to bring fire more firmly under control, the consequences tend to be far-reaching. "Ironically," Ferguson writes, "the most significant result of suppressing all wildfires has been to create extraordinarily flammable forests."