But Puente believes it's a mistake for low-income workers to fight for scraps. The real issue, she says, is "how African-American and Latino communities continue to be exploited."
White communities in Chicago receive far more investment than their black and Latino counterparts. For example, a WBEZ analysis found that under Mayor Rahm Emanuel, three-quarters of $650 million invested in public school expansion went to disproportionately white schools, even though Latino students are most likely to be affected by overcrowding. And the city has invested twice as much in TIF funds—money earmarked for job creation and development in poor neighborhoods—in white Chicago neighborhoods as in black or Latino ones.
South Side activist L. Anton Seals Jr. scratches his head over why a majority black-and-brown city allows a white chokehold on political power. The City Council is majority non-white, but it has served as a rubber stamp for a procession of white mayors who divert the city's resources to white constituents. In theory, a black-brown electoral alliance could transform the city.
At moments, that has seemed possible. A multiracial alliance elected Chicago's first black mayor, Harold Washington, in 1983. He launched a commission on Latino affairs and, before his death at the start of his second term, placed Latinos in positions of power in City Hall. But by 2015, when Jesus "Chuy" Garcia ran for mayor, he didn't get the black turnout needed to defeat Emanuel in a runoff. Fifty-seven percent of voters in majority-black wards went for Emanuel.
Seals says that black-brown solidarity is undermined by "this notion of one group being the subgroup under the white people: 'Who gets the resources to be closer to the king?' "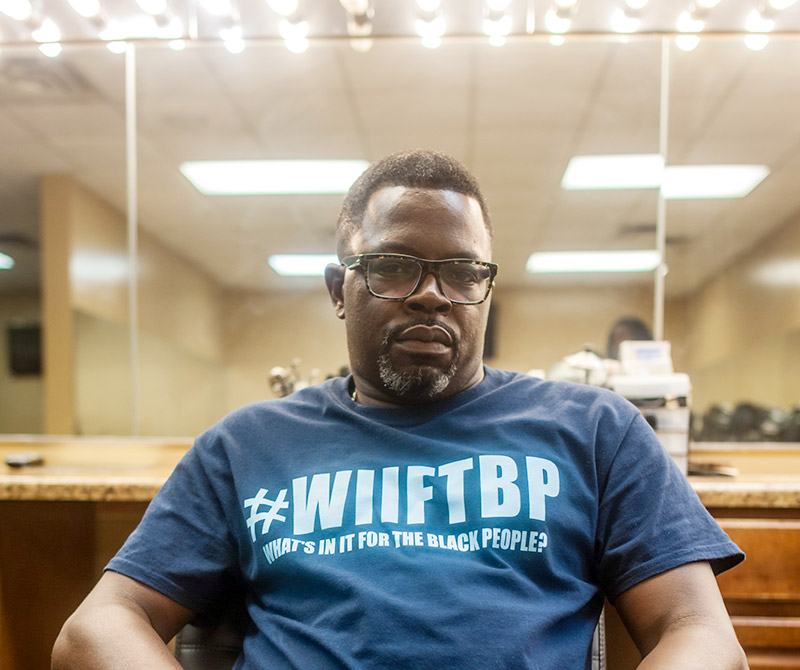 ---
"My first priority is black folk," says Maze Jackson, political strategist and flame-throwing host of the morning drive show on WVON, a long-standing black AM talk-radio station. He uses his bully pulpit to rant against the concept of a sanctuary city.
But he first makes a disclaimer.
"People like to characterize me as anti-Latino," Jackson says. "I'm not. I really have some great relationships with Latinos."
Jackson assures me of this repeatedly in person. We meet in the back office of a black-owned barbershop in the historic black neighborhood of Bronzeville, on the South Side. This is where Jackson likes to have his serious meetings or interviews. He's donned camouflage pants and a tan T-shirt with a zinger of a hashtag he coined: #WIIFTBP, or, "What's In It For The Black People."
"The liberal white agenda would have black people bury how we feel," he says. "I could be for a sanctuary city if you show me the benefit for black people."
Jackson says black folk compete with Latinos for low-skill, low-wage jobs, whether in fast food, grass cutting or as hotel valets. He asks: How can the mayor be on TV promoting undocumented children going to college, while closing public schools?
"I am not mad at any Latinos at all," Jackson says. "But I'm in a competition for resources. Latinos have become the preferred minority in Illinois. As they look to assert their power, they aren't looking to take from white folk, but from black folk."
University of Illinois-Chicago historian Barbara Ransby says those who hold such sentiments are falling prey to "the oldest trick in the book."
As opposed to looking for where the wealth ends up—which is not in poor Latino communities—people fall into a divide-and-conquer trap, she says. "It's an effective tool to undermine coalition efforts at collective resistance. But what I'm seeing is greater and greater collaboration."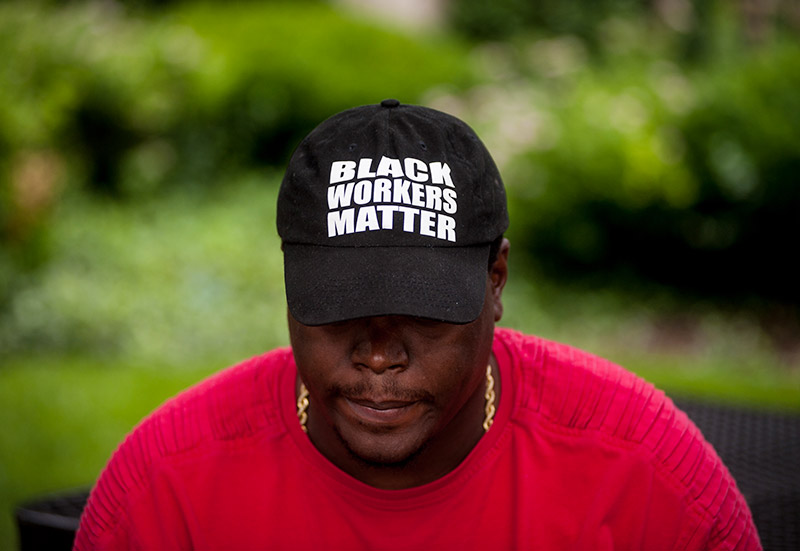 ---
There's a flip side to the anti-immigrant bombastic talk from Mark Carter.
Latino immigrants arrive here with racial baggage and swallow up stereotypes about black Americans, says Adriana Díaz, who works with a public land trust in Chicago. "Conversations about our own anti-blackness are difficult, but we have to have them in order to build trust with other communities," she says.
Diaz was one of 24 fellows—all African Americans or Latinos engaged in public sector or social justice work—brought together by the Latino Policy Forum to bridge black-brown divides. They had tough conversations about stereotypes like "Mexicans are taking our jobs" and explored the erasure of black and indigenous roots on both sides of the aisle. In the process, they formed bonds.
"We just got to know each other," says Analía Rodríguez, executive director of Latino Union of Chicago. "Now some of us are continuing the work."
Elsewhere in the city, other multiracial collaborations are afoot. On a warm weekday June morning, hundreds of people—black, white, Latino—gather across the street from City Hall. They are here for a rally: Defy Trump, Defend Sanctuary for All. Their signs read, "One Welcoming City for All."
In the months since Trump moved into the White House, the meaning of "sanctuary city" has expanded. Police violence, activists argue, is just as much a threat to the safety of black and Latino youth as ICE raids are to undocumented immigrants. And a lack of housing, healthcare or schools is antithetical to community safety.
Activists are fighting to close loopholes in the city's Welcoming City ordinance, which restricts local authorities' cooperation with federal immigration authorities. One such loophole allows police to hand over anyone in the city's controversial gang database to immigration officials.
"There's rampant labeling of black and brown residents as alleged gang members and affiliates with no accountability, due process or way to challenge the accuracy," says Janaé Bonsu of BYP100.
Berto Aguayo, 22, a Southwest Side community organizer, sees the gang database as a natural issue for black-brown coalition-building. "Both communities want to know who gets on this list and make sure no one is profiled," he says.
Asked what he thinks of the efforts to expand sanctuary, Maze Jackson says, "I think they are finding out their views are not aligned with most of the black community. They need a face save."