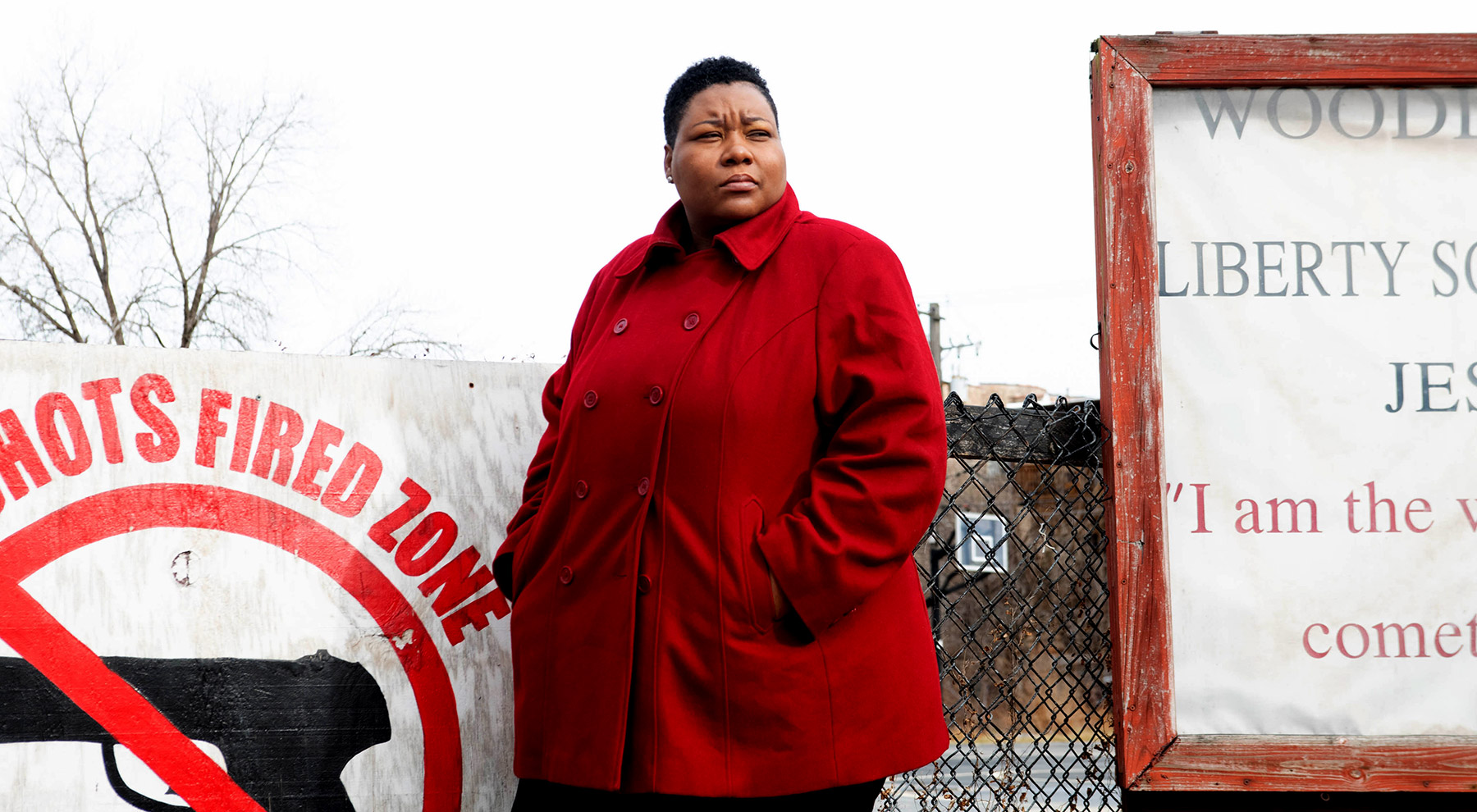 ---
Teaching Democracy
Walter H. Dyett High School sits at the edge of sprawling Washington Park on Chicago's South Side. The public school is lauded as an arts and technology incubator but only exists thanks to community struggle.
In August 2015, a dozen parents and school activists began a hunger strike to save Dyett from closing. Initially ignored by the school district, the 34-day hunger strike led to the reopening of Dyett for the 2016-17 school year with 10 times as many students.
One of those strikers was Jeanette Taylor, a community activist who is now running for alderman in the 20th Ward's crowded field. Previously, Taylor was part of a successful effort to bring a trauma center to the South Side to treat victims of gun violence. She was first encouraged to run by People United for Action, an affiliate of United Working Families (UWF), a grassroots coalition led by the CTU and SEIU Healthcare Illinois & Indiana.
If elected, Taylor plans to prioritize what has become a unifying policy position among progressive challengers—the creation of an elected school board. "The appointed school board makes decisions based on who they're connected to," says Taylor. "They have no accountability to the public." Taylor, like many candidates, also calls for ending both school closings and charter school expansion.
Erika Wozniak is a CPS fifth-grade teacher running in the 46th Ward against two-term incumbent and friend of Emanuel, James Cappleman. One of the 50 schools Emanuel closed in 2013 was Graeme Stewart Elementary in the Uptown neighborhood on the North Side. After the closure, Cappleman helped broker a deal to turn the shuttered school into luxury apartments. Wozniak responded on Twitter, "I'm disgusted."
"We need a council that is going to advocate for fully funded, well-resourced neighborhood public schools," Wozniak says.
Housing For All
When Rossana Rodríguez was pregnant with her now 4-year-old son Marcel in 2014, she and her partner were priced out of their Albany Park apartment after the landlord increased the rent by $200 a month. A few months later, Rodríguez was forced out of another apartment after her new landlord sold the building. That time, she had to move with a newborn.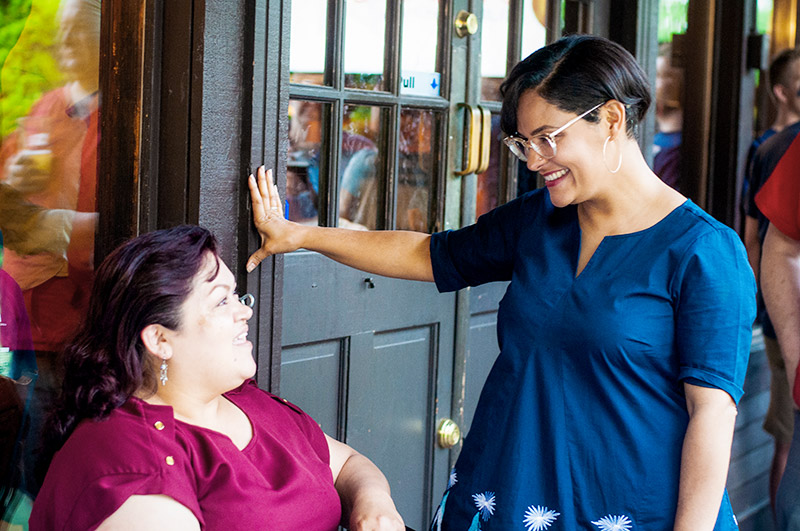 ---
Rodríguez says she has seen her neighbors in the 33rd Ward systematically pushed out by rising rents over the nine years she's lived there. Rodríguez, a Puerto Rican native and longtime educator, joined the Lift the Ban coalition—a group of over 20 organizations working to lift Illinois' ban on rent control. The coalition's ultimate goal is to ease the impact of housing costs and keep people in their homes. According to a study by National Equity Atlas, 51 percent of households in Chicago are "cost burdened," meaning they spend more than 30 percent of their income on housing. Meanwhile, the Chicago Coalition for the Homeless released a survey in May 2018 showing that the city is home to over 80,000 homeless residents, including nearly 18,000 homeless public school students.
"We need to move away from the idea that housing needs to be driven by profit," says Rodríguez, who decided run through her work with 33rd Ward Working Families, another affiliate of UWF. "Housing is a basic need and it can't be left to the forces of the free market."
Rodríguez, who has refused to take donations from developers, is taking on Ald. Deb Mell. Mell replaced her father, Richard Mell, when he retired from City Council in 2013. Over 38 years as an alderman, Richard benefited from donations from the real estate industry, which he joined as a lobbyist after leaving office. Deb has also received campaign contributions from major developers, including Silver Properties, a group protested by the Autonomous Tenants Union (a housing justice group Rodríguez has worked closely with) for evicting longtime Albany Park residents.
In the 1st Ward, which includes sections of Logan Square and gentrifying Wicker Park, Daniel La Spata is taking on Ald. Proco "Joe" Moreno who, according to an analysis by Reclaim Fair Elections, receives the highest percentage of campaign funding from property management companies of any alderman. La Spata has worked with the Logan Square Neighborhood Association for 13 years and says that protecting residents from displacement is a critical task. "The fight for housing is inextricably linked to the displacement of families, the under-enrollment of local schools and the deepening segregation of our communities," La Spata says.
Vivien Tsou, a housing organizer with the grassroots group ONE Northside, sees this election as elevating the demands that she and her fellow organizers have spent years fighting for. "The fact that politicians feel that they need to show that they're good on housing means that housing is definitely one of the big electoral issues this year," Tsou says. "That has been exciting to see."
The Edge of a New Wave
Chicago's newly elected council members will still have to deal with the remnants of the Chicago machine. A number of the aldermen from the Richard M. Daley administration still hold their seats. With the exception of a few progressive members, Chicago aldermen tend to be risk averse, more inclined to curry favors for their wards by falling in line with the mayor than to advance bold progressive proposals.
But the machine is taking blows. In January, news broke that 50-year incumbent Ald. Ed Burke of the 14th Ward is under investigation by the FBI. Many mayoral candidates and sitting aldermen are tainted by association with Burke, a longtime Daley ally. Twenty-three-year incumbent Danny Solis of the 25th Ward is reportedly also under investigation, which led him to secretly wear a wire to record Burke. Solis has announced his retirement while Burke is running in what's being called his stiffest re-election race yet, another sign of upheaval.
Even with some machine Democrats out, the powerful interests they answered to will remain. Demands for police accountability will be opposed by the Fraternal Order of Police (FOP)—the powerful union representing CPD officers. Perhaps the most daunting obstacle will be the dominant role of finance capital in Chicago government. Chicago's finance markets, the Chicago Mercantile Exchange and the Board of Trade, are run by the CME Group, a global financial power that holds enormous sway over Chicago's financial decisions. By threatening to move jobs and business out of the city, the CME Group, a major Emanuel donor, has been able to secure significant tax breaks, starving the city of financial resources.
This lopsided relationship is unlikely to end with a new mayor. "The corporate establishment, including the global financial businesses, will still have a big voice in determining the policies of the city going forward," predicts UIC's Simpson. Wealthy campaign contributors such as Michael Sacks, vice chair of World Business Chicago and a major Emanuel donor, will continue to steer the city's political leadership away from regulations or new taxes on the super-rich.
Emanuel has also left the city in debt. With Chicago mired in a deep pension crisis, he borrowed extensively, putting creditors first in line for new city revenue. Funding for policies that benefit residents will be stalled unless the city overturns these arrangements—a move that a number of left aldermanic challengers support.
Mirroring national progressive leaders like Alexandria Ocasio-Cortez and her proposed 70 percent top marginal tax rate, movement candidates in Chicago also embrace policies to raise revenue from corporations and the super-rich. Ideas like a financial transaction tax (known locally as a LaSalle Street tax), a corporate head tax and reforming the city's TIF program have been floated by grassroots groups for years but were never taken seriously by the city's political elite. Now these ideas are being championed by an array of aldermanic challengers. Rodríguez, Sigcho-Lopez and Taylor have all made taxing the rich a centerpiece of their platforms. "One penny of the LaSalle Street tax on every transaction will put more money in our communities," says Taylor.
The threat of Trump's reactionary agenda has also motivated challengers. The Grassroots Collaborative's Patel puts it this way: "A big factor in 2019 is that there's pressure to come out in a place like Chicago in the context of a Trump presidency to say, 'Look, we want to be on the offense. We want a bold, transformative agenda, in particular because of what's happening at the federal level.'"
Rodríguez sees a connection between bold local and national policies. "At a city level, we are talking about rent control, we are talking about No Cop Academy, we are talking about police accountability, we are talking about sanctuary for all. At a national level, we are talking about Medicare for All and taxing the rich. People are reimagining what is possible."
Many of these aldermanic candidates are linked by both their movement organizing and their endorsements from citywide progressive organizations. UWF has endorsed Hadden, Stamps, Wozniak, Rodríguez, Taylor, Yañez and Ramirez-Rosa. The CTU has endorsed all of those candidates along with Sigcho-Lopez. Reclaim Chicago, a local arm of People's Action, backs Ramirez-Rosa, Rodríguez and Hadden. La Spata has the support of Grassroots Illinois Action, the sister organization of Grassroots Collaborative.
A new player in the electoral arena this year is the Chicago chapter of the Democratic Socialists of America (DSA), which has endorsed Rodríguez, Ramirez-Rosa, Sigcho-Lopez and Taylor, along with Ugo Okere, a challenger running against 35-year incumbent Pat O'Conner in the 40th Ward. Other than Taylor, the group's endorsees are all card-carrying DSA members.
In contrast to the typical electoral model of most advocacy PACs and unions—i.e., making calculated endorsements based on a candidate's viability in exchange for future influence—the left electoral infrastructure of United Working Families, Reclaim Chicago, Grassroots Illinois Action and DSA is different. These organizing and community groups are recruiting candidates from their own ranks, who seek office to carry out movement work. "This job to me is nothing but a community organizer with money," says Taylor. "You organize around what your community wants to see."
Electing a bloc of these movement candidates to office would give newfound leverage to communities typically locked out of the halls of power.
The CTU's Davis Gates sees even longer-term change afoot: "If I'm looking in a crystal ball, 2023 will actually be even more transformative because of the momentum that we'll be gaining from both the challenges and the victories we see."

Miles Kampf-Lassin is a political writer and a web editor at In These Times. Follow him on Twitter at @milesklassin or email him at miles@inthesetimes.com.
Hannah Steinkopf-Frank contributed reporting to this story. 
---
Never miss a story. Subscribe to the free In These Times weekly newsletter:
---