NO NAME, NO PROBLEM
One provision in particular has emerged as a likely sticking point in the upcoming negotiations. Of the U.S. cities with the five largest police forces, only Chicago restricts investigation of anonymous complaints. In fact, the FOP contract requires not just a name but a sworn affidavit. Many misconduct complaints begin with a letter or phone call; an investigator must then follow up with the complainant. But if the individual cannot be reached again, or does not want to provide a sworn statement, the investigation typically ends there: Accused officers are not even questioned. Another contract provision allows investigators to proceed without an affidavit in certain cases, but they have done so just 17 times in the last five years, out of tens of thousands of complaints, according to the DOJ report.
Detective Tracy Byerly, 44, works in the Chicago Police Department (CPD) unit devoted to the investigation of sex crimes against children. She has been the subject of just two misconduct complaints in her 20 years on the police force, both of which came with affidavits and neither of which resulted in disciplinary action. She supports the affidavit requirement. "In our legal system, you have the right to confront your accuser," she says. "It's the same thing for us."
Advocates, however, say civilians reporting police misconduct have good reason not to want to be identified, let alone sign an affidavit. For one, doing so often requires an in-person meeting with an investigator, which can be intimidating and complicated to arrange.
"[The affidavit requirement] doesn't sound like it's unreasonable," says Torreya Hamilton, an attorney who defended the city in police misconduct cases before opening her own firm to prosecute the same type of cases in 2006. "But they've created so many obstacles. … Sometimes the complainant simply can't come in because they have work or didn't have bus fare."
Beyond logistical challenges, complainants may also fear reprisal from police. Contract rules require investigators to give the name of the complainant to the accused officer before questioning. And in cases of domestic abuse or sexual assault by police, victims may be ashamed or have a personal relationship with the offender.
The union declined to comment for this story. "The FOP does not want to negotiate through the media," Vice President Martin Prieb wrote in an email to In These Times. But a February post on the blog of the Blue Voice, Graham's campaign slate, says the FOP "will not surrender on affidavits," calling the issue "non-negotiable."
---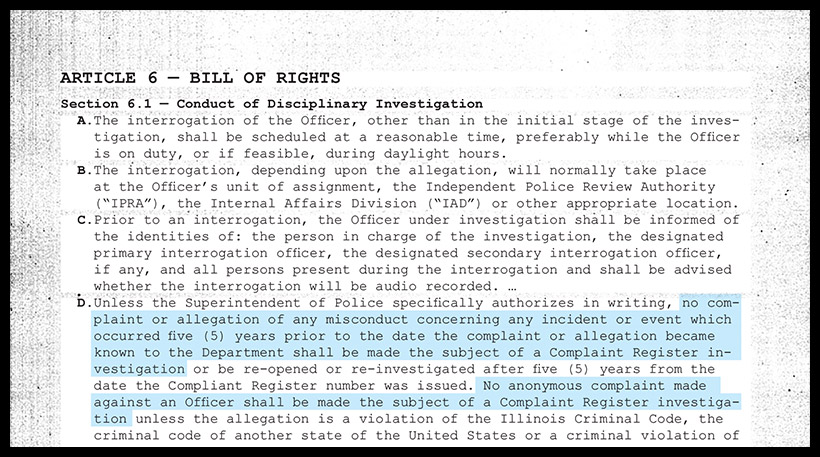 Click to read:
5 Roadblocks to Reform in Chicago's Police Union Contract
---
The FOP argues that affidavits are needed to prevent a deluge of false complaints. The low number of sustained complaints—those that investigators deem to be supported by enough evidence to justify discipline—could suggest that many misconduct allegations are already baseless. Between 2010 and 2014, investigators sustained just 11 percent of the 7,300 complaints received with signed affidavits.
A November 2016 study by Kyle Rozema and Max Schanzenbach of Northwestern University, however, found that the volume of civilian complaints against a Chicago police officer correlates with whether the officer will eventually be sued for misconduct, as well as the probability and size of a civil settlement. Unsworn civilian complaints were just as predictive as those with affidavits. "Civilian allegations, if properly managed, could play an important role in reducing police officer misconduct and costly civil liabilities," the study concludes.
Between 2004 and 2014, the city spent more than $500 million in police misconduct lawsuits, according to an analysis by the Better Government Association. Meanwhile, about 40 percent of misconduct complaints are closed each year because they lack affidavits, according to the DOJ report. In These Times' review suggests these unexamined complaints could have acted as warning signs.
Over the same 10-year period, the 50 most complained-about Chicago officers averaged 17 no-affidavit complaints each. Drawing on civilian complaint data released by the city in October 2016, as well as investigative files obtained through Freedom of Information Act requests, In These Times identified at least a dozen cases in which police officers sued for alleged misconduct—including false arrests, warrantless searches and excessive use of force against civilians—had previously racked up multiple complaints describing similar types of behavior. But because these complaints lacked affidavits, they were never investigated.
Sean Campbell, a white police officer working in the city's Chicago Lawn district, has been named in four separate misdconduct lawsuits that collectively cost the city of Chicago $96,000. In one 2015 case, Campbell and fellow officer Steven Sautkus were sued by Lashaun Duprey, a 20-year-old African-American man who was a passenger in a car stopped on the Southwest Side of Chicago. The officers allegedly asked Duprey, "What are you monkeys doing around here?" before pulling him out of the car, punching him in the face and arresting him. Duprey's family was unable to post bail, so he remained in jail for 10 days before the charges of resisting arrest and disobeying a police officer were dismissed. The city settled with Duprey for $30,000.
According to the suit, which is one of several that Torreya Hamilton's firm has filed against Campbell, he "often makes racist comments during his arrests, suggesting that he has control over the people in the Eighth District, and that non-Caucasian people are not welcome."
Another 2015 case named not only Sautkus and Campbell but Campbell's wife, Emily, and brother, Michael, who are also Chicago police officers. Jonathan Guzman, an 18-year-old Latino man, accused the four officers of repeated harassment. Emily Campbell allegedly threatened Guzman with arrest in 2013 for passing out flyers for his grandfather's landscaping business; Campbell's relative owned a competing business. In another incident, Sautkus and Sean Campbell allegedly pulled Guzman over, planted marijuana on him, impounded his car and stole his iPhone. The case settled for $35,000.
Prior to these incidents, 16 complaints against Sean Campbell were closed because they lacked affidavits, including allegations of racial slurs, unnecessary physical contact and illegal arrest. Between 2000 and 2014, Campbell amassed 79 total complaints—among the highest of any CPD officer over that period. According to available data, Campbell has been disciplined just once, for an off-duty DUI. Attempts to reach Campbell for comment through the CPD, FOP and city attorneys were unsuccessful.
In March 2011, nine officers raided a South Side Chicago apartment in search of a 30-year-old black man suspected of possessing crack cocaine. Police instead found Estella Walker and Ray Robinson, a middle-aged black couple who had rented the apartment the month prior and were watching television with their 24-year-old son, Ray Robinson Jr., and a 39-year-old friend, George Graham. According to a lawsuit against the nine officers, police screamed obscenities at the confused residents, demanded to know where "the drugs" were and tore the apartment apart. They allegedly spit in a coffee maker, urinated on mail and assaulted the three men, but failed to find anything illegal. Later, the suit claims, a sergeant entered the apartment, looked around and told the officers present, "You fucked up another one."
The case settled for $24,000 in May 2013. All nine officers had previous complaints related to illegal searches that were closed because they lacked affidavits. They have collectively been named in six suits that cost the city $170,000. The DOJ investigation found that, in most such lawsuits, "[the Independent Police Review Authority]'s parallel misconduct investigation was closed for lack of an affidavit," meaning that officers were never disciplined, or even investigated, for the same incident that sparked lawsuits.
In at least one case, CPD apparently missed an opportunity to catch a sexual predator because of a closed misconduct complaint. On Oct. 23, 2013, a 21-year-old woman left her uncle, off-duty police officer Allen Hall, in the car with her 3-year-old daughter. When she returned, she noticed the toddler was now in the front seat and looked upset. Later that day, the child told her mother that Hall had forced her to fondle him.
The mother reported Hall to police detectives. A criminal investigation revealed that Hall had abused the mother, as well, when she was a teenager. Hall was arrested and pled guilty to molesting both the mother and her daughter. He was eventually sentenced to four years of probation, evading prison. The CPD put him on administrative duty until he retired in October 2014.
CPD records reveal that the department had been warned about Hall in April 2013, when, during a pre-employment polygraph test for the Cook County Sheriff's Department, a job applicant disclosed that Hall had sexually assaulted her and at least two other victims years earlier. (The victims' names were redacted from records provided to In These Times. Hall declined to comment through his attorney.)
These allegations were reported immediately to the Bureau of Internal Affairs, triggering a complaint file. But Hall was never questioned. The complaint was closed in August 2013—because it lacked a signed affidavit.