May 23, 2016
---
For nearly a century, Harlan County, K.Y., has occupied an outsized place in the American consciousness. Coal is the lifeblood of Harlan, where miners' fierce battles against deadly working conditions remain a symbol of union grit and militance. But Harlan is also an emblem of the hard times that have fallen on coal country.
Coal mining once provided a middle-class living. Mine workers in Harlan won living wages and benefits following a series of strikes and violent clashes with scabs and mine owners in the 1930s that earned the county the nickname "Bloody Harlan."
Miners charted a risky path to economic security. Collapses, explosions and other accidents killed tens of thousands during the 20th century. Many who survived were still killed by coal, albeit more slowly.
Lifelong Harlan County resident Priscilla Stephens, 66, recalls the death of her father, Charlie Simpson, from black lung disease in 1966. Simpson spent 37 years in the mines to support his wife and 14 children. "It cost him his lungs and his life," says Stephens. "Sometimes he would cough and keep coughing, and it was just black-looking, like that old coal dust."
With "King Coal" now on its deathbed, residents wonder what will come next. On an overcast Friday in mid-March, Levi Burkhart watches from his hilltop home in Coldiron, Ky., as a stream of coal trucks rumbles by.
"If you look at it from the road, you'd think it was booming," says Burkhart, 56, a former coal tipple operator who has also developed black lung.
Those appearances are deceiving. The coal industry has been in decline for the past eight years, a development that many blame on Obama's "war on coal" and the EPA's tightening of environmental standards. "Obama shut down the mines," former miner Robert Simpson, 58, says flatly.
Environmental groups say other factors, such as the abundance of cheap natural gas, are behind coal's slump. And jobs in the industry have been vanishing since the 1980s, thanks to mechanization. Eastern Kentucky has been especially hard-hit: The number of miners employed in Harlan County fell from more than 3,000 in 1988 to fewer than 1,000 in 2014. No unionized mines remain in the state.
Whatever the reason, new industry has been painfully slow to materialize. Priscilla Stephens ticks off a list of companies that have come and gone: a furniture factory, a long-time furniture store, a sock factory.
"About everything is moving," she says. "All we've got down here is grocery stores and restaurants."
This presents young people with a hard choice. Many end up leaving families behind to seek factory work in cities or mining jobs in southern Illinois or Alabama.
"The community is not only suffering," says Chester Napier, 75, a former mining company driver. "It's dying."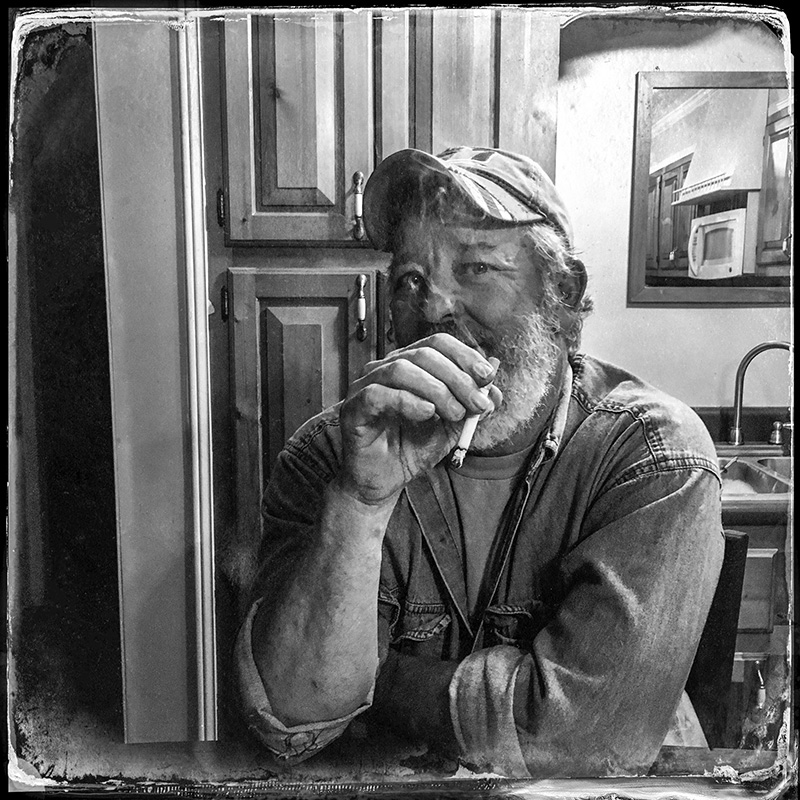 Robert Simpson, 58, mined for about a dozen years in the 1980s and 1990s before becoming a carpenter. Four generations of Robert's family have worked in the mines, including his grandfather, Charlie Simpson, his father, Bobby Simpson (p. 28) and his son-in-law, Danny Stewart (p. 28). Robert and his wife, Judy, live on a plot of land off Route 568 in the tiny town of Cranks. Their daughter, Cherish, lives at the front of the property; their other three children, two of whom are from Robert's first marriage, live elsewhere in Harlan County and in Richmond. Work is often erratic for Robert, but he recently found three months' work building a home. "Things are good for the moment," says Judy, 52, who recently moved from part- to full-time status at Walmart.
Bobby Doyle Rowlett—named after his grandfather, Bobby Simpson—left Harlan County in 2015 for a position with the RJ Corman Railroad Group. He traveled as far as the Canadian border and worked as many as 12 days in a row. On breaks, he came home to see his fiancée, Lauren Blair.
Sitting on a couch in his grandfather's home, Rowlett explained that he had been willing to pay the physical price of working in the mines in order to be close to home. Blair talked him out of it.
"I said [the work] would be gone in a year, and I was right," Blair said. Things are looking up for the couple. Rowlett moved back after securing a coveted position at the railroad company less than an hour away. He and Blair plan to marry in June. Most residents haven't been so lucky. Some, like Danny Stewart, an unemployed fifth-generation miner, are placing their hopes in a Donald Trump presidency to revive the moribund coal industry. Others, like Bobby Simpson, draw on religious faith and a ceaseless work ethic to keep going.
All agree on the region's bleak present and dim future.
"It's not good," says Napier. "Some of the politicians say they'll bring the coal back, but the coal will never be back."

---