Life under siege
Three hours south of Burin is Kiryat Arba, an urban settlement of about 7,000. It is surrounded by a barbed wire fence and is close enough to the Palestinian city of Hebron that the Islamic call to prayer can be heard.
The One Israel Fund has provided significant support to Kiryat Arba's security guards, subsidizing a new security vehicle and a high-tech surveillance system to monitor the perimeter.
Abd al-Kareem al-Jabari, a 59-year-old Palestinian ironworker, lives sandwiched between Kiryat Arba and the neighboring settlement of Givat Ha'avot, on land that has been in his family for generations. Since building his house in 1998, he says, his family has endured repeated attacks. Israeli settlers, he says, have thrown stones at them, burned their trees, stabbed his 10-year-old son in the stomach and beaten his 11-year-old son in the face, damaging his eye.
But it's not only ordinary settlers who harass the family. Jabari says that Kiryat Arba guards have blocked his access to his farmland on more than one occasion. "They say, 'It's our land and go away,' " he says. "It's just harassment."
They've also come to his home, he says. In 2007, Jabari says, he was constructing a wall beside his house when two settler guards ran toward him and opened fire with their guns. While Jabari was not hurt by the gunshots, the incident shook his family.
Twenty-five members of Jabari's family live crowded into one house, so in spring 2016, he began building another house on his property. When bulldozers came to break ground, Jabari says, a guard drove up and parked, walked onto the property and told the bulldozer driver to stop working. He then called the branch of the local military that handles matters of zoning and construction, Jabari says. The military told the guard that Jabari had the right to build.
Jabari identified this guard in a photograph on the One Israel Fund's Facebook page. The guard is leaning on a truck with a smile; the caption reads "One Israel Fund was proud to aid in the purchase of a new security vehicle in Kiryat Arba."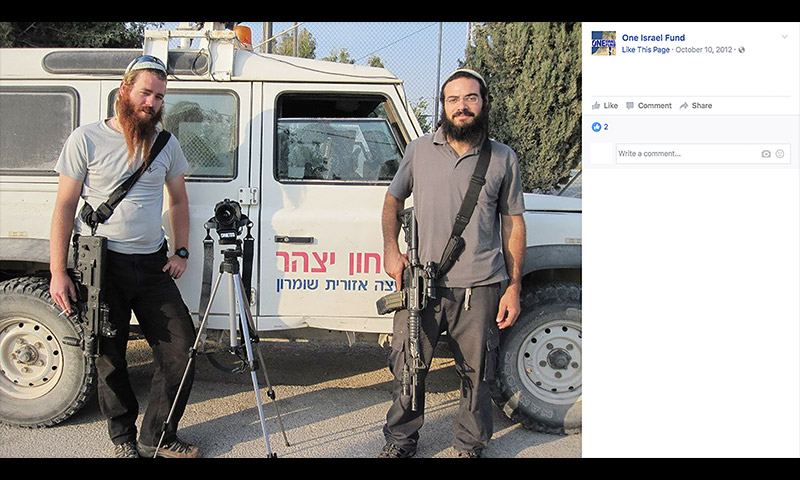 A photograph on One Israel's Fund's Facebook page shows Yitzhar security personnel receiving a $10,000 surveillance camera. (Facebook)
In These Times reached out to the guard for comment but was told by a Kiryat Arba security employee that he could not answer questions. The other guard identified by Jabari did not respond to requests for comment.
Human rights advocates say that no one holds the ravshatzim accountable for their actions. An Israeli army representative told In These Times that the army examines all allegations against guards and, following press reports of settler guard abuse, has taken preventative measurse, "including internal inquiries and efforts to refresh and reinforce rules and regulations for all Civilian Security Coordinators." The spokesperson added that "a Civilian Security Coordinator indicted for committing an offense in the line of duty will be dismissed from his position."
Getting that indictment, though, is difficult. Yesh Din has helped file 23 criminal complaints with the Israeli police against settler security guards. But the group has never secured a criminal indictment. A Yesh Din report published in 2015 found that, over the past decade, 91 percent of cases of settler violence against Palestinians or their property were closed without an indictment.
"What we typically find is that the ravshatz will say, 'That just didn't happen, that's not the case,' and then nothing comes out of the complaint," says Yesh Din lawyer Emily Schaeffer Omer-Man. "The testimony of settlers, including ravshatzim, is given more credence than that of Palestinians."
Charitable acts
The One Israel Fund is part of a network of pro-settlement charities in the United States that collectively raise millions of dollars from the most ardent supporters of Israel. The nonprofits draw from a small pool of right-wing donors, such as the bingo magnate Irving Moskowitz (who died last year) and the hedge funder Henry Swieca. Between 2009 and 2013, 50 pro-settlement groups raised over $220 million in the United States, according to an investigation by the Israeli daily Haaretz.
In recent years, groups such as the American-Arab Anti-Discrimination Committee have sought to revoke pro-settlement groups' status as 501(c)3s, which allows donations to be tax-deductible, by filing administrative complaints with the IRS.
Lawyers have also filed civil lawsuits against pro-settlement groups on behalf of Palestinians. In May 2013, the law firm Melito & Adolfsen P.C. sued the One Israel Fund and other pro-settler groups, charging that they violate U.S. laws by funding terrorism against Palestinians. Their claims rested on allegations that settlers carried out Molotov cocktail attacks, stonings and beatings targeting the Palestinian plaintiffs.
---
Palestinian ironworker Abd al-Kareem al-Jabari (R) and his family live sandwiched between two Israeli settlements. (Photo by Mati Milstein)
But so far, pro-settlement groups have prevailed. The lawsuit against the One Israel Fund was dismissed in May 2014. The judge ruled that the suit did not prove the groups knowingly fund terrorism, and that there was no relationship between the money given to settlements and terrorist acts. Nor has the IRS publicly responded to the challenges to the groups' nonprofit status.
It's a striking fact of U.S. tax policy. For decades, donors to settlement nonprofits have received tax breaks from the U.S. government, while presidents from both parties have spoken out against Israeli settlements.
But with President Donald Trump, it's unclear whether this contrast will remain. During his presidential campaign, Trump said that he has no problem with West Bank settlement building. In fact, in 2003, Trump donated $10,000 to American Friends of the Beit El Yeshiva Center, a group that raises money for Beit El's ravshatz, in addition to funding schools at the settlement. Trump has selected the nonprofit's president, David Friedman, as his ambassador to Israel. But in early February, the White House said new settlement expansion may not be helpful in achieving an Israeli-Palestinian peace deal.
Mitchell Plitnick, the vice president of the anti-settlement Foundation for Middle East Peace, said that it's important to bring "to light how much funding from settlements is coming from the United States, so that there's a discussion within the Jewish community. People just don't talk about it."
Meanwhile, Palestinians are left to wonder at the fact that U.S. nonprofits are funding their tormentors.
"The settlement guards [incite] the settlers and the army to harass people more," said Hakem, a resident of Iraq Burin who says he was harassed by a One Israel Fund-supported guard. "It's very strange to hear about a nonprofit supporting settler violence." 

This story was supported by the Leonard C. Goodman Institute for Investigative Reporting.
Alex Kane is a New York-based freelance journalist who writes on Israel/Palestine and civil liberties.