Our Revolution Texas is in the process of creating the infrastructure to challenge the established state party. It has divided the state into 11 regions, and the regional chapters will recruit and train candidates to run in local, state and congressional elections next year. Our Revolution Texas is also encouraging progressives to become precinct chairs in their local Democratic Party chapters. The party is so hollowed out in the state that taking it over is mainly a matter of showing up.
"In probably half of the precincts in Texas, there's no precinct chair," Hightower says. "So we're going to fill as many of those as we can." The precinct chairs elect the county chairs, who in turn choose the state party chair.
In January, Our Revolution Texas became the national organization's first state affiliate. Hightower says it's filling a vacuum in the state left by the Democratic Party's reliance on corporate donors and top-down party decision making. "Democrats gave up on door-to-door and precinct-to-precinct organizing," he says. "And we surrendered our populist voice."
In Texas, the corrosive influence of corporate money on the Democratic Party is especially clear in its relationship to oil and gas interests. Henry Cuellar, who represents a U.S. House district in the oil-rich southern part of the state, took in upwards of $165,000 from that industry in the 2015-16 election cycle—more than any other Democratic member of Congress. The League of Conservation Voters gave Cuellar a score of 26 out of 100 for his environmental voting record in the 2015-16 cycle.
Hightower cites fracking as an example of a progressive issue that could revitalize the party and help it win in rural areas the GOP has come to dominate. The digging of fracking wells creates only temporary jobs, sometimes filled by non-locals, he says, and, "We're left with the noise, the pollution, the methane, the illnesses, the destruction of the roads, the total usurpation of the water." If Democrats took it on as an issue, then "people would say, 'All right. There's somebody standing up.' "
In the 2014 congressional election, Texas had the third-lowest voter turnout in the nation: just 28 percent of eligible voters. "It's not that Democrats turned right-wing," Hightower says. "They quit voting. If they hear candidates and political organizations talking about the things they care about, they'll respond."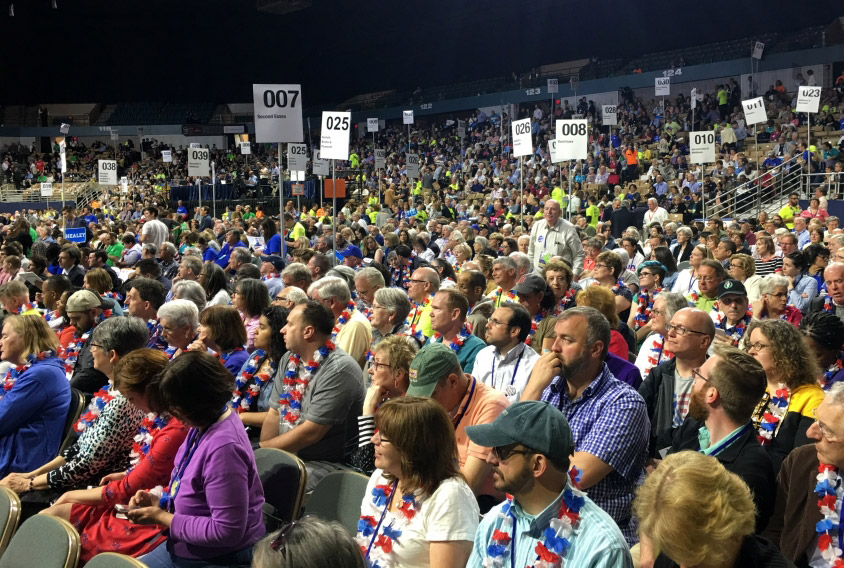 ---
On June 3, Bernie Sanders backers in Massachusetts helped pass one of the most progressive state party platform in U.S. history. (Photo: Rand Wilson)
If the weakness of the Democratic Party in Texas and across much of the West makes the state chapters ripe for a takeover, it's a different story in the East, especially the Northeast, where the party is strong and has a reputation for being relatively progressive. As in California, though, there is an entrenched establishment that resists reform.
"It's very clearly an insiders' club, and there are all sorts of hoops to jump through," says Matt Miller, an activist based in Somerville, Mass., and a member of Our Revolution Massachusetts, which—along with Progressive Democrats of America, Progressive Massachusetts and other groups—set its sights on injecting a strong progressive presence into the Massachusetts Democratic Party convention on June 3 (read an update here).
Just getting basic information "about when caucuses are held and what you have to do to be elected" was a struggle, Miller says. Nevertheless, he and other progressives persisted.
For months, they carried out a methodical plan. First, get progressives to show up at the caucus meetings—held in February, March and April—to elect progressive convention delegates. They succeeded in electing about 700 of 4,529 total delegates. Second, organize strong turnout at a series of platform committee hearings in April and May. The resultant draft platform, released in late May, contained many of their demands, including single-payer healthcare, a $15 minimum wage and paid family leave.
The final step is to get delegates to attend the convention, where, with 200 signatures on a petition, they can force a vote on an amendment to the platform—to prohibit gerrymandering, for example, or to implement ranked-choice voting. In early May, more than 150 of the 700 Our Revolution delegates attended a special training session to make a game plan. In addition to pushing the party's platform further left, they will call for the democratic election of superdelegates to the Democratic National Convention—currently selected by the DNC and approved by the state party chair—along with the restriction or elimination of donations from corporate PACs.
In Massachusetts, as in California, there is a sense that corporate money and top-down control have warped the party's priorities and created a disconnect between ideals and actions.
"The party is at a real fork in the road," says Rand Wilson, a labor organizer for SEIU Local 888 and a member of both Our Revolution Massachusetts and Labor for Our Revolution. "We have to choose between building a party for the working class or for the 1%. The lines are being pretty starkly drawn."
At the 2016 Democratic National Convention, Wilson says, he attended a breakfast for the Massachusetts delegation that, unbeknownst to him, was sponsored by a charter school organization. Charters were a divisive issue in the state at the time. The state Senate, controlled by Democrats, had recently passed a bill designed to lift the cap on the number of charter schools. It eventually became a ballot measure and was defeated by Massachusetts voters that November. Support for the charter school expansion came from corporations and the financial industry, while teachers unions fiercely opposed it.
"I jumped up and said, 'Charter schools suck!' and I walked out," Wilson says. "I left there going, 'Wow, there's really something wrong with a party that would invite and accept funding for a breakfast from the charter school people.' It was emblematic of a Democratic Party that is clearly for sale."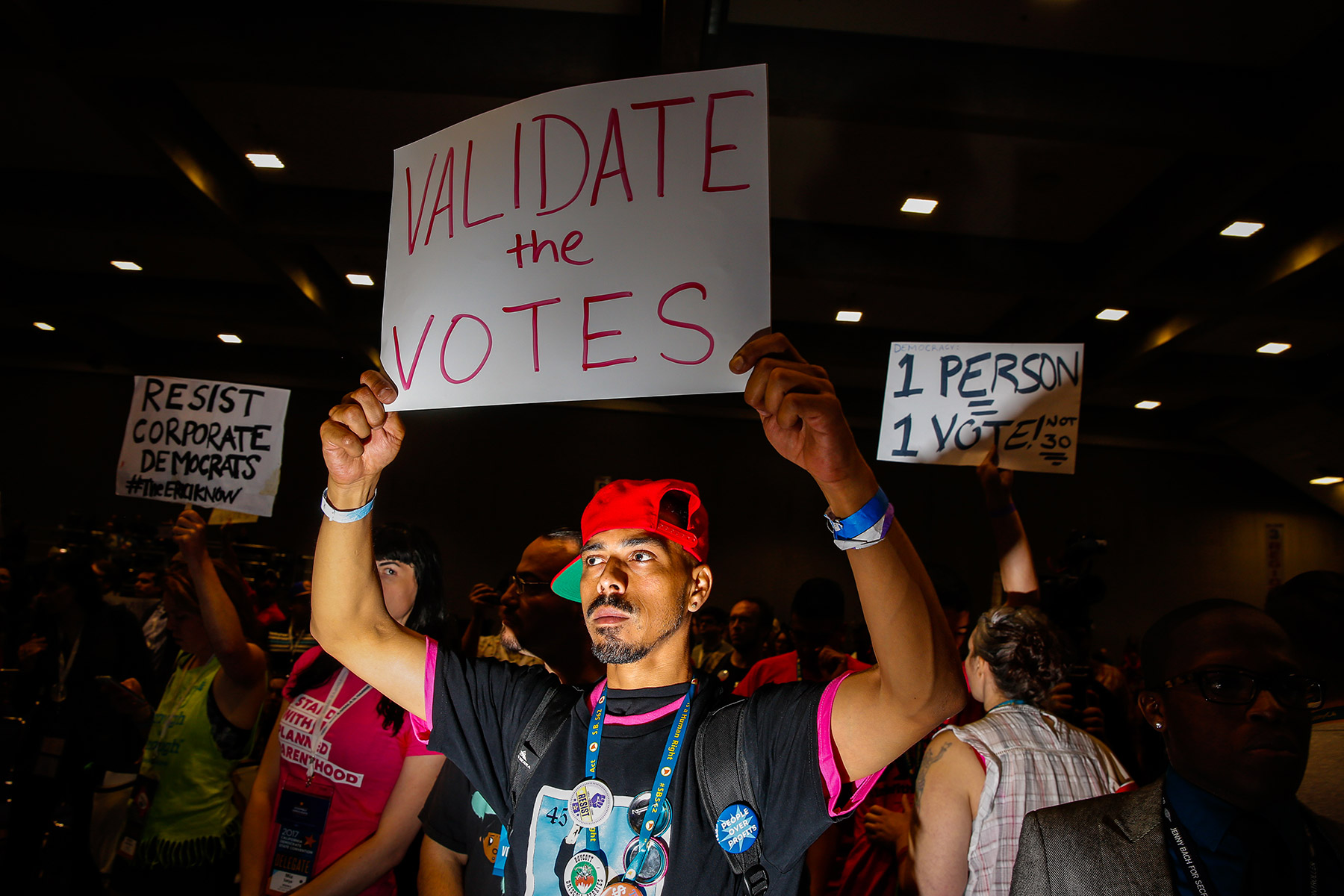 ---
California Democratic Party convention delegate Gilbert Feliciano, 36, calls for a recount after Kimberly Ellis' narrow loss in the May 20 election for state party chair. "I'm supporting Kimberly Ellis because she's been working with the organizers," says Feliciano, who wants Democrats to ensure "a more socialist society where people have a safety net for basic issues: water, healthcare, education." (Photo: Jay L. Clendenin/Los Angeles Times via Getty Images)
Like many progressives, Wilson has a skeptical stance toward the Democratic Party. He was a lifelong Independent until he registered as a Democrat in 2015, primarily because he wanted to go to the national convention and support Sanders.
"We're essentially a one-party state; it's all these so-called 'progressive' Democrats," he says. "Yet they are all talk and no action when it comes to labor issues. So I think we are excited about changing the Democratic Party."
If there is broad agreement on that goal, much of the energy is being channeled into a different strategy for achieving it. Instead of seeking control of the party, groups like Justice Democrats and Brand New Congress are putting forward progressives to run against centrist, corporate Democrats.
"The party structure and democratizing it—that's all noble, but I wonder if it would be better to just shift the actual power," says Matt Miller, who worked on a Democratic primary race in 2015. "We knocked out a crappy Democrat and replaced him with a former Occupy guy. So I wonder if that's not a better strategy. But I'm going to try this for as long as it makes sense."
For many progressives, rather than racking up immediate wins, experimenting with the nature of "the resistance"—figuring out what works over the long run, where to invest resources, and how to relate to and transform the Democratic Party—seems to be what this moment is about.
For her part, Karen Bernal's experience with the California Democratic State Convention left her feeling "not optimistic" about reforming the CDP, yet more hopeful about the progressive movement generally.
"We're going from a mentality of protest to learning what it means to seize political power," she says. "The new people who have come in—they're getting a boot camp. And that is the lesson. No matter what happens with the Democratic Party, we're going to have people who are much more savvy about how to resist politically."
That isn't to say the fight for the CDP is a lost cause. As with "the resistance" broadly, the path ahead is uncertain. For many in California, the recent loss felt more like the beginning of a journey than its end.
"This is a womb, not a tomb," says Rochelle Pardue-Okimoto, a nurse and convention delegate who supported Kimberly Ellis. "It's the rebirth of the Democratic Party. We just have to keep pushing. We all felt bloodied and bruised by this battle, but we can't give up. We're changing things." 

Winona Dimeo-Ediger contributed reporting from California.
This piece has been updated to correct the chronology of events at the conference. Ellis supporters ringed the event hall on Saturday, not Friday.