By any means necessary
Exxon Mobil has never been shy about working with dictators, be they Hajji Muhammad Suharto of Indonesia, Idriss Déby of Chad, Nursultan Nazarbayev of Kazakhstan, Teodoro Obiang Nguema Mbasogo of Equatorial Guinea, Sani Abacha of Nigeria, José Eduardo dos Santos of Angola or Saddam Hussein of Iraq (to name but a few).
But sometimes alliances go sour. Change is often necessary.
Members of the Bush administration, many of whom had worked together for decades, made fully transparent their ambitions for American "empire" (their word) long before taking office in 2000, including the plan to invade Iraq (with Iran next in their sights).
Prior to the March 2003 invasion, Iraq's domestic oil industry was fully nationalized and closed to Western oil companies. Within six years, it was largely privatized and utterly dominated by foreign firms, including Exxon Mobil. "Of course it's about oil; we can't really deny that," said Gen. John Abizaid, former head of U.S. Central Command and Military Operations in Iraq, in 2007.
Exxon Mobil joined with other Western oil giants to have a direct hand in this long-desired outcome. The company participated in the Cheney Energy Task Force, which first met just 10 days into the new administration. Its work included reviewing "operational policies" toward Iraq and "actions regarding the capture of new and existing oil and gas fields." In its final report in May 2001, the task force argued that Middle Eastern countries should be urged "to open up areas of their energy sectors to foreign investment." This is precisely what was achieved in Iraq.
Exxon Mobil met with Cheney's staff in January 2003, two months before the invasion, to discuss plans for Iraq's postwar industry, while then-CEO Lee Raymond had many private meetings with longtime friend Dick Cheney. For the next decade, former and current executives of Western oil companies, including Exxon Mobil, acted first as administrators of Iraq's oil ministry and then as "advisers" to the Iraqi government.
Gary Vogler, an executive and 21-year company veteran, left Exxon Mobil in 2002 to help plan and lead the U.S. government's oil agenda in Iraq. Vogler later told MSNBC that in an October 2002 meeting in Houston, he and other members of the Energy Infrastructure Planning Group for Iraq were told by Army Corps Lt. Col. Paul Shelton, "Look, the military can get you a lot of information, but you've got to keep in mind the cost of that information … may be the lives of 19-year-old Marines and soldiers."
In April 2003, Vogler joined former Shell Oil CEO Philip Carroll on the ground in Iraq. "The ministry once again has a strong man at its helm," reported Germany's Der Spiegel magazine upon Vogler's arrival at the Iraqi Oil Ministry. By that summer, Exxon Mobil had joined with several other Western oil companies to articulate their own goals for post-war Iraq through the International Tax and Investment Center's (ITIC) Iraq project. The ITIC's report, "Petroleum in Iraq's Future," released in the fall of 2004, made the case for opening Iraq's oil industry to foreign oil companies using Production Sharing Agreements (PSAs) that grant companies control over production decisions, the right to book reserves as their own and contract lengths 10 times longer than is typical.
As I detailed on CNN.com in 2013, as the war continued, so too did the administration and industry efforts to open Iraq's oil sector under their preferred terms. Western oil companies met with the Iraqi government and ultimately signed contracts to gain not all they had hoped for, but enough. In 2009, Exxon Mobil emerged as one of the war's biggest winners, joining with PetroChina to sign a PSA for the super-giant West Qurna oil field, one of the largest oil fields in the world, and later acquiring exploration contracts in Iraq's Kurdistan region.
While the war did have its victors, it was of course disastrous not only for Iraqis, but for the entire region, contributing to the formation of the Islamic State, the Syrian War and today's refugee crisis.
We know very little of Trump's actual foreign policy agenda other than an intention to put "America First" while turning toward Russia and against Iran. But perhaps we can gain some guidance from Trump's words to Anderson Cooper in 2015 on taking on the Islamic State: "I'd bomb the hell out of the oil fields .... I'd then get Exxon, I'd then get these great oil companies to go in­—they would rebuild them so fast your head will spin." A "ring" of U.S. troops would then surround the wells, Trump said, protecting the oil companies.
Climate "risk" or climate change?
January will be a busy month for Rex Tillerson. On January 19, he has been called to testify in a federal lawsuit brought by 21 young people alleging that the oil and gas industry has sought to both prevent the U.S. government from taking action to protect the environment from climate change and lock in a fossil-fuel-based national energy system with full knowledge of the extreme dangers it poses. Kelsey Cascadia Rose Juliana, et al. v. United States of America, et al. is before the U.S. District Court of Oregon and will be set for trial this year.
The suit stems from a 2016 investigation by InsideClimate News, as do the state and federal investigations into potential fraud perpetrated by Exxon Mobil against the public and its shareholders regarding what the company knew about climate change and when, and what it did with that information. A finalist for the 2016 Pulitzer Prize, the investigation uncovered that Exxon's own scientists confirmed in the 1970s that the burning of fossil fuels harms the climate. The company then chose to publicly deny the reality of climate change and finance the climate denialist movement (findings Exxon Mobil disputes).
As secretary of state, Rex Tillerson would lead U.S. negotiations tackling climate change. Tillerson's rhetoric has led some to conclude that this may not be such a bad thing. The facts, however, reveal that it would be disastrous.
On the one hand, Tillerson acknowledges the reality of climate change and has publicly stated his support for carbon taxation and the Paris Climate Agreement. Exxon Mobil's lobbying disclosures under Tillerson, however, expose a very different picture. In 2008 and 2009, the company nearly doubled its already top-tier federal lobbying expenditures (spending $29 million and $27.4 million, respectively), outspending every other corporation, to successfully thwart congressional and White House efforts to pass meaningful climate change legislation, dashing the 2009 U.N. Copenhagen Climate Change Conference in the process. Exxon Mobil continues to fund climate denialist organizations and those that are leading the attacks on the Paris Agreement and Obama's Clean Power Plan, including the American Legislative Exchange Council, the Manhattan Institute for Policy Research and the U.S. Chamber of Commerce.
As for the company's actual operations, a 2014 study published in Climatic Change journal found that Exxon Mobil has contributed more global greenhouse gas emissions to the atmosphere over the last 150 years than all but one company (Chevron). Under Tillerson, Exxon Mobil has fought climate-related initiatives launched by shareholders and rejected any meaningful commitment to renewable or alternative energy. As I reported for Rolling Stone in 2013, "Since 2002, Exxon Mobil, which took in $45 billion in profit last year alone, put a grand total of $188 million into its alternative [energy] investments, compared to the $250 million it dedicated to U.S. advertising in the last two years alone."
A close read of Tillerson and the company's words on the topic, moreover, reveal a very careful focus on "risks" posed by climate change (or by those responding to it). Exxon Mobil's annual report to the SEC in 2016 stated, for example, "Due to concern over the risk of climate change, a number of countries have adopted … frameworks to reduce greenhouse gas emissions." Tillerson's line is one of scientific uncertainty about what those risks may be, blind faith in the ability of technology to address any such risks should they emerge, and a zealous commitment to the necessity and dominance of oil and natural gas.
The language of "risk" implies that all climate effects are yet to come—such as when Tillerson said at the company's annual shareholder meeting in 2013 that climate change "does present serious risk" yet "our ability to project with any degree of certainty the future is continuing to be very limited." But, as of 2012, nearly 1,000 children a day were already dying because of climate change, and the estimated annual death toll was 400,000 people worldwide.
In 2008, Exxon Mobil Senior Vice President J.S. Simon told Congress: "The pursuit of alternative fuels must not detract from the development of oil and gas." To grasp the threat posed by Exxon Mobil and Rex Tillerson, one could replace "alternative fuels" with just about any phrase, word or concept expected of a just U.S. secretary of state—be it "diplomacy," "equality," "peace," "climate justice" or "human rights."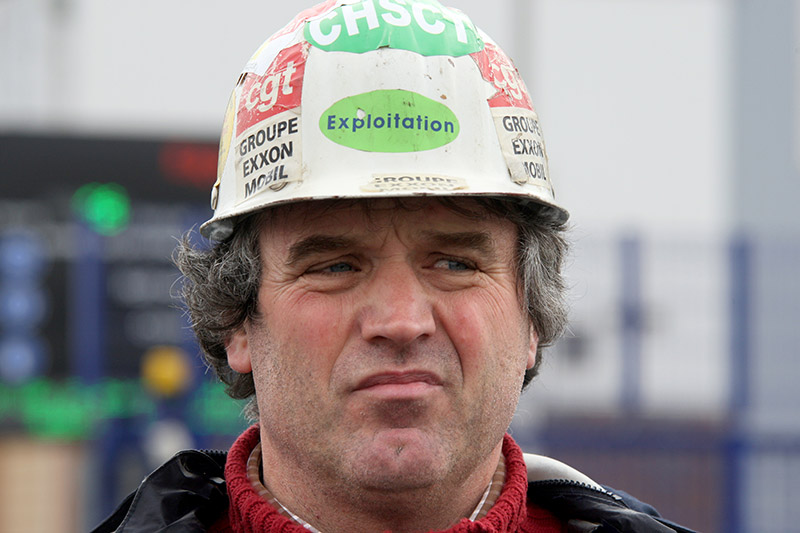 ---
US Exxon Mobil refinery workers in Port-Jerome, western France, joined a strike in support of workers at the French multinational integrated oil and gas company Total S.A. on February 23, 2010. (Photo: Kenzo Tribouillard/AFP/Getty Images)
Choosing sides
"This is the purest test you can imagine: Either you're pro-science or anti-science; either you stand with the people, or you stand with the polluters. It's that simple," said Jamie Henn of 350.org. He was speaking in advance of a protest in Cheyenne, Wyo., planned for January 9, to urge Republican Sen. John Barrasso to use his seat on the Senate Foreign Relations Committee to reject Tillerson's nomination. The protest is part of a month-long series of protests which include "flooding Capitol Hill" with events targeting key senators who play a big role in cabinet picks.
Tillerson is scheduled to appear in January for hearings before the Senate Foreign Relations Committee, where Democrats have promised a bruising fight. They would need just one Republican to join them to block the nomination and Marco Rubio (Fla.) may be that Republican, having voiced concerns about Tillerson's Russian ties. If the vote goes to the full Senate and Democrats stand united there, just three Republicans would be needed to block Tillerson. John McCain (Ariz.) and Lindsey Graham (S.C.) have expressed deep reservations.
With leading international human rights organizations, including Global Witness and Amnesty International, condemning Tillerson's nomination in no uncertain terms, and with Greenpeace coordinating petitions and actions with numerous other groups to block it, the fight is far from over. Tillerson's nomination comes at a time of heightened unity and strength within the movement to keep fossil fuels in the ground, brought to national attention with the years-long battle led by Native Americans to halt the Dakota Access Pipeline.
Terrence Collingsworth, the human-rights lawyer who has fought Exxon Mobil for more than 15 years in defense of the people of Aceh, worries about the damage done simply through the nomination of Rex Tillerson—which, he believes, makes it clear which side the United States government is now on under the presidency of Donald Trump.
"Imagine what will happen in the future," he says. "[People around the world] will not feel that the U.S. will back them up in trying to hold these companies accountable." Instead, he argues, we will have—even more than today—"a sweetheart arrangement between foreign governments and the U.S. government to promote the exploitation of natural resources at all costs."

This article has been updated to include the 2007 amended complaint in John Doe I, et al., v. Exxon Mobil Corporation, et al.
Antonia Juhasz, a leading energy analyst, author, and investigative journalist specializing in oil. An award-winning writer, her articles appear in Newsweek, Rolling Stone, Harper's, The Atlantic and more. Juhasz is the author of three books: "The Bush Agenda," "The Tyranny of Oil" and "Black Tide: The Devastating Impact of the Gulf Oil Spill." Follow her on Twitter at @AntoniaJuhaz.
---