Tijuana Troubles
By David Bacon
Tijuana, Mexico
Debate has raged over whether NAFTA's labor side-agreement protects workers rights since the treaty took effect in January 1994. But its uselessness was clearly demonstrated in June when supporters of Mexico's best-known independent union were beaten at a hearing supposedly organized to guarantee their rights.
As strikers from the Han Young factory and other members and supporters of the October 6 union walked into a ballroom at Tijuana's swanky Camino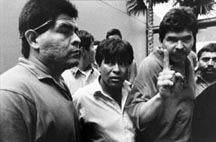 Enrique Hernandez (with finger raised) and other unionists after being beaten and expelled from the Camino Real Hotel. Credit: David Bacon.
Real hotel, they were beaten and driven out by members of the Revolutionary Confederation of Workers and Peasants (CROC), a government-affiliated union. Though the attack was witnessed by U.S. Deputy Labor Secretary Lewis Karesh and his Mexican counterpart Javier Moctezuma Barragan, neither made a public denunciation of the beatings.
Ironically, the Mexican Labor Ministry had organized the meeting, a "seminar on union freedom in Mexico," to explain two new agreements it signed in May promising to protect the right of workers to form independent unions. The case that led to one of the accords was that of the very people beaten and left outside - the 57 workers whose strike at the Han Young factory was the first by an independent union at the maquiladoras. "They threw us out because it was impossible to maintain the pretense that the freedom to organize independent unions exists while we were present in the room, living evidence of the lie," says Enrique Hernandez, general secretary of October 6, who was the target of the most violent attacks.
Workers at the Korean-owned Han Young plant, which welds truck frames for Tijuana's huge Hyundai industrial complex, began their independent union effort in June 1997. Complaining of low wages and serious safety hazards, they sought to reject the CROC union that represented them. CROC had a so-called "protection contract" with Han Young, in which the company made monthly payments to a CROC leader in return for a guarantee that the union would not challenge low wages and poor conditions. "There are about 650,000 union contracts in Mexico, but only 50,000 of them are real negotiated agreements," explains Jose Luis Hernandez, vice president of Mexico's new national democratic union federation, the National Union of Workers. "The rest are protection agreements. The people who benefit from them are a kind of Mafia."
In These Times © 2000
Vol. 24, No. 19