Time's Arrow
By Carl Bromley
Time Regained
Directed by Raul Ruiz
If our destiny is written in the stars, as some of Raúl Ruiz's films suggest, it is a strange fate that has plucked him from relative obscurity to international exposure with perhaps his 101st or 103rd film, an astonishing adaptation of Marcel Proust's final volume in the Remembrance of Things Past cycle, Time Regained.
A younger Raúl Ruiz, engaged by Chile's ruling Socialists as its film adviser, planned to make a film predicting the overthrow of President Allende's government by the military. Shooting was planned to start September 12,
\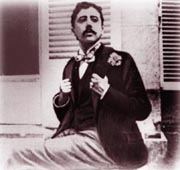 Marcel Proust
1973. But filmmaking was canceled when, on the day before, Gen. Augusto Pinochet actually realized Ruiz's nightmare. Months later Ruiz fled Chile, "just when the first filmmakers were being shot," he recently reminisced in the Guardian. "The arrests at that point were completely arbitrary and very chaotic - people were being shot just because they had moustaches."
Ruiz sought sanctuary in Paris where, over the next three decades, he made more than 100 films of a rare and curious vintage. Some were made in a week, some mislaid, others lost; they were about French politics, cookery, fictitious 19th century painters or Communist multimillionaires. Part Luis Buñuel, part Orson Welles (as Jonathan Romney has described him), Ruiz has been one of world cinema's best kept secrets, a sorcerer whose films mysteriously merge and multiply traditional time and narrative, blurring the distinction between reality and dream while engaging questions of fate and identity.
Carl Bromley writes about cinema and politics for In These Times, Cineaste and The Nation. He is the editor of the forthcoming Cinema Nation: TheBest Writing on Film from The Nation, 1913-2000.
In These Times © 2000
Vol. 24, No. 19