Stalin's World 8.1
Show trials meet show business. A budding entrepreneur in Lithuania is attempting to cash in on his country's less-than-glorious past as a less-than- willing addition to the Soviet Union: He's building what the Wall Street Journal describes as "a theme park that combines the charms of a Disneyland with the worst of the Gulag."
Viliumas Malinauskas, who made his fortune in the mushroom business, is busily buying up the giant tacky Lenin statues that used to adorn public squares in towns across the USSR; the park will also contain re-creations of Siberian prison camps, complete with guard towers, barbed wire and bleak barracks, linked together with wooden walkways designed to match those in the original Gulag. To heighten the experience, Malinauskas hopes to build a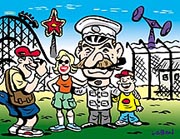 Credit: Terry Laban
special train line linking his park to the suburbs of nearby Vilnius. Visitors would be shoved into cattle cars like prisoners and hauled past fake train stations bearing the names of some of the Soviet Union's most notorious labor camps. "They will be deported right to the information center," Malinauskas told the Journal. "It is great to have a vision of something our relatives experienced."
The park has drawn a great deal of criticism from locals, the Journal reports, who dub the monstrosity "Stalin's World." "This part of history is full of suffering," says one local politician. "It should not be used for show business."
Jet Setters 5.3
This year's $297 billion defense budget contains some interesting extras that the military didn't even have on its wish list - including a fleet of snazzy new jets to ferry military brass to and fro. Among the spoils, according to U.S. News and World Report: a $60 million Boeing 737 for the admiral at the helm of the Pacific Command, a $50 million Gulfstream for the Navy, and a couple of $7.6 million Cessnas. "God forbid we should encumber the generals with planes that don't smell of new leather," one critic told the magazine.
Reckless Eyeballing 6.8
A judge in the Iranian town of Qir thought that a local shopkeeper was flirting with his wife - so he had the alleged offender locked up, and, according to local papers, roughed up while in custody. After locals upset with the arrest rioted, setting fire to cars and to the local courthouse, an official explained that the whole problem had been caused by a simple "misunderstanding" between the shopkeeper and the judge. According to a Reuters account of the incident, the shopkeeper hadn't really been flirting with the judge's wife; he was just cross-eyed, "giving a false impression to the judge's wife that he had been leering at her."
David Futrelle is a contributing editor of In These Times.
In These Times © 2000
Volume 24, Number 20