Black Radicals Regroup
By Salim Muwakkil
When organizers of the Black Radical Congress decided that "education, not incarceration" would become its unifying theme, they had no idea that their crusade would be joined by Colin Powell. Yet the retired Army general told the party faithful at the Republican National Convention: "We either build our children, or we build more jails. It's time to stop building jails."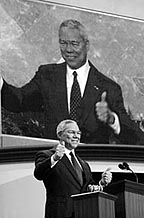 The GOP's Great Black Hope is starting to sound like a radical. Credit: Stan Honda/AFP.
When the rallying cry of black radicals can so easily be adopted by the GOP's Great Black Hope, it's clear that our skyrocketing incarceration rate is a prominent national concern. It's also clear, however, that the Black Radical Congress (BRC) must do more to distinguish itself from the welter of interests currently clogging the national discourse. That was one of the goals of the BRC's first organizing conference, held in Detroit on June 23 to 25. Although the gathering attracted just 300 people, Bill Fletcher Jr., one of the BRC's founders, declared it a success. "We aimed for a much smaller crowd this time," explains Fletcher, who works as a special assistant to AFL-CIO President John Sweeney. "We wanted to clarify some structural elements, focus on training organizers, and sharpen our focus."
Detroit was an apt location for the event; the ravaged city is a graphic testament to the BRC's central argument that the booming economy has been a bust for many. As the stock market has climbed upward, so has the number of black inmates, police shootings and racial-profiling abuses. And while the black middle class has expanded slightly, the gap between those doing well and those barely surviving has grown.
The BRC's only previous conference was held in Chicago in June 1998, and it attracted more than 2,000 community activists, students, academics, labor leaders and others. The Chicago gathering was the outgrowth of several meetings held by a group of black academics and organizers who bemoaned the growing marginalization of the black left - especially among black youth. The energetic event convinced organizers that the time was ripe for a new organization. In the words of the preface to the group's "principles of unity," the BRC was "formed to create a national forum for the reunification of the national movements and local organizations that historically fought and today fight bravely to challenge political, economic, and social injustice in America."
In These Times © 2000
Vol. 24, No. 20