Election 2000 Coverage

---

Never Mind the Bollocks
BY BILL BOISVERT
Here's the new Republican Party
September 4 , 2000

---

The Battle of Philadelphia
BY DAVE LINDORFF
September 4 , 2000

---

Working It
BY DAVID MOBERG
Will unions go all out for Gore?
September 4 , 2000

---

Editorial
BY DAVID MOBERG
Big money problems.
September 4 , 2000

---

Cleaning Up
BY HANS JOHNSON
Missouri, Oregon consider campaign finance initiatives
September 4 , 2000

---

Why I'm Voting for Nader ...
BY ROBERT McCHESNEY
August 21, 2000

---

... And Why I'm Not
BY JAMES WEINSTEIN
August 21, 2000


---

Dumped
BY JEFFREY ST. CLAIR
August 7, 2000
Bush's dirty politics turn an Texas town into a sewer.

---

An Environmental President
BY GUY SAPERSTEIN
August 7, 2000

---

Three's Company
BY JOHN NICHOLS
July 10, 2000
Third parties strategize for the November elections.

---

Editorial
BY JOEL BLEIFUSS
June 12, 2000
Memo to third parties: Face Reality.


---

Marching On
BY DAVE LINDORFF
June 12, 2000
Unity 2000 plans to disrupt this summer's GOP convention


---

Party Palace
BY NATHANIEL HELLER
May 1, 2000
George W. Bush's lucrative sleepovers

---

Stupid Tuesday
BY HANS JOHNSON
April 17, 2000
After Super Tuesday, progressives mull over missed opportunities

---

What Women Want
BY DAVID MOBERG
April 17, 2000
Working women's votes could seal Al Gore's fate. But is he listening to them?

---

Ralph Really Runs
BY KARI LYDERSEN
April 17, 2000
Socialist presidential candidate David McReynolds

---

How to Deal with Gore
BY JEFFREY ST. CLAIR and LOIS GIBBS
April 17, 2000
Love him or leave him?

---

Ralph Really Runs
BY DOUG IRELAND
April 3, 2000
Nader kicks off his second bid for president

---

Editorial
March 20, 2000
Flub watch.

---

On the Fence
BY MATTHEW KNOESTER
March 20, 2000
Human rights or big oil for Al Gore?

---

The First Stone
BY JOEL BLEIFUSS
March 6, 2000
Vanishing voters.

---

Gush vs. Bore
BY DOUG IRELAND
March 6, 2000

---

Free Ride
BY PAT MURPHY
March 6, 2000
Meet the real John McCain.

---

Cash and Carry
BY JEFFREY ST. CLAIR
March 6, 2000
George W. Bush's environmental menace.

---

Fair Weather Friends
BY JUAN GONZALEZ
March 6, 2000
Candidates court the Latino vote.

---

More Marketplace Medicine
BY DAVID MOBERG
March 6, 2000
Neither Democrats' health plan will fix the system.


---

New Labor, Old Politics
BY DAVID MOBERG
November 14, 1999

---

Bradley Courts the Black Vote
BY SALIM MUWAKKIL
October 31, 1999

---

Changing Primary Colors
BY DAVID DYSSEGAARD KALLICK
June 13, 1999

---

The Great Right Hope
BY RUSSELL CONTRERAS
Who is George W. Bush?
May 30, 1999

---

Money Money Money!
BY NEIL SWANSON
Al Gore and Bill Bradley go one-on-one.
May 30, 1999
Ralph Really Runs
Nader kicks off his second bid for president

By Doug Ireland
Ralph Nader, whose presidential candidacy has been germinating since last fall, finally dropped the other shoe on February 21. The longtime advocate for consumers, workers and the environment will seek the Green Party nomination, hoping that his campaign will catalyze "a sustained effort to wrest control of our democracy from the corporate government and restore it to the political government under the control of citizens."
The timing of his Washington press conference couldn't have been worse. It came on Presidents' Day, the same day as the Gore/Bradley debate in Harlem and the day before the Michigan primary, where the Bush/McCain contest was absorbing the national media's attention. As a result, Nader got blacked out on the tube, and most of the dailies consigned his announcement to the deep inside pages.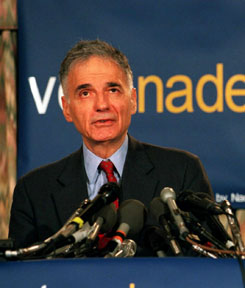 This time, Nader is fundraising aggressively.
Credit: Chris Kleponis/AFP
That's too bad, because Nader's lengthy statement of candidacy was one of the most eloquent and sharp-minded dissections of the crisis of American democracy heard from any public figure of stature in years. "The unconstrained behavior of big business is subordinating our democracy to the control of a corporate plutocracy that knows few self-imposed limits to the spread of its power to all sectors of our society," Nader fumed. "Moving on all fronts to advance narrow profit motives at the expense of civic values, large orporate lobbies and their law firms have produced a commanding, multi-faceted and powerful juggernaut. They flood public elections with cash, and they use their media conglomerates to exclude, divert or propagandize."
Would that this salutary tough talk had broken through the corporate media blackout. Naderites, explaining the unfortunate timing of the announcement, point out that election law deadlines in some states meant Nader could not postpone his declaration by even a week. There was also enormous pressure from the Greens, who were champing at the bit to begin activating their troops--and were also looking for assurances that Nader's campaign this year would be a far cry from his frustrating, token non-campaign of four years ago, when he made only a handful of appearances.
That Nader's race this time will be infinitely more serious than in 1996 is evidenced by his heavy campaign schedule: In the first two weeks in March, Nader plans to make multiple stops in California, New Mexico, New Jersey, Pennsylvania, Delaware, Maryland and Texas. In 1996, Nader spent only $5,000, and refused to ask for large contributions. This year, he has signed fundraising letters for an extensive direct-mail appeal and is personally calling $1,000 donors.
With a fundraising staff headed by Marnie Glickman, who has worked on several Democratic senatorial campaigns, Nader hopes to receive $2.5 million by August, which--if he can meet an FEC requirement that he collect $5,000 in each of 20 states--will qualify him for primary federal matching funds, bringing his total war chest to $5 million. A lot of that money will go toward getting Nader on the ballot; the Green Party is assured of a ballot line in only 12 states. Once the ballot-access drive is completed, the Greens will formally kick off their campaign with their first national nominating convention, to be held at the Renaissance Hotel in Denver on June 24 and 25.
With the exception of Steve Cobble, the campaign's senior strategist--who served as field director in Jesse Jackson's presidential campaigns--most of Nader's team has limited campaign experience, drawn either from the skein of public interest organizations Nader has founded in the last three decades or from Green Party cadres. California will provide Nader with his largest ready-made organization: The party has 100,000 registered voters in the Big Enchilada, and has elected some 30-odd Greens to public office. But, with the notable exception of New Mexico, in most of the other states the Nader campaign will have to be built nearly from scratch. Still, the Naderites hope to attract large numbers of new activists who have hitherto abstained form electoral politics--and they point to the 2,000 e-mails they received from volunteers in the first 24 hours after Nader's announcement, despite the media blackout.
Nader's goal is to get the 5 percent of the national vote necessary to qualify the Greens for FEC matching funds based on the campaign's total fundraising by November, thus making the fledgling party a permanent part of the national political discourse. The party has embraced Nader's economic agenda, and is emphasizing what it calls a "blue-green" alliance of workers and environmentalists that seeks to expand on the successful coalition-building around the anti- WTO protests in Seattle.
Given Nader's still-enormous name recognition--especially on college campuses, where he is much in demand as a speaker--his reaching the 5-percent goal is not out of the question. A Gore/Bush matchup in November would provide the great opportunity to attract disillusioned voters to Nader, especially given the two candidates' similarity on pro-corporate trade policy. Nader has a resounding message to deliver, one that's unique in this presidential year. And as Eugene Victor Debs used to say, "It is better to vote for what you want and not get it than to vote for what you don't want and get it."
For more information, call (202) 296-1600, see www.votenader.com, or write to Nader 2000, P.O. Box 18002, Washington, D.C., 20036.
Doug Ireland is a contributing editor of In These Times.
In These Times © 2000
Vol. 24, No. 9