Marching On
By Dave Lindorff
Philadelphia
The City of Brotherly Love has backed down in its attempt to crush dissent during this summer's Republican National Convention. But the potential remains for a confrontation between demonstrators and Philadelphia police during the week - long event.

Faced with a lawsuit filed by the American Civil Liberties Union, the city agreed on April 28 to issue permits to two organizations planning to march on July 30, during the run - up to the convention. In March, the city had denied permits for the groups - Unity 2000 and The Ad - Hoc Committee to Defend Health Care - and had required them to confine their activities to a remote area only 40 - by - 190 feet. Meanwhile, Republicans will have access to all 10 blocks around the First Union Convention Center. The groups got permission to demonstrate on their originally planned route, along Benjamin Franklin Boulevard.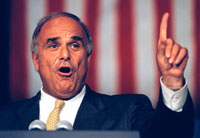 Former Mayor Ed Rendell masterminded the restrictions. Credit: Robert Giroux/Newsmakers

A third organization, the Kensington Welfare Rights Union, still has not received a permit for its planned convention protest. "I'm not satisfied," says Michael Morrill, spokesman for Unity 2000, a coalition of some 100 progressive organizations anticipating more than 100,000 marchers. "It annoys me that we had to bring the city to court to get this, and I'm concerned that there are only two legal demonstrations. The police have said they will quarantine a five - block radius around the convention center, so any groups that try to bring their protests to the convention site will be arrested."

If that situation sounds reminiscent of recent events in Washington and Seattle, it's no coincidence. To back up Philadelphia's severe restrictions on protest activity during the Republican convention, the city sent a dozen of its top officers to observe the way Washington police handled the demonstrations against the International Monetary Fund and World Bank in April. Philadelphia's finest returned from Washington full of praise for the D.C. cops' "restraint," but vowed to be even more liberal in their use of tear gas if protesters this summer step out of their permitted demonstration area.

Unity 2000 is a broad coalition of organizations including everything from ACT UP to the NAACP and various trade unions. Its focus is economic globalization, universal health care and workers rights. The death penalty and the fate of Mumia Abu - Jamal, currently on Pennsylvania's Death Row for the 1981 killing of a white Philadelphia policeman, while not a part of the coalition's agenda, are also likely to be major protest issues.

Philadelphia went all out last year to land the Republican convention. Ed Rendell, then mayor and now chairman of the Democratic National Committee allowed the Republican Party to deny protesters any access around the convention site. All convention organizers had to do was claim they have plans for those locations. The only place left was the so - called "protest pit."

Protest organizations, so far, have taken a hard line against the city's plans. "We won't be applying for a slot in the censorship pit," says Pete Davis, an activist with Philadelphia's ACT UP. "As far as I know, no other groups are signing up for it either. We feel that the city's efforts to contain protest is likely to backfire, and lead to a greater degree of civil disorder than if they'd just be more open."

So far, the only organization that has agreed to the city's terms and applied for a permit to demonstrate at the designated site is the Greyhound Adoption Group, which says it just wants to show off some dogs.
In These Times © 2000
Vol. 24, No. 14
Election 2000 Coverage
---
Never Mind the Bollocks
BY BILL BOISVERT
Here's the new Republican Party
September 4 , 2000
---
The Battle of Philadelphia
BY DAVE LINDORFF
September 4 , 2000
---
Working It
BY DAVID MOBERG
Will unions go all out for Gore?
September 4 , 2000
---
Editorial
BY DAVID MOBERG
Big money problems.
September 4 , 2000
---
Cleaning Up
BY HANS JOHNSON
Missouri, Oregon consider campaign finance initiatives
September 4 , 2000
---
Why I'm Voting for Nader ...
BY ROBERT McCHESNEY
August 21, 2000
---
... And Why I'm Not
BY JAMES WEINSTEIN
August 21, 2000

---
Dumped
BY JEFFREY ST. CLAIR
August 7, 2000
Bush's dirty politics turn an Texas town into a sewer.
---
An Environmental President
BY GUY SAPERSTEIN
August 7, 2000
---
Three's Company
BY JOHN NICHOLS
July 10, 2000
Third parties strategize for the November elections.
---
Editorial
BY JOEL BLEIFUSS
June 12, 2000
Memo to third parties: Face Reality.

---
Marching On
BY DAVE LINDORFF
June 12, 2000
Unity 2000 plans to disrupt this summer's GOP convention

---
Party Palace
BY NATHANIEL HELLER
May 1, 2000
George W. Bush's lucrative sleepovers
---
Stupid Tuesday
BY HANS JOHNSON
April 17, 2000
After Super Tuesday, progressives mull over missed opportunities
---
What Women Want
BY DAVID MOBERG
April 17, 2000
Working women's votes could seal Al Gore's fate. But is he listening to them?
---
David vs. Goliath
BY KARI LYDERSEN
April 17, 2000
Socialist presidential candidate David McReynolds
---
How to Deal with Gore
BY JEFFREY ST. CLAIR and LOIS GIBBS
April 17, 2000
Love him or leave him?
---
Ralph Really Runs
BY DOUG IRELAND
April 3, 2000
Nader kicks off his second bid for president
---
Editorial
March 20, 2000
Flub watch.
---
On the Fence
BY MATTHEW KNOESTER
March 20, 2000
Human rights or big oil for Al Gore?
---
The First Stone
BY JOEL BLEIFUSS
March 6, 2000
Vanishing voters.
---
Gush vs. Bore
BY DOUG IRELAND
March 6, 2000
---
Free Ride
BY PAT MURPHY
March 6, 2000
Meet the real John McCain.
---
Cash and Carry
BY JEFFREY ST. CLAIR
March 6, 2000
George W. Bush's environmental menace.
---
Fair Weather Friends
BY JUAN GONZALEZ
March 6, 2000
Candidates court the Latino vote.
---
More Marketplace Medicine
BY DAVID MOBERG
March 6, 2000
Neither Democrats' health plan will fix the system.

---
New Labor, Old Politics
BY DAVID MOBERG
November 14, 1999
---
Bradley Courts the Black Vote
BY SALIM MUWAKKIL
October 31, 1999
---
Changing Primary Colors
BY DAVID DYSSEGAARD KALLICK
June 13, 1999
---
The Great Right Hope
BY RUSSELL CONTRERAS
Who is George W. Bush?
May 30, 1999
---
Money Money Money!
BY NEIL SWANSON
Al Gore and Bill Bradley go one-on-one.
May 30, 1999