April 17, 2000

---

Special environmental issue

The First Stone
BY JOEL BLEIFUSS
The European Union quietly holds
corporations accountable

David Brower's Last Chance
BY JEFFREY St. CLAIR
Taking out Glen Canyon dam

Down the Drain
BY JIM MOTAVALLI
The coming world water crisis

Water War Zone
BY JIM SHULTZ
Bolivians take to the streets
over the price of water

Rivers of Cyanide
BY JASON VEST
Mining disasters the media miss

Spliced and Diced
BY KAREN CHARMAN
America pushes frankenfoods

How to Deal with Gore
BY JEFFREY ST. CLAIR and
LOIS MARIE GIBBS
Love him or leave him?

---

Editorial
BY DAVID MOBERG
Turn of the screw

Appall-O-Meter
BY DAVID FUTRELLE

A Terry Laban Cartoon

Left Out
BY HANS JOHNSON
After Super Tuesday, progressives
mull over missed opportunities

Who's the Boss?
BY HANS JOHNSON
James Dobson, Republican
kingmaker

Devil Inside
BY HANS JOHNSON
Randall Terry is driving Vermont Republicans into the arms of
liberals

What Women Want
BY DAVID MOBERG
Working wonen's votes could seal
Al Gore's fate. But is he listening
to them?

Sunburn
BY STANTON McMANUS
A new banking law is set to
silence consumer advocates

With Friends Like These
BY TERRY J. ALLEN
Kissinger does Indonesia

David vs. Goliath
BY KARI LYDERSEN
Socialist presidential candidate
David McReynolds

---

Full Metal Racket
BY BILL BOISVERT
BOOKS: The Vietnam War's
new apologist

Horror Show
BY ROANE CAREY
BOOKS: Without Sanctuary

Spinning Wheels
BY JOSHUA ROTHKOPF
FILM: Brian de Palma
gets lost in space

Scary Kid Stuff
BY BETH BIRNBAUM

Stupid Tuesday
After Super Tuesday, progressives mull over missed opportunities

By Hans Johnson

Washington
March 7 was supposed to be a lucky day for opponents of California's Proposition 13. Since 1978, the notorious anti-tax initiative has jinxed plans for everything from reclamation of wetlands to public school construction. In this spring's primary, through a well-crafted counterattack called Proposition 26, opponents meant to overturn a key portion of the policy.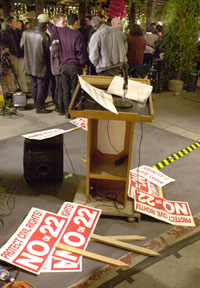 Time to regroup. Credit: David McNew/Newsmakers
Spurred on by tales of crumbling and overcrowded classrooms, Prop 26 aimed to reduce the threshold for passage of local school funding measures from an almost unattainable 67 percent supermajority to the usual standard, more than 50 percent. Steering the pro-26 campaign was a broad coalition of teachers' unions and Bay Area business leaders. Pre-primary surveys showed the proposal headed for passage.
But on election day, California voters threw progressives a curve ball. Imperiled by high turnout from conservatives, Prop 26 failed by a narrow margin. Rejection of the measure was among a series of setbacks for liberals across the country.
Sixteen states and U.S. territories held primaries on so-called Super Tuesday, and six more Southern states weighed in one week later. While the most telling results came from California, voters in other states offered insights for trends to watch for in the fall. Progressives have their work cut out for them in generating turnout if they hope to to win some closely contested House seats and gain congressional control.
If any region is a bellwether, it's the Midwest. In Ohio, Republican Mike DeWine, a first-term senator seeking re-election this year, has been seen as especially vulnerable in Democratic calculations. But on March 7, DeWine managed to capture over a million votes in a hotly contested GOP primary vote. His leading foe, Ted Celeste, captured less than 400,000 votes in a tight four-way Democratic race. Overall, Republican voters outnumbered Democrats 3 to 2, a reassuring augur for DeWine as he heads toward November.
Ohio also played host to a closely watched congressional primary, testing the ability of Democrats to rein in one of their own and put their strongest horse forward this fall. Eight-term Rep. James Traficant, who peppers his floor speeches with Star Trek references, is beset by legal troubles and often casts his lot against his own party. But on March 7, a left-leaning coalition of disgruntled constituents came up short in a bid to topple Traficant. The inability to clear the field of other challengers may leave the seat ripe for GOP picking in the fall against a weak incumbent.
Likewise, in the race for an open seat vacated by nine-term Republican Rep. John Kasich, the numbers were not encouraging for progressives. Maryellen O'Shaughnessy captured the Democratic nomination in a cakewalk. But Republican voters, who gave their nod to Pat Tiberi, outnumbered their competitors at the polls by more than 2 to 1, suggesting the GOP will keep the seat.
Two weeks of heavy primary campaigning concluded on March 14 with balloting across the South. Because George W. Bush and Al Gore had already stolen any suspense from the vote-counters by nailing down their parties' top spots, some called the event "Stupid Tuesday." In backhand fashion, however, voters did offer a gauge to Democrats of how much McCain's absence had depressed GOP turnout - and possibly improved Gore's chances in the fall. Republicans had accounted for 63 percent of voters in Washington state balloting on Feb. 29 and, on March 7, outnumbered Democrats by more than 2 to 1 in Georgia. One week later, however, Democratic turnout actually exceeded that of Republicans in Louisiana and Oklahoma, two states that figure prominently on Bush's electoral roadmap.
Yet in another clear signal that voter anxiety about youth criminals remains ripe for exploitation, Californians gave sweeping approval to Prop 21, the "Gang Violence and Juvenile Crime Prevention Act." Through a get-tough plan mirroring a blueprint by former Gov. Pete Wilson, the proposal would prosecute many adolescent offenders as adults.
Despite the disappointments, balloting did include a few bright spots for progressives. While Californians were rejecting Prop 26 - and approving Prop 22, a closely watched measure banning same-sex marriages - Democratic voters in a Los Angeles-area district gave a primary win to labor ally Hilda Solis. She will replace nine-term Rep. Matt Martinez, who had irked liberal leaders by backing Prop 22 and opposing some abortion-rights measures. And, in a Silicon Valley district watched as a political barometer, voters seemed poised to replace U.S. Rep. Tom Campbell, a Republican, with Democrat Mike Honda in the fall.
Still, the failure of the school-funding measure in California seemed to leave many progressive activists a little flustered about the month's primary proceedings. In the wake of the vote, Gale Kaufman, the Prop 26 campaign manager who in 1998 masterminded the come-from-behind bid to defeat the anti-union "paycheck protection" initiative, pointed fingers at Gov. Gray Davis, who looked on as others struggled to undo the straitjacket on state spending.
Teachers, parents and some business leaders eager to improve California schools are discussing an initiative similar to Prop 26 they may place on the November ballot, in hopes that the wave of conservative-leaning voters who flooded the polls on March 7 will abate. The outcome of balloting this spring had California progressives, like their counterparts elsewhere, looking for second chances in the fall.
Hans Johnson writes about religion, labor and politics from Washington, where he is assistant editor of Academe magazine.
In These Times © 2000
Vol. 24, No. 10
Election 2000 Coverage
---
Never Mind the Bollocks
BY BILL BOISVERT
Here's the new Republican Party
September 4 , 2000
---
The Battle of Philadelphia
BY DAVE LINDORFF
September 4 , 2000
---
Working It
BY DAVID MOBERG
Will unions go all out for Gore?
September 4 , 2000
---
Editorial
BY DAVID MOBERG
Big money problems.
September 4 , 2000
---
Cleaning Up
BY HANS JOHNSON
Missouri, Oregon consider campaign finance initiatives
September 4 , 2000
---
Why I'm Voting for Nader ...
BY ROBERT McCHESNEY
August 21, 2000
---
... And Why I'm Not
BY JAMES WEINSTEIN
August 21, 2000

---
Dumped
BY JEFFREY ST. CLAIR
August 7, 2000
Bush's dirty politics turn an Texas town into a sewer.
---
An Environmental President
BY GUY SAPERSTEIN
August 7, 2000
---
Three's Company
BY JOHN NICHOLS
July 10, 2000
Third parties strategize for the November elections.
---
Editorial
BY JOEL BLEIFUSS
June 12, 2000
Memo to third parties: Face Reality.

---
Marching On
BY DAVE LINDORFF
June 12, 2000
Unity 2000 plans to disrupt this summer's GOP convention

---
Party Palace
BY NATHANIEL HELLER
May 1, 2000
George W. Bush's lucrative sleepovers
---
Stupid Tuesday
BY HANS JOHNSON
April 17, 2000
After Super Tuesday, progressives mull over missed opportunities
---
What Women Want
BY DAVID MOBERG
April 17, 2000
Working women's votes could seal Al Gore's fate. But is he listening to them?
---
David vs. Goliath
BY KARI LYDERSEN
April 17, 2000
Socialist presidential candidate David McReynolds
---
How to Deal with Gore
BY JEFFREY ST. CLAIR and LOIS GIBBS
April 17, 2000
Love him or leave him?
---
Ralph Really Runs
BY DOUG IRELAND
April 3, 2000
Nader kicks off his second bid for president
---
Editorial
March 20, 2000
Flub watch.
---
On the Fence
BY MATTHEW KNOESTER
March 20, 2000
Human rights or big oil for Al Gore?
---
The First Stone
BY JOEL BLEIFUSS
March 6, 2000
Vanishing voters.
---
Gush vs. Bore
BY DOUG IRELAND
March 6, 2000
---
Free Ride
BY PAT MURPHY
March 6, 2000
Meet the real John McCain.
---
Cash and Carry
BY JEFFREY ST. CLAIR
March 6, 2000
George W. Bush's environmental menace.
---
Fair Weather Friends
BY JUAN GONZALEZ
March 6, 2000
Candidates court the Latino vote.
---
More Marketplace Medicine
BY DAVID MOBERG
March 6, 2000
Neither Democrats' health plan will fix the system.

---
New Labor, Old Politics
BY DAVID MOBERG
November 14, 1999
---
Bradley Courts the Black Vote
BY SALIM MUWAKKIL
October 31, 1999
---
Changing Primary Colors
BY DAVID DYSSEGAARD KALLICK
June 13, 1999
---
The Great Right Hope
BY RUSSELL CONTRERAS
Who is George W. Bush?
May 30, 1999
---
Money Money Money!
BY NEIL SWANSON
Al Gore and Bill Bradley go one-on-one.
May 30, 1999