May 1 , 2000

---

Putin's Promises
BY FRED WEIR
Will Russia's new president launch a revolution from above?

Union Nyet
BY TONY WESOLOWSKY
The decline of Russian unions

Dullest Lights
BY G. PASCAL ZACHARY
Moldova makes a strange poster child for reform

Steering the Global Economy
BY DAVID DYSSEGAARD KALLICK
Ingredients for an alternative

---

Editorial
BY SALIM MUWAKKIL
Rudy plays the race card

Appall-O-Meter
BY DAVID FUTRELLE

A Terry Laban Cartoon

Mexico's Thought Police
BY KENT PATERSON
FBI-trained forces allegedly tortured political dissidents

Dirty Deeds
BY TRAVIS LEA
Spain wants to extradite Argentina's former dictators

Party Palace
BY NATHANIEL HELLER
George W. Bush's lucrative sleepovers

Profile
BY PAT AUFDERHEIDE
Errol Morris, the interrogator

The Flanders Files
BY LAURA FLANDERS
Arianna's change of heart

---

Mother Night
BY LAURA SECOR
Slavenka Draculic's S.

Coming to America
BY TED KLEINE
Aleksandar Hemon's short fiction

Take a Hike
BY JANE HOLTZ KAY
Wanderlust: A History of Walking

Corporate Ideals
BY KIM PHILLIPS-FEIN
John B. Judis, a real Progressive

Up, Up and Away
BY RICK PERLSTEIN
Frances Fitzgerald goes Way Out There in the Blue

Curtain Call
BY SCOTT McLEMEE
Susan Sontag gets lost In America

Constant Craving
BY JOE KNOWLES
The obsessions of Thom Gunn
Party Palace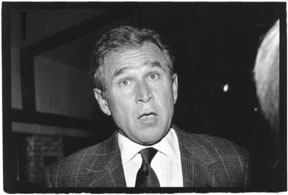 George W. Bush denies he broke Texas law.
Credit: Joeff Davis
By Nathaniel Heller
Washington
As George W. Bush's presidential ambitions grew, so did the frequency of overnight stays at the Texas Governor's Mansion by political allies and fundraisers. Beginning in mid-1997, the mansion became a gathering place and springboard for his nascent 2000 campaign, roping in key supporters early in the election cycle.
Altogether, Bush's overnight guests at the mansion have raised more than $2.2 million to further his presidential candidacy. At least 15 of these guests are members of Bush's elite team of presidential fundraisers - the "Pioneers," who have each raised at least $100,000 for him - according to the full list of overnight guests from January 1995 through February 2000.
But the overnight visits to the taxpayer-supported mansion may have violated Texas law. State legislation directly prohibits the use of state resources to support candidates for elected state or national office. The Texas Legislature appropriates approximately $350,000 per year for the maintenance and operation of the Governor's Mansion.
Many of the overnight guests who stayed at the mansion during that period - most for the first time - were national politicians and fundraisers who would later become key advisers in the Bush campaign. "It's explicit that you can't use state resources to influence an election," says Steve Collins, general counsel of the Texas Legislative Council, a nonpartisan office that assists lawmakers with bill drafting and research. Collins notes that the issue rests on "whether [the overnight visits] were intended to influence the outcome of any election."
Nathaniel Heller is the James R. Soles Fellow at the Center for Public Integrity. A verson of this article originally appeared in the Public I. For a complete list of overnight guests at the Texas Governor's Mansion, go to http://www.publici.org.
In These Times © 2000
Vol. 24, No. 11
Election 2000 Coverage
---
Never Mind the Bollocks
BY BILL BOISVERT
Here's the new Republican Party
September 4 , 2000
---
The Battle of Philadelphia
BY DAVE LINDORFF
September 4 , 2000
---
Working It
BY DAVID MOBERG
Will unions go all out for Gore?
September 4 , 2000
---
Editorial
BY DAVID MOBERG
Big money problems.
September 4 , 2000
---
Cleaning Up
BY HANS JOHNSON
Missouri, Oregon consider campaign finance initiatives
September 4 , 2000
---
Why I'm Voting for Nader ...
BY ROBERT McCHESNEY
August 21, 2000
---
... And Why I'm Not
BY JAMES WEINSTEIN
August 21, 2000

---
Dumped
BY JEFFREY ST. CLAIR
August 7, 2000
Bush's dirty politics turn an Texas town into a sewer.
---
An Environmental President
BY GUY SAPERSTEIN
August 7, 2000
---
Three's Company
BY JOHN NICHOLS
July 10, 2000
Third parties strategize for the November elections.
---
Editorial
BY JOEL BLEIFUSS
June 12, 2000
Memo to third parties: Face Reality.

---
Marching On
BY DAVE LINDORFF
June 12, 2000
Unity 2000 plans to disrupt this summer's GOP convention

---
Party Palace
BY NATHANIEL HELLER
May 1, 2000
George W. Bush's lucrative sleepovers
---
Stupid Tuesday
BY HANS JOHNSON
April 17, 2000
After Super Tuesday, progressives mull over missed opportunities
---
What Women Want
BY DAVID MOBERG
April 17, 2000
Working women's votes could seal Al Gore's fate. But is he listening to them?
---
David vs. Goliath
BY KARI LYDERSEN
April 17, 2000
Socialist presidential candidate David McReynolds
---
How to Deal with Gore
BY JEFFREY ST. CLAIR and LOIS GIBBS
April 17, 2000
Love him or leave him?
---
Ralph Really Runs
BY DOUG IRELAND
April 3, 2000
Nader kicks off his second bid for president
---
Editorial
March 20, 2000
Flub watch.
---
On the Fence
BY MATTHEW KNOESTER
March 20, 2000
Human rights or big oil for Al Gore?
---
The First Stone
BY JOEL BLEIFUSS
March 6, 2000
Vanishing voters.
---
Gush vs. Bore
BY DOUG IRELAND
March 6, 2000
---
Free Ride
BY PAT MURPHY
March 6, 2000
Meet the real John McCain.
---
Cash and Carry
BY JEFFREY ST. CLAIR
March 6, 2000
George W. Bush's environmental menace.
---
Fair Weather Friends
BY JUAN GONZALEZ
March 6, 2000
Candidates court the Latino vote.
---
More Marketplace Medicine
BY DAVID MOBERG
March 6, 2000
Neither Democrats' health plan will fix the system.

---
New Labor, Old Politics
BY DAVID MOBERG
November 14, 1999
---
Bradley Courts the Black Vote
BY SALIM MUWAKKIL
October 31, 1999
---
Changing Primary Colors
BY DAVID DYSSEGAARD KALLICK
June 13, 1999
---
The Great Right Hope
BY RUSSELL CONTRERAS
Who is George W. Bush?
May 30, 1999
---
Money Money Money!
BY NEIL SWANSON
Al Gore and Bill Bradley go one-on-one.
May 30, 1999