"This Is Not Life.
This Is Prison."
By Richard Mertens
Obilic, Kosovo

You don't need a map to find the Gypsy camp here. You just steer for the big smokestack on the edge of town. It belongs to a coal-fired power plant and can be seen 20 miles away. Nearby, between a dusty, pot-holed road and small hills of ash, is a cluster of wooden barracks. An eight-foot mesh fence surrounds the barracks, topped by two strands of barbed wire. That's the camp.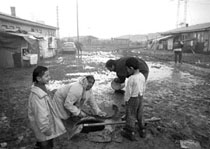 Roma fled to the camp in Obilic after Albanians burned and looted their homes last summer. Credit: Kael Alford

Eight hundred Gypsies, or Roma, live here. A group of children crowds excitedly around a pool of water that is the color of motor oil. Not far away, women wash clothes in metal basins, standing in ankle-deep mud around a water spigot. The men are doing little, although one sits apart from the others, carving a table leg with a kitchen knife. A tape deck blasts Roma dance music. The air reeks of dirty water and human excrement. Outside the fence, the countryside is turning a rich green; inside there is hardly a blade of grass.

The scene is strangely familiar. Just a year ago, ethnic Albanians were crowding into refugee camps in Albania and Macedonia as they fled Serb terror across the border. There were the same swarms of children, the same trampled earth, the same mixture of boredom, restlessness and despair. The Albanians are back home now. They are rebuilding their ruined houses, trying to hustle a living and enjoying their freedom. They also are creating a whole new class of the persecuted and displaced. Last summer, as the Albanians returned, they drove out the Roma and looted and burned their homes.

The fence is not to keep the Roma in, but to keep other people out. "You see what we have for a future?" asks one man named Ibush Berisha. Until last year, he worked at the power plant; now he is out of both a job and a home. He is 23, and he and his wife and child share a room with his brother's family. He gestures toward an open patch between the barracks. "We have mud and dirt," he says scornfully. "This is not life. This is prison."

The future of ethnic minorities is one of many uncertainties that hang over Kosovo today, more than a year after the NATO bombings. The West has invested enormous amounts of time, money and effort in the ravaged province. So far, the failures stand out more starkly than the successes.

Not everything has gone awry. Thanks in part to Western help, Kosovars made it through the winter. More than 100,000 homes were damaged or destroyed at the end of the war last June. In the months that followed, relief agencies handed out huge quantities of food, clothing, wood stoves, blankets, lumber, plastic and other building materials. By this spring, houses all over Kosovo were sporting new roofs.

There is still much to be done: schools and hospitals to be rebuilt, homes to be repaired and replaced, roads to be smoothed. The damage in Kosovo is a result not just of war, but of a decade of neglect. And yet the physical repairs are the easiest part of the job. The West is trying to cobble together a whole social infrastructure, with improved education and health care and public institutions that are suited to democracy and a free market. This work is all the harder because when the Serb authorities left last spring, they took most of Kosovo's technical and administrative expertise with them.



In These Times © 2000
Vol. 24, No. 14