Going to Waste
Health Care Without Harm cleans up toxic hospitals
By Eric Weltman
Boston
First, do no harm," the physician's credo, is being violated by the nation's hospitals, which rank among the leading sources of dioxin and mercury pollution. The culprits: incinerators that burn infectious waste laden with mercury and plastic medical devices.

In 1994, the Environmental Protection Agency announced that medical waste incinerators were the leading source of dioxin, a toxin linked to a spectrum of health effects, including cancer, reproductive disorders and immune system dysfunction. The EPA also estimated that medical waste incinerators are the No. 4 source of mercury, a potent neurotoxin. Both toxins share the nefarious distinction of traveling up the food chain, with dioxin concentrating in meat and dairy products and mercury building up in fish.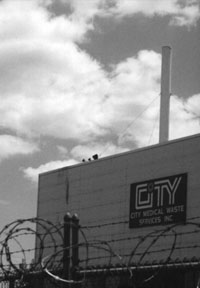 City Medical Waste incinerator in Hamtramck, Michigan processes waste from a number of hospitals.
Credit: Tracey Easthope
The irony of hospitals being major polluters was not lost on environmentalists who launched the Health Care Without Harm Campaign (HCWH) in 1996 to promote a green transformation of the industry. Today, HCWH's members include more than 250 environmental, public health and labor organizations, such as Greenpeace, the Breast Cancer Fund and the American Nurses Association. The coalition also includes some hospitals, such as Boston's New England Medical Center and New York's Beth Israel, as well as two Catholic health care systems.

Still, HCWH has faced industry resistance not unlike that presented by more typical environmental targets. According to HCWH's Gary Cohen, the American Hospital Association (AHA) initially responded that pollution isn't a major concern of the organization. "Hospitals are under a lot of competing pressures, including managed care and loss of federal funding," Cohen says. "So environmental issues are not on top of the list."

Part of HCWH's campaign has been touting the fiscal benefits of waste prevention and recycling. Hospitals generate about 2 million tons of waste per year. A portion of that winds up in red bags reserved for infectious materials. However, sloppy waste management results in pizza boxes, newspapers and other ordinary waste often being redbagged in some hospitals. Redbagging costs five times more than ordinary trash disposal. Yet Beth Israel saves almost $1 million a year by reducing the amount of trash it redbags and through increased recycling. Another hospital, Fletcher Allen in Burlington, Vermont, has won acclaim for its recycling program, which includes composting its food waste at a local organic farm.



In These Times © 2000
Vol. 24, No. 14