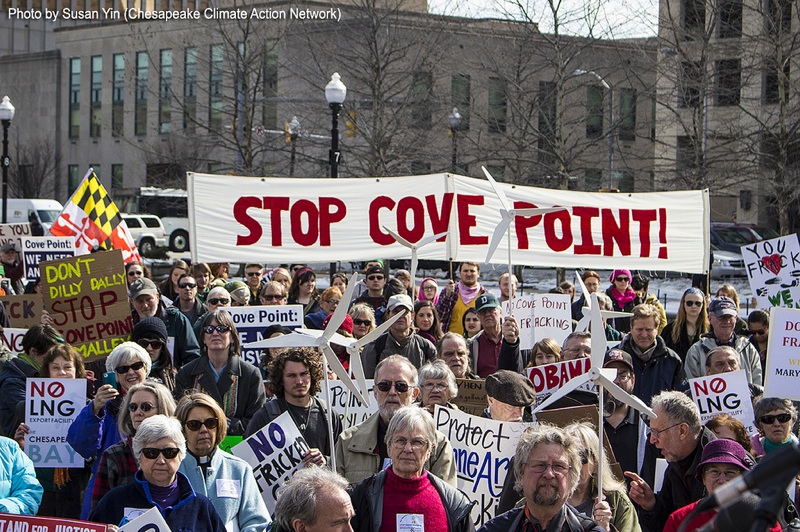 Features » February 21, 2014
Anti-Fracking Fight Heats Up in Maryland
Baltimore's march against the proposed Cove Point project was the largest environmental protest in the city's history.
Dominion Energy's proposed project is inextricably linked to increased hydraulic fracturing, says the Chesapeake Climate Action Network, because the company is betting on cheap, plentiful fracked gas in order to make the large-scale export of liquefied natural gas profitable.
More than 500 protestors marched in downtown Baltimore yesterday to oppose the expansion of natural-gas drilling, pipeline expansions and export across the Mid-Atlantic region. The protest was closely linked to the nationwide campaign against the much larger Keystone XL pipeline, and growing agitation over the issue of climate change globally.
Resistance to corporate domination of energy policy was the key theme of the Feb. 20 march. For Baltimore protesters, the entity exemplifying such greed at present is Dominion Resources Inc., a large Virginia-based energy conglomerate pushing a plan to construct a gas export terminal on Maryland's Chesapeake Bay shoreline. The proposed facility, called Cove Point, is being met with increasingly loud opposition from environmental groups like the Sierra Club and Chesapeake Climate Action Network (CCAN), which were among the organizers of the rally. The rally and march were timed to coincide with a hearing by the Maryland Public Service Commission, which will determine whether the plan is in the "public interest" and therefore merits approval. According to organizers, the rally and march was the largest ever environmental protest in the city.

Bruce Vail
Bruce Vail is a Baltimore-based freelance writer with decades of experience covering labor and business stories for newspapers, magazines and new media. He was a reporter for Bloomberg BNA's Daily Labor Report, covering collective bargaining issues in a wide range of industries, and a maritime industry reporter and editor for the Journal of Commerce, serving both in the newspaper's New York City headquarters and in the Washington, D.C. bureau.
View Comments