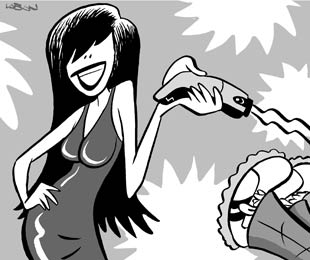 Features » January 25, 2008
Tupperware and Tasers
People who have been tased often liken the experience to the sensation of dying—something that does not seem like an exaggeration in light of at least 250 Taser-related deaths since 2001.
The SUV-driving, stun-gun-wielding housewife is coming to a suburb near you. In Arizona, Tupperware-style Taser parties have become all the rage, thanks to the enterprising savvy of saleswoman Dana Shafman, founder of Shieldher Inc.
Shafman's little soirees aren't just popular, they're also highly profitable. Over light conversation and snacks, women are invited to handle the palm-sized C2, the latest (and smallest) civilian version of a Taser stun gun. The C2 is also the most affordable Taser to hit the market, starting at $299.99–with an option to upgrade the C2 with a $50 laser beam to better the chances of debilitating a human target. Because practice makes perfect, the women in attendance are encouraged to grab a C2 and take turns shooting at a cardboard cutout representing a male attacker.
"I felt that we have Tupperware parties and candle parties to protect our food and house, so why not have a Taser party to learn how to protect our lives and bodies?" Shafman told the the Arizona Republic. Shafman projects that the parties will be held in at least a half-dozen other states by March.
The C2 comes in four iPod-matching metallic colors: "Hot pink" has been the top seller since the weapon hit the consumer market last summer. While the company admits that men, too, might benefit from carrying the mini-stunner, Taser's marketing strategy has been directed at the phobic and fashion-forward female consumer.
Last July, the New York Times previewed the C2's debut with a feature article titled, "Feeling Secure With a Little Shocking Pink." Accompanying the article was a glamour-action photo of Taser International President Kathy Hanrahan with the weapon in hand. Hanrahan made no bones about the C2's direct marketing strategy and conceptual design: "It's a woman's product," she said.
In a number of promotional media appearances and technology conference presentations since that time, Taser officials have even gone so far as to dub the C2 the "Lady Taser."
"When you're going out to a nightclub or you have the device clipped onto your belt at a business meeting, you don't want to look like Dirty Harry," company spokesperson Steve Tuttle told ABC News last summer.
In what could have easily passed as a terribly tacky infomercial, ABC News ran a December 2007 "Money Matters" segment praising the palm-sized stunner as an exciting holiday gift for women, in which anchor Laura Marquez described the C2 as a "Taser with a softened look."
Despite a plethora of headline-making news over the course of the year–including the notorious "Don't Tase Me, Bro" incident during Sen. John Kerry's (D-Mass.) University of Florida speech in September 2007–ABC News showcased Taser's own video montage of alleged male criminals being stunned into submission. For the ABC News segment, the network opted for a large-font text banner to accompany the images: "Tasers Sold to Protect Women."
None of those video snippets actually depicted women being attacked, and the network's Taser-friendly sloganeering (and Marquez's ridiculously soft-balled questions) didn't seem coincidental in the least.
The Scottsdale, Ariz., corporation has spent years honing a relentless public relations campaign–complete with a Rolodex of at-the-ready medical, legal and law enforcement stun technology "experts"–that seems to have convinced many news outlets that Taser's word is gospel truth.
The success of Taser's C2 sales over the past several months can largely be attributed to the company's aggressive strategy to play on women's worst fears of assault and rape. While the C2 might look cute, it is utterly debilitating–a serious step up, as it were, from older self-defense products like mace and pepper spray.
Just as with the "professional" model, a triggered mini stun gun shoots out two, thin nitrogen-fueled wires with dart-like tips that penetrate clothing and embed in the skin. These darts are juiced to deliver an incapacitating 50,000 volts of electricity for 30 uninterrupted seconds–ostensibly to allow the Taser-wielder to make a quick getaway.
Aside from the various bells and whistles that would appeal to paramilitary-minded weapon owners, the key difference between C2s and the much more costly civilian and "professional" versions of X-26s is that they enable the "stunner" to shock the "stunnee" over and over again.
Whether we're talking about cutesy mini-stunners, or their beefed-up big brothers, Taser has become a household name and a veritable pop culture phenomenon rooted in either opposition or celebration of this futuristic weapon that was once but a gleam in Gene Roddenberry's creative eye. (Unlike the Taser, the sci-fi Star Trek "phaser" could specifically be set to a specific stun level, all the way up to a deadly jolt.)
Devoted Trekkies with "Set Phasers to Stun!" T-shirts were likely never the cool kids on the block, but "Don't Tase Me, Bro" bumper stickers and T-shirts are a different story. Some are wearing the shirts to express their outrage toward the prevalence of Tasers in use by "campus cops" on college, high school, middle school and even elementary school grounds–as well as in political demonstrations as a terrifying method of crowd control.
But you might be just as likely to spot a clean-cut fraternity member wearing the same shirt–only to find that he hasn't given a thought as to whether being hit repeatedly with 50,000 volts of electricity should be considered an act of torture.
---
Help In These Times Continue Publishing
Progressive journalism is needed now more than ever, and In These Times needs you.
Like many nonprofits, we expect In These Times to struggle financially as a result of this crisis. But in a moment like this, we can't afford to scale back or be silent, not when so much is at stake. If it is within your means, please consider making an emergency donation to help fund our coverage during this critical time.

Silja J.A. Talvi
Silja J.A. Talvi, a senior editor at In These Times, is an investigative journalist and essayist with credits in many dozens of newspapers and magazines nationwide, including The Nation, Salon, Santa Fe Reporter, Utne, and the Christian Science Monitor.
View Comments