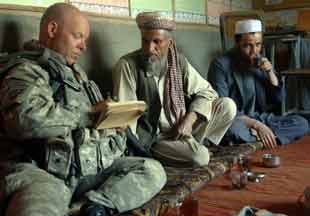 Features » June 19, 2008
Anthropologists At War
New military program that embeds anthropologists with soldiers has academics up in arms
Not in our name. That could be the battle cry of American anthropologists resisting the recent use of their discipline in Iraq and Afghanistan.
The U.S. Army is sending anthropologists into the field to help soldiers counter insurgents. The program, called Human Terrain System (HTS), responds to combat brigade commanders' 2006 call for "operationally relevant cultural knowledge."
In June, 12 Human Terrain Teams (HTT) – each made up of three military members and three civilians – were expected to join combat brigades in either Iraq or Afghanistan. By the end of September, another 12 will deploy.
Training for the six-member teams occurs at the Army's Combined Arms Center at Fort Leavenworth, Kan. The teams spend six to nine months in Iraq or Afghanistan and spend anywhere from three days to three weeks in a given locale, according to James K. Greer, deputy program manager of the Human Terrain System.
According to HTT's website: "The role of the HTTs is to help the troops better understand who is NOT their enemy." The teams help the U.S. Army "influence the population through non-lethal means."
At an April 24 hearing at the House Armed Services Subcommittee on Terrorism, Unconventional Threats and Capabilities, Col. Martin Schweitzer testified that HTS helped decrease "kinetic operations" by 60 to 70 percent in his brigade's area of operations in Afghanistan.
"We must understand the culture to win," Schweitzer testified.
In 2007, his 4th Brigade of the 82nd Airborne Division was the first to use a Human Terrain Team. It was also the first to have an HTT fatality. On May 7, 2008, a roadside bomb in the Afghan province of Khowst killed Michael Bhatia, an Oxford doctoral candidate and the brigade's field social scientist. After his year-long contract, Bhatia had planned to finish his dissertation titled "The Mujahideen: A Study of Combatant Motives in Afghanistan, 1978-2005."
Anthropologists outsourced
BAE Systems, a global defense firm, has recruited and trained HTT members since 2006. To date, BAE has placed about 30 field social scientists in HTTs, says Scott Fazekas, a BAE press contact.
Academics at home have been raising a ruckus over the military's use of a mobilized, militarized and weaponized anthropology. In September, the Network of Concerned Anthropologists formed to circulate a Pledge of Non-participation in Counterinsurgency. The pledge has since garnered nearly 1,000 signatures.
Last November, at its annual meeting in Washington, D.C., the executive board of the American Anthropological Association (AAA) issued a statement deeming HTS's "application of anthropological expertise" both "problematic" and "unacceptable."
"The impact of anti-HTS activists on program recruitment in universities, especially in anthropology departments, is profound," Zenia Helbig, an academic kicked out of HTS, tells In These Times. Helbig brought BAE Systems – and its three HTS contracts, estimated at $160 million – to the attention of the Project on Government Oversight, a Washington, D.C.-based nonprofit that investigates corruption in the federal government.
Felix Moos, an anthropology professor at the University of Kansas who has taught some HTT classes, concedes, "Because we are outsourcing the war, we are giving the title of 'anthropologist' to people who are not really anthropologists."
In a May 6 letter to Sen. John Warner (R-Va.), Roberto J. González, an anthropology professor at San Jose State University and a member of the Network of Concerned Anthropologists, attacked HTS: "The program is dysfunctional, wasteful, and perhaps even fraudulent. As an anthropologist, it is also clear to me that HTS simply cannot work as its proponents claim."
Key players
Counterinsurgency is the specialty of two key players in the Pentagon's post-9/11 turn to culture.
Anthropologist Montgomery McFate is the senior social science adviser to the HTS program. Her 1995 thesis at Yale University was "Pax Britannica: British Counterinsurgency in Northern Ireland." David J. Kilcullen is a policy-planning adviser in the State Department. His 2000 thesis at the University of New South Wales–Australian Defense Force Academy was titled "The Political Consequences of Military Operations in Indonesia 1945-99: A Fieldwork Analysis of the Political Power-Diffusion Effects of Guerrilla Conflict." Kilcullen's non-academic credentials include a stint in the Australian Army as a commander of counterinsurgency operations in East Timor.
McFate is credited with jumpstarting a program – called the Cultural Operational Research Human Terrain System – at the Department of Defense (DOD) that was the springboard for HTS.
"Cultural ignorance can kill," argued McFate in a 2005 article published in Joint Forces Quarterly. "Cultural knowledge and warfare are inextricably bound. … The U.S. Armed Forces must adopt an ethnographer's view of the world."
Bill Stamets
Bill Stamets is a Chicago-based freelance writer who once took 10 grad school courses in anthropology at the University of Chicago.
if you like this, check out:
View Comments